Have a question you want answered by one of our experts? Send your question to TGMeditor@gvpub.com and it may be featured in an upcoming e-newsletter or print issue.



Personal Audio Enhancer


VitaSound Audio Inc has introduced the Personal Audio Enhancer (PAE-300), a multifunctional audio-enhancement device that allows users to better hear and distinguish sounds in everyday situations. The PAE-300 features four sound modes: Watch Mode for watching television, Talk Mode for conversing in noisy environments, Listen Mode for talking on a mobile phone, and Relax Mode, which provides soothing sounds. Learn more »



ePulse2


The ePulse2 is the first strapless armband continuous heart rate monitor, pedometer, and calorimeter. Included is continuous heart rate and calories-burned tracking, heart rate zones and exercise time monitoring, a stopwatch with split times, a calculator for maximum/minimum/average heart rate, and a day/night OLED display. It's powered by a rechargeable battery. Learn more »



Falls threaten older adults with not only bruises and broken bones but also the potential for cognitive decline. Falls are the most common cause of traumatic brain injury, which can translate over time to serious cognitive deficits.

Researchers have discovered an association between moderate and severe traumatic brain injury and an increased risk of developing Alzheimer's disease or another type of dementia even long after a head injury. It's important to familiarize yourself with the symptoms of and treatment for traumatic brain injury.

In addition to reading our e-newsletter, be sure to visit Today's Geriatric Medicine's website at www.TodaysGeriatricMedicine.com, where you'll find news and information that's relevant and reliable. We welcome your feedback at TGMeditor@gvpub.com. Follow Today's Geriatric Medicine on Facebook and Twitter, too.

— Barbara Worthington, editor



Falls Can Result in Traumatic Brain Injury



Falls are the leading cause of traumatic brain injury (TBI). People aged 75 and older have the highest rates of TBI-related hospitalization and death due to falls.

Physicians classify TBI as mild, moderate, or severe depending on whether the injury causes unconsciousness, how long unconsciousness lasts, and the severity of symptoms. Although most TBIs are classified as mild because they're not life threatening, even a mild TBI can have serious and long-lasting effects.

TBI threatens cognitive health in the following two ways:

• A TBI's direct effects, which may be long-lasting or even permanent, can include unconsciousness, inability to recall the traumatic event, confusion, difficulty learning and remembering new information, trouble speaking coherently, unsteadiness, lack of coordination, and vision or hearing problems.

• Certain types of TBI may increase the risk of developing Alzheimer's disease or another form of dementia years after the injury occurs.

Brain Injury Symptoms
Symptoms of a brain injury include: unconsciousness, inability to remember the cause of the injury or events that occurred immediately before or up to 24 hours after the injury, confusion and disorientation, difficulty remembering new information, headache, dizziness, blurred vision, nausea and vomiting, ringing in the ears, difficulty speaking coherently, and changes in emotions or sleep patterns. Symptom severity depends on whether the injury is mild, moderate, or severe.

Full Story »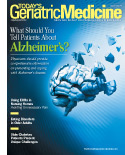 July/August 2013



View the current issue of Today's Geriatric Medicine now!

Today's Geriatric Medicine is mobile for iPhone, iPad, and Android users!

Visit www.TodaysGeriatricMedicine.com/digital on your phone's browser to view the mobile version of this issue and bookmark us for future issues.