Have a question you want answered by one of our experts? Send your question to TGMeditor@gvpub.com and it may be featured in an upcoming e-newsletter or print issue.



Dialysis Realities


Physicians must help patients weigh prospects for extending life against reduced quality of life. Read more »



Chemoprevention Reduces Breast Cancer Risk


Women between the ages of 40 and 70 with a high risk of breast cancer should be offered chemoprevention therapy if they are at low risk of thromboembolic disease and endometrial cancer. Read more »



Exercise Combats Frailty


Limiting muscle loss is essential to older adults maintaining functional activity. Exercise can help preserve muscle, improve balance, and enhance mobility. Read more »



Researchers have developed a new technology found to be effective for treating chronic wounds. The low-frequency, low-intensity ultrasound has resulted in significant reductions in wound size after four weeks, which presents a stark contrast to patients who received the conventional therapy.

As researchers discover more about the ways low-frequency ultrasound promotes wound healing, the therapy will likely encompass broader applications for aggressive wound treatment.

In addition to reading our e-newsletter, be sure to visit Today's Geriatric Medicine's website at www.TodaysGeriatricMedicine.com, where you'll find news and information that's relevant and reliable. We welcome your feedback at TGMeditor@gvpub.com. Follow Today's Geriatric Medicine on Facebook and Twitter, too.

— Barbara Worthington, editor



Ultrasound Patch Heals Venous Ulcers



Researchers have administered a new method for treating chronic wounds using a novel ultrasound applicator that can be worn like a Band-Aid. The applicator delivers low-frequency, low-intensity ultrasound directly to wounds and was found to significantly accelerate healing in patients with venous ulcers, which are caused when valves in the veins malfunction, causing blood to pool in the leg instead of returning to the heart. This pooling, called venous stasis, can cause proteins and cells in the vein to leak into the surrounding tissue, leading to inflammation and formation of an ulcer.

Researchers at Drexel University in Philadelphia developed the technology with funding from the National Institute of Biomedical Imaging and Bioengineering (NIBIB).

Venous ulcers account for 80% of all chronic wounds found on lower extremities and affect approximately 500,000 American patients annually, a number that's expected to increase as obesity rates climb. It's estimated that treatment for venous ulcers costs the US health care system more than $1 billion annually.

Standard treatment for venous ulcers involves controlling swelling, keeping the wound moist, preventing infection, and compression therapy, a technique in which patients wear elastic socks that squeeze the legs to prevent blood from flowing backward. Despite these measures, wounds often take months and occasionally years to heal.

Full Story »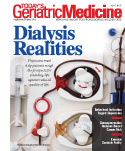 September/October 2013



View the current issue of Today's Geriatric Medicine now!

Today's Geriatric Medicine is mobile for iPhone, iPad, and Android users!

Visit www.TodaysGeriatricMedicine.com/digital on your phone's browser to view the mobile version of this issue and bookmark us for future issues.