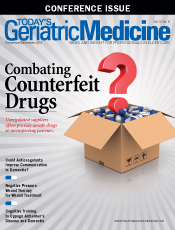 November/December 2016
November/December 2016

Combating Counterfeit Drugs
Many older adults, unable to afford necessary medications, access unregulated drug suppliers that provide impure or unsafe drugs to unsuspecting patients.
Could Anticoagulants Improve Communication in Dementia?
Effective atrial fibrillation management shows promise for improving cognitive and communication difficulties. For patients with dementia symptoms, consider ruling out atrial fibrillation as a contributing factor to cognitive decline.
Cognitive Training to Oppugn Alzheimer's Disease and Dementia
A comprehensive group of challenging activities targeting reaction time, visual spatial acuity, attention and concentration, memory, language, and problem-solving has met with success in improving communication and interaction among patients with Alzheimer's disease.
Negative Pressure Wound Therapy for Wound Treatment
With significant success, negative pressure wound therapy improves recovery rates of difficult-to-heal wounds such as decubitus ulcers.
Departments
From the Editor
When Economics Dictates Difficult Choices
News Brief
One in Four Older Adults Hasn't Discussed Advance Care Planning
Medication Monitor
Drug Diversion by Health Care Professionals
Research Review
New Guidelines on Nutrition Support for the Critically Ill
Nutrition
Nutrition for Arterial Health
Alzheimer's Update
The 5 Love Languages and the Alzheimer's Journey
Vintage Voices
Better Oral Health Means Better Health