» Download 2021 Media Kit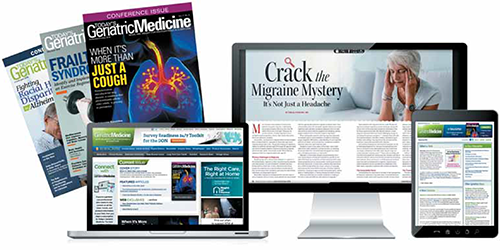 With a practical approach to clinical issues and solid scientific content, Today's Geriatric Medicine offers geriatric medicine providers, including geriatricians, physician assistants, and nurse practitioners, a unique perspective on trends, treatments, diagnostic advances, and practice management essentials related to the care of aging patients. Issues include a variety of feature articles, topical news, research related to clinical practice, medical ethics, and opinions germane to the specialists who are treating the fastest-growing population in the country.
Partnering with Today's Geriatric Medicine offers a unique opportunity to extol the virtues of your product, service, school, or medication to an audience of trusted geriatric clinicians who are uniquely positioned to make recommendations on drugs, products, assistive devices, nutrition, and durable medical equipment essential to the safety and healthful daily routines of their patients. In addition to our bi-monthly trade publication, Today's Geriatric Medicine offers advertisement opportunities on our website, widely distributed monthly e-newsletter, and our annual spring buyers' guide as well as list rental and e-blast opportunities. Utilizing our wide platform enables you to reach your marketing and branding goals.
---
Product Templates
1-2 Island | 1-2 H | 1-2 H BL | 1-2 V | 1-3 V | 1-4 | 1-6 V | 1-9 | 2-3 | FP BL
FP Border | Print Banner