Aging in Place
Alexis Abramson, PhD
Aging in place refers to the ability for seniors to live in their own homes, wherever that may be, for as long as they are independent and safe. With so many older adults planning to age in place, it's important to know that a wide range of information, services and products are available to make staying at home a viable option.
Below are a few questions (and answers!) to consider when determining if aging in place, is the right choice for your patients in the long term.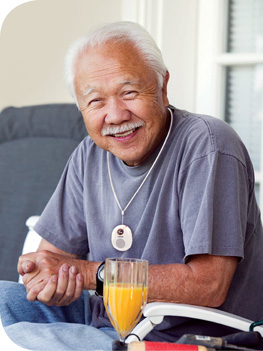 Is Their Home Safe?
No one can remain completely independent for long in a home that cannot sustain him or her safely. It's important to encourage your patients, or their family members, to be proactive and make modifications/repairs or find a new residence nearby that better meets their needs.
Can They Communicate with Ease?
Many adult children live hundreds of miles from their parents. Phone calls and Skype chats are useful to make sure they (and their homes) are in good shape. For seniors and their caregivers, VTech's CareLine™ home telephone and personal communication system enables seniors to live independent lifestyles and gives families confidence in their loved ones' ability to easily connect with them.
Are They Mobile?
Few steps are more symbolic of the loss of independence than giving up one's car keys. If your patients can no longer drive, they may face isolation and the loss of access to regular activities - potentially disrupting routines and leading to reduced mobility. You can help make sure the loss of a car doesn't mean a loss of engagement by telling them about alternative transportation options. The American Automobile Association (AAA) and AARP both have great tips for older drivers.
Are Resources Readily Available?
Most towns have local grocery stores that deliver – Peapod.com is a national service that delivers from local stores. Many drugstores also deliver prescriptions without a fee and Drugstore.com can ship a large variety of products to your patients overnight. If you don't have a local store that delivers, netgrocer.com is a backup, although shipping is quite expensive. Meals on Wheels is also a great resource – they will bring your patients a hot meal every day.
You might also consider encouraging your patients to hire a Certified Aging in Place Specialist to evaluate their current home and community and make proper recommendations – believe me it will be well worth the money spent! Most older adults I speak with, hands-down, say that they wish to remain in their home forever. With proper planning it's possible, in many cases, for that dream to become a reality!
Alexis Abramson, PhD is the leading, impassioned champion for the dignity and independence of those over 50. Dr. Abramson received her Doctorate in Gerontology from the prestigious University of Southern California's Davis School of Gerontology. She is an inspiring speaker, corporate consultant, successful author and award-winning entrepreneur and journalist.
---
CareLine home telephone and personal safety system
with corded base, cordless handset and pendant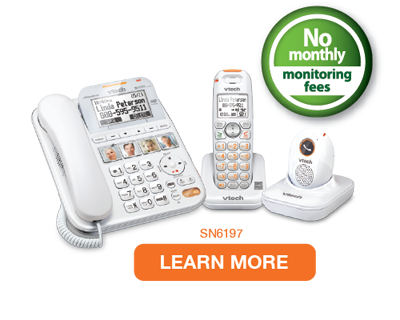 Corded base phone
Big buttons, large display and photo speed dials.
Cordless handset
Take your calls from room to room.
Portable safety pendant
Everyday conversations and emergency calls are just a speed-dial button away. Flexible wearing styles—around the neck or clipped to the waistband—make the most of mobility at home.
Voice Announce®Caller ID
Voice Announce Caller ID and speakerphones on all devices.
Audio Assist®
Boosts the volume while on a call.




vtechphones.com/careline
© 2015 VTech Communications, Inc. All rights reserved. CareLine™ and Audio Assist® are trademarks of VTech Communications, Inc. Voice Announce® is a registered trademark of ClassCo, Inc.