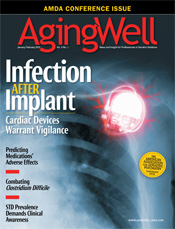 January/February 2012
STD Prevalence Demands
Clinical Awareness
By Tresa Imparato, RN, BSN, and Debra Sanders, RN, PhD, GCNS-BC
Aging Well
Vol. 5 No. 1 P. 14
Clinicians must discuss sexual status, improve prevention and education efforts, and develop strategies to treat STDs and HIV/AIDS in the aging population.
As America grays, it is projected that by the year 2030, 70 million adults—nearly 20% of the US population—will be aged 65 or older, according to 2005 statistics from AARP. Moreover, as the country's population increases in age, so too, does the complexity of managing elders' health, especially with regard to sexually transmitted diseases (STDs) and HIV/AIDS. Healthcare providers will be challenged to treat multiple healthcare issues, both acute and chronic, including STDs and HIV/AIDS in the elder population. Failure to identify such diseases and treat them effectively, a rather unfamiliar territory in care, can have devastating physical, mental, emotional, spiritual, and financial consequences for patients.
Since treatment modalities that can prolong life have emerged, such as highly active antiretroviral therapy (HAART) for HIV/AIDS, the need for primary and secondary prevention measures and targeted educational initiatives has become imperative. According to the Centers for Disease Control and Prevention (CDC), in 2005 older adults accounted for 24% of those with HIV/AIDS, and that population is one of the fastest growing segments in this disease spectrum. Furthermore, the literature on STDs in older adults is sparse, and prevailing ageist attitudes, even among healthcare providers, cause many to assume that older adults are not sexually active nor at risk for STDs. Hence, older adults often fall between the cracks in the healthcare system.
It is a common myth in our youth-oriented society that older persons are asexual. Yet human beings are sexual beings, and feelings of sexuality do not just disappear as people age. In fact, in good health, elders can and do remain sexually active well into the seventh, eighth, and ninth decades of life. Since sexual contact is the No. 1 risk factor for STDs and HIV/AIDS transmission, why is it that older adults are less likely to be routinely evaluated for STDs, and prevention and educational efforts, medical care, and support services aimed at this healthcare need are often nonexistent in this population?
Practitioners need a greater understanding and awareness of STDs and HIV/AIDS in older adults, heightened ability to recognize the patient risk profile, familiarity with barriers to both patient and provider discussions of sexual status and STDs, and more diligent strategies to address this growing healthcare concern in the practice arena.
Risk Profile
Undeniably, physiological changes occur in both men and women as they age that affect sexual functioning and can increase vulnerability to STDs and HIV/AIDS. Although physiological changes in men may be less dramatic than those experienced by menopausal women, older men may be at increased risk of contracting STDs and HIV/AIDS due, in part, to sexual behavioral patterns.
Physiological changes in aging men center on declining testosterone levels, which tend to decrease the size of the testes, contribute to fewer viable sperm and lowered motility of the sperm, and increase time responsiveness for penile erection.1 And although it is not these particular physiological changes that put an older adult at risk of STDs, the use of medications to enhance performance may ultimately lead to riskier sexual behavior. In fact, in an insurance analysis of more than 1.4 million American men over the age of 40, those who used erectile dysfunction medication were more likely to have STDs than those who were nonusers.2 Furthermore, older men were less likely to use condoms during sexual activity, thus increasing the risk of contracting STDs.
In women, menopause, a time of dramatic physical and psychological changes with the hallmark of menstruation cessation that commonly occurs between the ages of 45 and 55, contributes to a substantial risk of acquiring STDs and HIV/AIDS. Diminishing levels of estrogen account for a multitude of physiological changes. The vaginal mucosa is more susceptible to abrasions and tears during sexual intercourse as the vaginal walls become drier and thinner, thus promoting viral entry.
Declining levels of both estrogen and progesterone production by the ovaries may set the stage for greater occurrences of vaginal infections in an older woman, enabling a favorable milieu for STDs.1 Additionally, the sexually active postmenopausal woman may misconstrue the lack of ability to become pregnant with a low risk of STDs.
For both genders, the aging immune system may impact the rate of viral suppression with a less robust response to therapy. Additionally, older individuals have a higher risk of adverse events, drug toxicity, and day-to-day drug interactions than younger individuals being treated with the same drug regimens. Concomitant comorbidities may complicate therapy in older adults, thus increasing the chance of adverse events and perhaps impacting adherence to medication regimens.
Barriers to Addressing STDs
Multiple deterrent factors may prevent an older adult from talking with a healthcare provider about STDs and HIV/AIDS. Older adults may not even perceive themselves as being at risk for contracting STDs or HIV/AIDS, believing that such diseases are likely to affect only young people. Furthermore, Emlet3 found that a large proportion of individuals experience stigma associated with STDs and that older people exhibited a pattern of less disclosure than younger individuals. Such stigma is commonly associated with feelings of shame, guilt, negative self-image, fear, and anger, thus impeding open communication and discussion with healthcare providers.
Several studies in the literature3-6 identify depression as a significant healthcare issue in older adults, something that only intensifies following a diagnosis of STDs or HIV/AIDS. Educational interventions for older adults pertaining to STDs and HIV/AIDS are lacking. Many community-based educational and prevention programs target younger individuals, leaving a huge gap with the older population.
In addition, prevailing misconceptions among healthcare providers regarding a lack of sexual activity in older adults contribute to making elders an extremely vulnerable population. Such misconceptions and lack of awareness may contribute to the underestimation and misdiagnosis of STDs and HIV/AIDS, subsequently thwarting effective treatment. Moreover, early disease symptoms such as weight loss, decreased appetite, and fatigue may be attributed to the normal aging process. A provider's own lack of experience or personal discomfort in addressing sexual issues with an older adult may hinder communication and adequate information gathering. In fact, healthcare providers need to be proactive in asking questions and screening for risk factors, realizing that elders are unlikely to initiate a discussion or raise questions related to sexual concerns or STDs.
Practice Application
As aging in the 21st century is changing the traditional profile of STDs and HIV/AIDS in the older adult population, heightened awareness, regular screening, and early diagnosis are as critical in older adults as in the younger population. The increasing prevalence of STDs and HIV/AIDS among older adults may be due, in part, to the longer survival of younger, previously diagnosed HIV-positive individuals; however, 15% of new STD and HIV infections occur in adults over the age of 50, according to the CDC. Therefore, a complete sexual history is paramount for diagnosing and preventing STDs and HIV/AIDS, and all members of an older adult's healthcare team should be involved in history taking.
When interacting with an older adult, it's important to preface the sexual history by acknowledging that questions may be personal and of a sensitive nature. Likewise, assuring an individual that discussions of sexuality and intimacy are an important part of healthcare for all older adults can promote normalcy in the process of addressing sexual history. The PLISSIT model (permission, limited information, specific suggestions, intensive therapy)7 can be a valuable tool that helps providers openly communicate about sexuality and identify appropriate levels of intervention (see table). Additionally, Letvak and Schoder8 have developed targeted questions for providers to include during sexual history taking (see sidebar 1).
Education and prevention programs need to focus on older adults, addressing issues and concerns most relevant to them. Such programs should dispel myths about sexuality and intimacy with aging, identify risks for contracting STDs and HIV/AIDS that are unique to older adults, provide strategies for screening, and reinforce safe sex practices (see sidebar 2).
Providers need to keep abreast of the latest guidelines and recommendations for best practices. Currently, the CDC recommends that every American aged 13 to 64 be tested at least once for HIV/AIDS. However, considering the escalating incidence of STDs and HIV/AIDS in the older adult population, it is important to recognize that as an individual's risk profile increases, the guideline should be challenged and expanded. The goal of such a recommendation is to facilitate early diagnosis and treatment in order to minimize morbidity and mortality as well as to promote prevention through a targeted educational approach, behavior modification, and counseling. Therefore, providers need to advocate that patients undergo screening to help with early diagnosis and intervention as well as promote prevention through education.
Because women face distinct challenges with aging, providers need to address their unique issues. Not only are women increasingly susceptible to STDs and HIV/AIDS due to physiological changes, but since there is a greater percentage of widowed older women than men, women may seek male companionship and sexual relationships that may potentially endanger their health. Stressing the importance of using condoms or some form of barrier protection during sexual intercourse is essential to decrease the risk of contracting an STD or HIV/AIDS. A lack of education or preventive information from providers makes older women increasingly vulnerable to contracting STDs and HIV/AIDS.
Healthcare providers should be mindful that the risk of contracting STDs and HIV/AIDS may be even greater for older adults who are lesbian, gay, bisexual, or transgender (LGBT). Reasons for this increased risk may include the stigma associated with their sexual orientation, failure to disclose sexual issues or concerns because this may cause them to be "found out," fear of being judged for their gender identity, a limited choice of physicians or providers with whom they may feel comfortable, and providers who ignore sexuality or intimacy issues.9 Providers must be up front yet sensitive and nonjudgmental in addressing issues related to sexuality and STDs as part of the "norm" of older adult healthcare. Moreover, providers should not assume that an LGBT older person's sexual orientation is necessarily same sex or monogamous.
— Tresa Imparato, RN, BSN, is a staff nurse in a medical telemetry unit at Geisinger Medical Center in Danville, Pennsylvania.
 — Debra Sanders, RN, PhD, GCNS-BC, is an assistant professor of nursing at Bloomsburg University of Pennsylvania and a board-certified gerontologic clinical nurse specialist.
Sexual History Questions8
1. Are you currently sexually active?
2. Are you currently sexually active with more than one partner?
3. What kind of protection do you and your partner use during sexual activity?
4. How has illness or medication use affected your sexual activity?
5. Do you have questions or concerns about your sexual activity?
6. Have you ever had a sexually transmitted disease (STD)? Been exposed to someone with an STD?
7. Have you ever had, or do you currently have, discharge, rashes, or sores in the genital area?
8. Is there anything you would like to discuss concerning sexual issues?
Patient Recommendations For Safe Sex8
• Know your partner.
• Limit the number of sexual partners.
• Avoid exchanging bodily fluids.
• Use condoms and spermicidal ointment or foam during sexual activity.
• Practice good hygiene; wash your genitals before and after sexual activity.
• See your primary care provider yearly for medical checkups.
References
1. Brown PS. Intimacy, sexuality, and aging. In: Lange JW. The Nurse's Role In Promoting Optimal Health of Older Adults: Thriving in the Wisdom Years. Philadelphia, PA: F. A. Davis & Company; 2011.
2. Jena AB, Goldman DP, Kamdar A, Lakdawalla DN, Lu Y. Sexually transmitted diseases among users of erectile dysfunction drugs: analysis of claims data. Ann Intern Med. 2010;153(1):1-7.
3. Emlet CA. A comparison of HIV stigma and disclosure patterns between older and younger adults living with HIV/AIDS. AIDS Patient Care STDs. 2006;20(5):350-358.
4. Heckman TG, Kochman A, Sikkema KJ. Depressive symptoms in older adults living with HIV disease: application of the chronic illness quality of life model. J Mental Health Aging. 2002;8(4):267-279.
5. Eller LS, Bunch EH, Wantland DJ, et al. Prevalence, correlates, and self-management of HIV-related depressive symptoms. AIDS Care. 2010;22(9):1159-1170.
6. Grov C, Golub SA, Parsons JT, Brennan M, Karpiak SE. Loneliness and HIV-related stigma explain depression among older HIV-positive adults. AIDS Care. 2010;22(5):630-639.
7. Annon JS. Behavioral Treatment of Sexual Problems: Brief Therapy. New York, NY: Harper & Row; 1974.
8. Levtak S, Schoder D. Sexually transmitted disease in the elderly: what you need to know. Geriatr Nurs. 1996;17(4):156-160.
9. Macrae N. Sexuality and aging. In: Robnett RH, Chop WC. Gerontology for the Health Care Professional. 2nd edition. Boston, MA: Jones & Bartlett; 2010.
| | | |
| --- | --- | --- |
| |   |  PLISSIT Model* |
| Level 1 | Permission | Ask the patient for permission to discuss sexuality and intimacy in order to address any issues or concerns. |
| Level 2 | Limited information | Share information specifically directed toward the patient's concerns or particular illness/issue, including information about the anatomy and physiology of sex/reproduction/illness. Dispel myths. Make the patient aware of any support groups that may be helpful. |
| Level 3 | Specific suggestions | Assist the patient in setting specific goals or objectives. Information provided at this time may include details on adaptive equipment, positioning during sexual activity, and alternative methods of sexual satisfaction. Refer the patient to other healthcare providers for specialized information or therapy. |
| Level 4 | Intensive therapy | Provide a referral to a specialized healthcare team member such as a psychologist, a psychiatrist, or a sex coach and coordinate medical management/therapy with this individual. Long-term sexual problems, relationship issues, and psychological demands of the illness may be the focus here. |
| | | *At all levels, the provider should know his or her limits of knowledge and competence when providing information. |