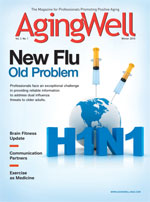 Winter 2010
Advance Care Planning: Why It Matters to You
By Diane E. Meier, MD
Aging Well
Vol. 3 No. 1 P. 34
There has recently been much controversy and misinformation about what government should do to support Americans facing decisions during advanced illness. Adults with serious illness commonly endorse a range of goals for their medical care, with comfort as the top priority (95% of respondents), followed by living longer (77%); improved quality of life, function, and independence (75%); cure (62%); completion of life goals (53%); and support for family members and caregivers (40%).1
Patients and their families welcome discussions with medical providers, as they clarify misunderstandings, reassure patients that their goals are paramount, and strengthen the physician-patient relationship.2
What is advance care planning and why should we care?
• In a recent survey, more than four out of five Americans indicated they would choose to spend their final days and months at home with their loved ones. Yet 80% of Americans die in institutions, primarily in hospitals and nursing homes.
• According to an August 2009 Health Affairs/Robert Wood Johnson Foundation policy brief, a main reason for this discrepancy between elders' and families' wishes and the starker reality is that they have not clearly conveyed their wishes to doctors and loved ones. When older adults have not expressed their wishes and goals for medical care or their wishes have not been conveyed to their doctors, they are typically provided a panoply of medical treatment, including aggressive measures that can make the process of dying prolonged, painful, and expensive.
• In part because there is no evidence of their wishes, more than 1.4 million Americans annually are kept alive through the use of feeding tubes, with as many as 100,000 of these in severely brain-injured or permanently vegetative states. In 1999, 34% of 186,835 nursing home residents with advanced cognitive impairment had feeding tubes.3
• The purpose of advance care planning is to ensure a match between patient goals and the medical treatment provided. Because advance care planning is primarily focused on determining and honoring elders' goals in the context of the medical realities, it can result in decisions ranging from the pursuit of aggressive life-prolonging therapies to time-limited trials of life-prolonging efforts to a primary focus on comfort and prevention of pain and other distressing symptoms. The patient and family determine the goals.
Because older adults and families often (but not always) choose to receive care at home rather than in a hospital once they have a genuine understanding of the treatment options and their likely benefits and burdens, conversations about elders' goals have been shown to reduce overall healthcare costs, although this is not their objective. The 10% of Medicare beneficiaries with five or more chronic conditions are vulnerable to medical setbacks and crises and are most likely to benefit from care matched to their own goals. Since this group accounts for two thirds of all Medicare spending, strengthening such shared decision making may reduce healthcare costs.
• Only one third of Americans have advance directives that specify elders' preferences for the kind of treatment they would wish to receive when they cannot speak for themselves, according to the aforementioned policy brief. Among severely or terminally ill patients, the majority had no advance directives in their medical records.
• Advance care planning is governed by federal and state law and empowers individuals to make the best decisions for themselves and ensure that their wishes are honored before a medical crisis occurs. Since the federal Patient Self Determination Act was passed in 1990, hospitals and other healthcare settings have been required to tell patients of their right to have a living will or advance directive and to assist them in writing one if they request it.
• The consultation process permits patients to make their choices and preferences explicit and address them long before a medical crisis occurs.
• Physicians play a key role in the process, laying out the full range of treatment alternatives and their risks and benefits, as well as the availability of pain medications to alleviate suffering, and documenting whom a person would trust to make medical decisions if they were no longer able to make their own.
Whatever the outcome of the healthcare reform legislation in Washington, the purpose of medical care is to help our patients achieve their own goals as they determine them. Unless patients and families understand the realities of the illness, the treatment options plus their pros and cons, and what their future is likely to hold, they cannot make rational decisions that fit their own lives. Conversations among patients, families, and physicians are central to this process. It would help if providers could be paid for conducting these all-important discussions, but even if we aren't, caring for our patients requires them. As Francis Peabody, MD, said to Harvard medical students in 1925, "The secret of the care of the patient is in caring for the patient."
— Diane E. Meier, MD, is the director of the Center to Advance Palliative Care at Mount Sinai School of Medicine in New York.
References
1. Kaldjian LC, Curtis AE, Shinkunas L, Cannon KT. Goals of care toward the end of life: A structured literature review. Am J Hosp Palliat Care. 2009;25(6):501-511.
2. Kaldjian LC, Erekson ZD, Haberle TH, et al. Code status discussions and goals of care among hospitalised adults. J Med Ethics. 2009;35(6):338-342.
3. Mitchell SL, Teno JM, Roy J, Kabumoto G, Mor V. Clinical and organizational factors associated with feeding tube use among nursing home residents with advanced cognitive impairment. JAMA. 2003;290(1):73-80.