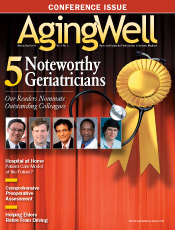 March/April 2013
Metformin vs. Sulfonylureas to Reduce Cardiovascular Risk?
By Mike Bassett
Aging Well
Vol. 6 No. 2 P. 8
A comparative study from researchers at Vanderbilt University has determined that of the two most commonly prescribed oral diabetes medications—metformin and sulfonylureas—metformin is more likely to reduce the risk of suffering a cardiovascular-related event such as a heart attack or stroke.
One of the most serious concerns for patients with diabetes is the significant possibility of developing cardiovascular disease (CVD). In fact, CVD accounts for most of the deaths in patients with diabetes.
This issue is particularly profound for the nation's elderly population. According to the National Institute of Diabetes and Digestive and Kidney Diseases, about 10.9 million US residents aged 65 and older (about 27%) had type 2 diabetes in 2011. Furthermore, in 2004, heart disease was noted on 68% of diabetes-related death certificates in people over the age of 65, while stroke was noted on 16% of those death certificates.
The Vanderbilt study, which appeared in the November 6, 2012, issue of the Annals of Internal Medicine, involved the comparison of heart attack, stroke, and all-cause mortality outcomes in a group of about 250,000 veterans who received regular VA healthcare and were prescribed either metformin or sulfonylureas as their first diabetes treatment. The study results suggested that for every 1,000 patients treated with metformin for one year, there are two fewer heart attacks, strokes, or deaths compared with patients who take sulfonylureas, according to lead author Christianne L. Roumie, MD, MPH, an assistant professor of internal medicine and pediatrics at Vanderbilt University Medical Center and the VA Tennessee Valley Healthcare system.
"When you think about the number of patients who have diabetes, most use oral medications, not injectable medications like insulin," Roumie says. "On a population basis, it's an important consideration that you have two fewer heart attacks, strokes, and deaths per 1,000 patients [with metformin]. There are a lot of people in the US who have diabetes and use these medications, so if we can prevent a number of these cardiovascular events, then that's a good thing."
Roumie says it's unclear whether the difference in cardiovascular risk between the drugs can be attributed to some degree of harm from sulfonylureas, a benefit from metformin, or a combination of both. "We do know that those patients who use metformin lose some weight and have better lipid profiles compared to those who use sulfonylureas," she says. "So the totality of the evidence is that we know sulfonylureas reduce blood sugars, which is good because that prevents renal and eye complications, but metformin is probably a better medication because it has the added benefit of protecting the heart compared to sulfonylureas. These findings support the use of metformin to initiate the treatment of type 2 diabetes in adults."
Allison Goldfine, MD, head of the section of clinical, behavioral, and outcomes research at the Joslin Diabetes Center and an associate professor of medicine at Harvard Medical School, calls the study "one of the best comparative effectiveness studies I've ever seen." She points out that sulfonylureas were the first oral agents to be used in the treatment of diabetes and that they do have a long track record of safety.
"It is very clear that if you reduce the blood sugars in patients with diabetes, you've actually improved many of the complications of the disease, especially the retinopathy, nephropathy, and neuropathy, which are devastating complications," Goldfine says. "And we've seen the rate of these complications go down over time; life expectancy of patients with diabetes has increased; and I think there were many advantages to sulfonylureas compared to insulin, which was the only available therapy when they first became the first oral agents."
So even though metformin has become the first-line agent for diabetes treatment, Goldfine says it's important to remember that not everyone can take the drug. "So the question becomes what's the next drug to use for treatment," she says. "And there have been many studies that demonstrate that sulfonylureas are beneficial but just not as good as metformin."
Making Choices
In light of the recent study findings, how should physicians frame conversations with patients regarding diabetes treatment?
Roumie and Goldfine agree that healthful behaviors, such as engaging in daily exercise and making judicious food choices, are critically important in both preventing and treating diabetes. But many patients also will need medication.
Roumie says she tells patients that the evidence suggests metformin should be the first-line agent in treating diabetes. "And I'll tell them metformin does have some side effects," she says. "Most of them are gastrointestinal, but those can be managed."
Of course, if a patient has impaired renal function, then possible drug treatments are limited to sulfonylureas or medications such as insulin, Roumie says. She adds that she would like to see the FDA reevaluate the renal threshold for using metformin, noting that the United States is more conservative with metformin use in patients with renal dysfunction compared with the renal thresholds used in Europe, Canada, and Australia.
Roumie and her research colleagues estimate that up to 30% of patients with type 2 diabetes are taking a sulfonylurea drug, and she suggests that any patients considering changing medications first should talk with their physicians.
Goldfine says any conversation she has with a patient concerned about sulfonylureas and cardiovascular risk would be "very individualized." She adds, "I would try to assess the patient very carefully. If they are overweight with their diabetes, I can tell them there is a drug [metformin] that can lower blood sugars and be less likely to be associated with weight gain."
But if a patient's blood pressure, lipids, and blood sugar levels are good and the patient is weight stable, Goldfine says she would examine why the patient started with a particular medication in the first place. "If it was started because they didn't have good renal function, I would reassure them [about the safety of sulfonylureas]," she says. "And if it was started because of cost issues or gastrointestinal intolerance, I would again reassure them."

As for any risk involved in switching medications, Goldfine says that while people can have adverse events with any drug, such events are rare and there are generally no problems associated with changing medications.
"There are many newer FDA-approved medications available to lower blood sugars," she points out. "However, the cardiovascular safety of newer agents is still being studied, so it is still uncertain where they will be in comparison to metformin, sulfonylureas, insulin, or each other."
— Mike Bassett is a freelance writer based in Holliston, Massachusetts.