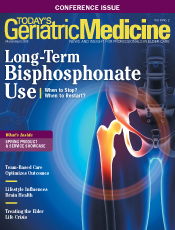 March/April 2015
Team-Based Care Optimizes Outcomes
By Mary Frances Thaler, PT, MHA; Jon Kole, MBA, LNHA; and Mojdeh Rutigliano, MSN, RN, RAC-CT, C-NE
Today's Geriatric Medicine
Vol. 8 No. 2 P. 14
Coordinated communication among care team members ensures that patient care decisions consider input from clinical specialists, expedited service delivery, and cost-effective strategies.
With the ever-changing landscape of long term care, it is becoming necessary for organizations to take a hard look at current systems and processes. Historically, many organizations have used a multidisciplinary approach in delivering care to their patients. Although previously the norm, in today's environment this model of care delivery has its limitations as patients expect an individualized and integrated approach to their health care.
Some organizations have implemented a team-based approach to patient care. In doing so, they are positioning themselves to ensure success in the new era of health care delivery. The team-based model permits the seamless and accurate flow of information throughout the interdisciplinary team and ultimately to the patient and family. It also facilitates integration of patient services as patients transition from one health service need to another. As a result, reengineering geriatric care into a team-based model leads to optimal clinical and operational outcomes across the health care continuum.
Because of the complexity of patients' medical care, creating a team-based model of care is critically important for the geriatric population. As a single patient presents with multiple comorbidities, the clinical team often comprises an increasing number of clinicians from many different disciplines and specialties. As the team grows, the challenges of ensuring coordination and a free-flowing communication process among the various providers tend to grow proportionally. When a patient transitions from one provider to another or from one level of care to another, timely, accurate, and effective communication is necessary to ensure optimal care outcomes. It is ideal for each clinical decision maker to have access to comprehensive information when making his or her own patient care determinations. To optimize care delivery, the team model is structured to facilitate the integration of components that most often had previously functioned independently.
Communication Fosters Collaboration
To better understand the benefits of implementing this new team-based model of geriatric care, it is important to outline the shortcomings of the now outdated approach to care delivery. Previously, care teams were multidisciplinary, siloed, and inefficient. Clinicians would often function independently in making decisions for their patients, and often failed to communicate discipline-specific plans to other team members. Unilateral decision making based on the clinical specialty would occur without considering the impact on other clinicians who were treating the same patient. This approach often led to less than ideal care outcomes such as duplication of prescriptions and services, unnecessary hospital admissions, or prolonged courses of care. Outcomes noted above are often characterized by increased cost to both the patient and to the facility resulting from unnecessary services rendered and time wasted. From the perspective of today's clinician, it is important to foster creative thinking and coordinated decision making that were often absent in the model detailed above.
In stark contrast, the team-based approach encompasses many of the elements necessary to optimize clinical and operational outcomes. Enhanced communication among team members ensures that patient care decisions are made with consideration of information from multiple clinical specialists, expedited delivery of services, and cost-effective methodologies. Additionally, this approach often results in the avoidance of negative clinical outcomes and operational inefficiencies. The team-based approach encourages all team members to work toward a common goal in which every team member is held equally accountable. Members of a cohesive team find support from their peers during the decision-making process and tend to share ideas more readily and without fear of criticism.
To achieve the desired outcomes, proper team structuring in this patient care model is of the utmost importance. The needs of geriatric patients are often met in the community or nursing home setting. The clinicians involved often include physicians, nurses, rehabilitation therapists, social workers, dietitians, and therapeutic activity professionals. Each team member is expected to focus on a common goal while working collaboratively to ensure the patient is receiving comprehensive care. All team members are expected to participate in and contribute to the care planning process and to hold other team members accountable for their performance. Selection of team members should be based on the core clinical skills required to align with team goals and expectations. For example, a newly diagnosed diabetic patient requires coordinated service delivery among the endocrinologist, primary care physician, nurses, dietitians, and rehabilitation therapists to manage medication dosages, food intake, and physical activity tolerance. If clinical team members fail to communicate regularly, insufficient information could result in negative clinical outcomes, such as incorrect blood sugar management strategies or duplication of services rendered in the form of labs.
Team-Based Care in Action
At the Hebrew Home at Riverdale by RiverSpring Health, we have effectively implemented the team-based geriatric care model. Following selection of team members, certain elements must be put into place to ensure effective team structure. Identification of a leader for the interdisciplinary team is critical. It is the responsibility of the team leader to ensure that all team members are contributing their clinical expertise to the patients' care plans. Clearly identifying and communicating performance expectations is critical to ensuring coordination among the various team members.
One example of team-based geriatric care involves The Hebrew Home's subacute service, RiverSpring Rehabilitation. The subacute service is based within the skilled nursing facility. A single administrator has been identified as being responsible for the performance of all interdisciplinary team members, regardless of professional discipline. This administrator is involved in the selection, performance review, and discipline of all subacute staff. The RiverSpring rehabilitation program staff members have been selected based on their clinical competencies and their attention to achieving the highest levels of customer satisfaction. All registered nurses participate in clinical education and skills competency assessments. All certified nursing aides receive advanced clinical education to ensure their competency in caring for medically complex subacute patients. The staff of a national rehabilitation provider delivers rehabilitation services. Likewise, pharmacy services are delivered via a national pharmaceutical provider.
Inclusion of national providers as members of the interdisciplinary team leverages the provider resources, such as regulatory compliance, clinical and billing audits, enhanced technology and specialty software, and marketing expertise. Restructuring of the social services and discharge planning departments into a single care management department has resulted in integration between the two previously discrete functional groups. Communication among various team members is further facilitated with the addition of a customer service supervisor to the clinical team. The customer service supervisor efficiently addresses all of the patients' nonclinical concerns and requests. As a result, the clinical team members can focus on the medical, social, and emotional patient needs.
To further enhance seamless transitions from hospital to the skilled nursing facility, The Hebrew Home has worked with a local hospital partner to have a hospital-employed physician as the attending physician on one of the subacute floors. The addition of the hospital-based physician facilitates information sharing between the two organizations, resulting in improved patient care. For example, one of the subacute patients reported the onset of upper arm pain. The physician ordered X-rays, which were performed at the skilled nursing facility. The X-ray report indicated the presence of a humeral fracture of indeterminate age. Integration between the skilled nursing facility and the hospital permitted the attending hospital-based physician to compare the new upper arm X-ray with an older X-ray previously performed at the hospital via access to the hospital electronic medical record. As a result, the comparison revealed that the humeral fracture preexisted and was not a new condition. Consequently, the patient did not have to be transferred off site to see an orthopedist to address a new humeral fracture.
A second example of team-based geriatric care focuses on preventing avoidable hospitalizations. Initially an interdisciplinary team was identified to form a hospitalization committee whose purpose was to complete a monthly review of all patient hospitalizations. Led by the medical director, the team includes the vice president of nursing services, the vice president of administration, the assistant vice president of administration, the assistant director of nursing services, the infection control nurse, and the associate director of clinical documentation and reimbursement. A single spreadsheet is utilized to track all patients who are transferred to a hospital, specifying the physician who requested the patient transfer and the day and time of the transfer.
The transferring physician and the patient's primary care nurse complete a quality assurance review document specifying the acute change in a patient's condition and the responsiveness/recommendations of the team members. The quality assurance document is then reviewed by the hospitalization committee to determine whether the hospitalization was avoidable, potentially avoidable, or unavoidable. Based upon the committee review, care team members are educated on their clinical performance and areas for performance improvement are identified. Through this initiative, a curriculum of education and training for clinical team members has been developed and implemented. Clinical care paths have been developed and customized for such diagnoses as congestive heart failure, upper respiratory infection, pneumonia, urinary tract infection, sepsis, and anemia.
Both medical and nursing staffs receive education on the clinical care paths in order to ensure optimal performance during acute changes in a patient's condition. Care paths have been used to identify areas in which a physician's or nurse's clinical performance was less than optimal, allowing for reeducation to occur immediately. Implementation of the hospitalization committee has resulted in an overall reduction in The Hebrew Home's hospitalization rates to below the regional and national averages.
A Successful Protocol
Of particular note, The Hebrew Home's medical director, Zachary Palace, MD, FACP, CMD, has created a team-based management strategy for patients with anemia. The protocol was developed for nursing home patients who were evaluated for anemia, following which a clinical decision was made for a blood transfusion without pursuing an extensive diagnostic workup and an inpatient admission. Reasons for exclusion from the protocol included active bleeding, hemodynamic instability, and a patient or family request for inpatient admission. Through a clinical collaboration with a geriatrician liaison at a local hospital, the team created a transfusion protocol and transfer form.
The transfusion transfer form is completed by the nursing home physician and faxed to the hospital geriatrician, who then coordinates with the hospital's blood center for an outpatient transfusion on the following day. The patient is transported to the hospital's blood center for transfusion and returns to the nursing home later on the same day. By creating a direct connection with one of our local hospital partners, The Hebrew Home experienced a 64% reduction in hospitalizations for patients with chronic anemia over a five-year period. Team-based geriatric care of patients with chronic anemia resulted in improved patient health outcomes and a reduction in the total cost of care. Additionally, a reduction in patient exposure to hospital-acquired infections, adjustment reactions, and functional decline was also achieved by avoiding unnecessary hospitalizations.1
Team-based geriatric care extends beyond the walls of the skilled nursing facility. In order to ensure direct connections with the local community, we regularly communicate with our hospital partners and with our community-based service providers. Members of the geriatric care team from the skilled nursing facility participate in a variety of quality assurance/performance improvement committees for hospitals, home health agencies, and managed long term care programs.
Committee membership fosters seamless communication between the organizations and enhances patient care outcomes. Through established interfacility connections, patient transitions from hospital to skilled nursing facility to home are efficient and effective.
As evidenced above, a team-based approach to geriatric care provides many benefits to the patient, the clinical team members, and the organization. This article has outlined several different strategies for the implementation of alternative approaches to the delivery of geriatric care. It is critical that all levels of an organization embrace this model, form strategic partnerships, and support a culture change that supports creative thinking. Achieving this goal enables organizations to position themselves favorably as the health care industry continues to evolve.
— Mary Frances Thaler, PT, MHA, is vice president of administration at The Hebrew Home at Riverdale in New York.
— Jon Kole, MBA, LNHA, is assistant vice president of administration at The Hebrew Home at Riverdale.
— Mojdeh Rutigliano, MSN, RN, RAC-CT, C-NE, is vice president of nursing services at The Hebrew Home at Riverdale.
Reference
1. Palace, Z. Development of an outpatient transfusion protocol to reduce inpatient hospitalizations of nursing home residents. Paper presented at: American Geriatrics Society Annual Meeting; May 12, 2011; Washington, D.C.