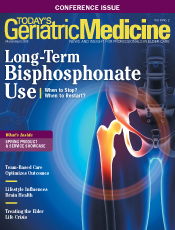 March/April 2015
Embracing Residents' Sexuality
By Stella Hatcliffe, RN, MSN, CPHQ
Today's Geriatric Medicine
Vol. 8 No. 2 P. 28
We all have different perceptions when we hear the word "sexuality." The World Health Organization's definition connects sexuality to our sense of mental and physical well-being across our lifespan: "[Sexuality] encompasses sex, gender identities and roles, sexual orientation, eroticism, pleasure, intimacy, and reproduction. Sexuality is experienced and expressed in thoughts, fantasies, desires, beliefs, attitudes, values, behaviours, practices, roles, and relationships."
Regardless of age, sexuality can evoke sentiments of joy, romance, affection, and feelings of closeness and being wanted and valued as a human being. Within health care settings and senior living communities, sexuality can be regarded as a delicate topic, and discussions of patient and resident sexuality often create hesitance and discomfort in employees. As a health care educator, it has been my experience that discussing older adult sexuality with employees can be insightful, encouraging them to share experiences and strategies to enhance person-centered, respectful service. In several of my training sessions, staff members have shared that sexuality was often considered a taboo subject, and discussions on the topic helped them reflect on possible myths and stereotypes they may have embraced, as well as learn to anticipate residents' sexual needs.
We often discuss older adults' physical and mental health, so it can be positive to view sexuality as a dimension of their health that evokes a sense of joy, romance, affection, and passion. We need to eliminate the perception that older adults are asexual human beings. The assumption can have a negative impact if older adults internalize this misconception. In fact, sexuality can benefit older adults' psychological well-being through helping to maintain interpersonal relationships and a positive self concept. We need to recognize that sexually intimate relationships can support older adults' feelings of happiness and enhance their quality of life.
Research on older adult sexuality has indicated that the most frequent sexual expression among older adults is manifest through maintenance of their physical attractiveness. However, physical changes related to aging can impact sexual health. For example, men may experience erectile dysfunction and women with postmenopausal estrogen deficiency may experience painful intercourse.
Common Myths and Misconceptions
It's not uncommon to hear myths related to older adult sexuality, such as the misconception that sexual desire diminishes with age or that all older adults are heterosexual. A 2007 research study by Lindau et al reported that 73% of adults aged 57 to 64 years, 53% of adults aged 65 to 74 years, and 26% of adults aged 75 to 85 years were sexually active.1 There are an estimated 1.5 million adults over the age of 65 who identify as lesbian, gay, bisexual, or transgender (LGBT), according to the U.S. Administration for Community Living Department of Health and Human Services. Sadly, many LGBT older adults have experienced discrimination and social stigma during their lifetime.
An activity therapist once shared with me the story of Joe, an older adult enrolled in her physical therapy program following orthopedic surgery. After a few weeks in the program, the therapist noticed that Joe appeared somewhat withdrawn and sad, and seemed less engaged with the activity program. She asked to have a conversation with him after lunch one afternoon and shared a story with him about a recent vacation she had taken with her partner in Italy. Joe immediately became more engaged with her, smiled, and shared that he also had a partner who had died several years previously.
Joe shared that he was glad she had used the word "partner," because it was his experience that everyone assumed that because he was an older man he must have had a wife. After this encounter, the physical therapist noticed that Joe became much more engaged with the activity program, smiling and greeting her with a hug each time he came to her sessions.
The therapist shared with me her surprise in learning that she had lifted his spirits simply by using the word partner, and it helped her gain insight into how challenging it must be for older adults who may have experienced prejudice because of their sexual orientation. Their new connection had a very positive impact, which demonstrated the importance of remembering that all older adults have the right to be treated with dignity and respect and to exercise their own choices. In fact, long term care communities participating in Medicare and Medicaid may soon be required to recognize the rights of same-sex spouses regardless of whether the state has validated same-sex marriage, according to a recently proposed rule by the Centers for Medicare & Medicaid Services.
Dementia and Sexuality
Older adults with dementia require a different approach to their sexuality. The number of Americans with Alzheimer's disease and other dementias will escalate rapidly in coming years as baby boomers age. By 2050, the number of people aged 65 and older with Alzheimer's disease may triple, from 5 million to as many as 16 million.
Dementia creates confusion with relation to people and place, and can contribute to poor judgment and loss of inhibitions. Family members of older adults with memory loss may face specific challenges related to their loved ones' sexuality, such as a parent being intimate with another older adult he or she may mistake for a spouse. Older adults with dementia may experience more or less interest in sex, and inappropriate behavior is more likely in moderate to severe stages. As is the case with sexuality in younger adults, older adults are also at risk of sexually transmitted disease, so it is especially important that caregivers help to protect people with cognitive impairments from contracting these diseases.
It is important to reflect on what might be considered sexually inappropriate behavior among older adults with cognitive impairment because they may be unable to verbally express their concerns. For example, a patient with dementia who disrobes may simply be reacting to being too hot, wearing clothing that is too tight, or needing to use the bathroom when he or she cannot express the words that reflect specific needs. Other contributing factors may be related to side effects of medications or depression. A request for a kiss and inappropriate touch may indicate boredom or misinterpretation of a person as a partner.
A family member once shared with me that she had noticed that her father, who had severe memory loss, would sometimes inappropriately touch his family and friends. An inspired idea prompted her to buy him a large soft teddy bear. When she gave it to him, he immediately smiled and began to massage it. The teddy bear distracted him from inappropriate touch, and cuddling the bear provided the contact and tactile comfort he sought. Providing alternative methods of intimacy, such as hand holding and gentle massage, can provide a sense of emotional intimacy and prove relaxing to older adults with memory impairment. In essence, as challenging as it may be to experience what are considered to be sexually inappropriate behaviors among older adults with memory loss, it is important to embrace positive strategies and try to remain calm and not feel embarrassed or show shock as a way to preserve their dignity.
Changes in mental status can also impact older adults' relationships with each other. For example, the wife of a husband with memory loss may feel sad that she has become his caregiver rather than his partner, and the husband of a wife with memory loss may feel upset that she does not remember intimate moments they had throughout their relationship. There can also be different perspectives between family members, which can lead to family tensions. For instance, a daughter may think it is inappropriate for her father to masturbate, whereas a son may guide his father to masturbate in a private place.
Education Begins With Self
It is important to reflect on our own personal, moral, religious, and cultural values as we seek to adapt and tolerate views that may be different from our own. Within senior living communities, staff should consider: Do I work in the residents' home, or do they live in my workplace? Simply reflecting on how, as an employee, you work in a residents' home can lead to a greater understanding and respectful approach to resident behaviors, including their sexuality.
Embracing a nonjudgmental attitude and acknowledging that sexual pleasure, affection, and intimacy enhance overall well-being, health, and happiness can play a major role.
— Stella Hatcliffe, RN, MSN, CPHQ, is director of education at Mather LifeWays Institute on Aging, where she develops and presents professional education programs that create Ways to Age Well. An experienced health care leader with progressive clinical and administrative experience in improving clinical operations, quality indicators, and evidence-based compassionate service, she has held roles as chief nursing officer and clinical nurse specialist in gerontology.
Reference
1. Lindau ST, Schumm LP, Laumann EO, Levinson W, O'Muircheartaigh CA, Waite LJ. A study of sexuality and health among older adults in the United States. N Engl J Med. 2007;357(8):762-774.