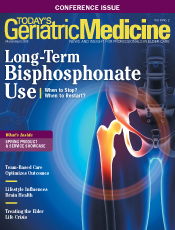 March/April 2015
Alzheimer's Research Comes of Age
By Reisa Sperling, MD, MMSc
Today's Geriatric Medicine
Vol. 8 No. 2 P. 34
Over the past decade, geriatrics professionals have played a significant role in successfully moving Alzheimer's disease (AD) out of the shadows and into the spotlight of public health dialogue in the United States. The demographics demand urgent attention, and from the clinical research perspective, the timing couldn't be better. AD clinical researchers are now well armed with biomarkers and new investigational agents that hold the promise of forever transforming how we diagnose, treat, and care for people in the AD spectrum.
Converging evidence from both genetic-at-risk and age-at-risk studies strongly suggests that amyloid accumulation begins significantly more than a decade prior to clinical symptoms due to AD. For me, that is a "glass half full," as we have 10 to 15 years in which to intervene and hopefully prevent individuals from ever progressing to the devastating late stages of AD. And isn't this exactly the approach that has been successful in cardiovascular disease through lowering cholesterol? Indeed, in almost every field of medicine, our greatest advances have come through early presymptomatic detection and treatment—think of our successes in cancer, HIV/AIDS, and diabetes. The Alzheimer's Association has estimated that delaying AD dementia by just five years would decrease the number of dementia patients by nearly 50%.
One new approach aimed at preventing memory loss due to AD is the Anti-Amyloid Treatment in Asymptomatic AD or A4 study. The A4 study will identify individuals who are at high risk for developing memory loss associated with AD based on evidence of early AD changes in the brain, but who are still cognitively normal. One of the earliest AD changes is amyloid plaque accumulation, detectable now in the living brain with PET amyloid imaging or cerebrospinal fluid. Approximately 30% of normal older individuals harbor evidence of amyloid plaque burden—interestingly, the identical percentage of elderly who will eventually die with dementia.
The A4 study is testing a monoclonal antibody designed to help increase the clearance of the amyloid protein, administered intravenously monthly, that has already been tested in more than 3,000 patients with AD dementia. The A4 study is a phase 3 FDA trial, double-blind, placebo-controlled study that will assess the rate of cognitive decline as well as changes on imaging and biomarkers to determine whether we are slowing memory decline and preventing widespread neuronal damage.
In addition, the A4 study seeks answers to other questions about AD risk factors that remain unanswered, including why the disease is so much more prevalent in women, those with a family history of AD, and the black and Hispanic/Latino communities. Accordingly, the A4 study is strongly committed to enrolling minority participants to help uncover some crucial clues to these long-standing mysteries.
Eligible participants for the A4 study are women and men between the ages of 65 and 85 who have generally normal cognition. Individuals with subjective cognitive concerns but who are still performing normally are eligible, as studies suggest that the report of subtle memory changes may be associated with amyloid pathology. Participants must have a study partner who has weekly contact with them, and who can answer questions once a year about their cognitive function.
We anticipate the need to screen 10,000 people in order to enroll 1,000 who are the perfect fit for the A4 study. Finding these individuals is our immediate task, and engaging physicians and other geriatrics professionals is mission-critical to the success of the A4 study and other AD-related prevention research. The A4 study represents a public-private-philanthropic partnership, and the data will be made available to the scientific field to investigate these and other questions about the risk of AD-related decline.
To find out more about the A4 study or to provide additional information to your patients and colleagues, please visit http://a4study.org.
I am very hopeful that now is the time to fully realize the advances in treating and ultimately preventing AD, but we really need your help on the front lines of geriatric care.
— Reisa Sperling, MD, MMSc, is a professor of neurology at Harvard Medical School and director of the Center for Alzheimer's Research and Treatment at Brigham and Women's Hospital and Massachusetts General Hospital.