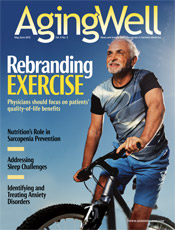 May/June 2012
Next Steps for Patient-Centered Medication Information
By H. Edward Davidson, PharmD, MPH, and Lisa F. Han, MPH
Aging Well
Vol. 5 No. 3 P. 6
Medication use is ubiquitous among older individuals and often among their caregivers. It is not uncommon to see 10 or more medications accumulate on individuals' medication lists as they age. Unfortunately, this high medication use, often referred to as polypharmacy, increases the risk of adverse outcomes, including adverse drug events and hospitalization.1
A study published in 2006 reporting on emergency department (ED) visits and hospitalization due to adverse drug events found that individuals over the age of 65 were 2.4 times more likely to be admitted to the ED than younger adults.2 As you can imagine, there are numerous factors contributing to adverse drugs events, including the use of multiple medications, improper use of medications, inadequate monitoring, and drug-drug and drug-supplement interactions. Healthcare providers are often puzzled when these events occur since many are avoidable.
There is a growing interest in improving patient understanding of health-related information, including knowledge of their medications. Patients are usually uninformed about the medications they take. In one study, only 29% of patients could list their medications, and only 37.2% could cite the reason they were taking them.3
In 2007, the American Medical Association Foundation published a manual for clinicians, Health Literacy and Patient Safety: Help Patients Understand. As implied, much of the manual's focus is on identifying and assessing patient health literacy, which the authors believe is related to health outcomes and medication errors. The authors support these beliefs throughout the document with the evidence surrounding this concern. As they note, individuals with low health literacy have health knowledge deficits. Examples include patients with low health literacy and asthma, noting that they are less likely to know how to use an inhaler, and patients with low health literacy and diabetes, who are less likely to know symptoms of hypoglycemia compared with those who have higher health literacy.
With regard to health outcomes, individuals with low health literacy are more likely to be hospitalized for any reason; have worse diabetes control, as measured by hemoglobin A1c values; and have higher annual healthcare costs than those who have better knowledge and understanding.
Reasons for Low Health Literacy
As noted in the clinician manual, there are several factors that contribute to this lack of understanding. Two important factors are the reading level of the informational materials provided to patients and the complexity of medical terms used (see table below). These factors are interrelated and have specific applicability to information about medications. This premise also applies to verbal communication, as healthcare providers often use overly complex, medically oriented jargon when communicating with patients, leading to poor information recall.4 It is not surprising that these conditions lead to nonadherence, particularly among elders.5
Various organizations and thought leaders have offered several patient-centered solutions to remedy this current communication gap, including the following:
• Provide the decision maker with all treatment options, free of provider bias, including the option of no treatment.
• Include an evidence-based discussion of treatment risks and benefits.
• When possible, use graphics (eg, pictographs) and quantitative information, such as frequency data (eg, one in 1,000) to explain risks and benefits.
• Limit the amount of information given at each visit and repeat it.
• Apply some standardized assessment, such as teach back, which involves asking the patient to repeat back instructions to ensure understanding.
• Encourage patients to ask questions.
Making a Conscious Effort
There is an urgent need to include older adults and, as appropriate, their caregivers in the decision-making process regarding medication treatment choices. This shared decision making, another aspect of patient-centered care, involves using interventions that improve doctor-patient communication by including patients in making treatment choices. Through the use of decision aids, as noted above, patient passivity is reduced, allowing patients to choose options consistent with their circumstances, preferences, and values.6
In late 2011, the Agency for Healthcare Research and Quality, as part of its Effective Health Care Program, released the first of a series of patient decision aids meeting some of the attributes discussed above. It can be viewed at www.effectivehealthcare.ahrq.gov/index.cfm/tools-and-resources/patient-decision-aids.
This, in our opinion, represents a glimpse into the future of shared decision making. Although we have many obstacles to address, including time, resources, and provider and patient attitudes and expectations, we are at the forefront of a paradigm shift in communicating with patients.
— H. Edward Davidson, PharmD, MPH, is a partner at Insight Therapeutics, a research and patient care consulting firm in Norfolk, Virginia, and an assistant professor of internal medicine at the Glennan Center for Geriatrics & Gerontology at Eastern Virginia Medical School. He serves as editor-in-chief of The Consultant Pharmacist, the official journal of the American Society of Consultant Pharmacists.
— Lisa F. Han, MPH, is a partner at Insight Therapeutics and a contributing writer for The Consultant Pharmacist.
References
1. Marcum ZA, Amuan ME, Hanlon JT, et al. Prevalence of unplanned hospitalizations caused by adverse drug reactions in older veterans. J Am Geriatr Soc. 2012;60(1):34-41.
2. Budnitz DS, Pollock DA, Wiedenbach KN, Mendelsohn AB, Schroeder TJ, Annest JL. National surveillance of emergency department visits for outpatient adverse drug events. JAMA. 2006:296(15):1858-1866.
3. Makaryus AN, Friedman EA. Patients' understanding of their treatment plans and diagnosis at discharge. Mayo Clin Proc. 2005;80(8):991-994.
4. McCarthy DM, Waite KR, Curtis LM, Engel KG, Baker DW, Wolf MS. What did the doctor say? Health literacy and recall of medical instructions. Med Care. 2012;50(4):277-282.
5. Steinman MA, Hanlon JT. Managing medications in clinically complex elders: "There's got to be a happy medium." JAMA. 2010;304(14):1592-1601.
6. Fischhoff B, Brewer NT, Downs JS, eds. Communicating Risks and Benefits: An Evidence-Based User's Guide. Silver Spring, MD: Food and Drug Administration; 2011. http://www.fda.gov/downloads/AboutFDA/ReportsManualsForms/Reports/UCM268069.pdf
Plain Language Alternatives to Commonly Used Medical Terms
| | |
| --- | --- |
| Medical Term | Plain Language Alternative |
| Abdomen | Stomach, tummy, belly |
| Analgesic | Painkiller, pain reliever |
| Anemia | Low number of red blood cells |
| Anti-inflammatory | Treats swelling and irritation |
| Bacteria | Germs |
| Cardiac problem | Heart problem |
| Cellulitis | Skin infection |
| Edema  | Fluid buildup, swelling |
| Hypertension | High blood pressure |
| Lipids | Fats in the blood |
| Monitor | Keep track of, keep an eye on |
| Obstruction | A blockage |
| Oral | By mouth |
| Osteoporosis | Brittle bones that break easily |
| Outcome | Result |
| Topical | Put on the skin |
| Toxic | Poisonous |
Adapted from Health Literacy and Patient Safety: Help Patients Understand, Second Edition by Barry D. Weiss, MD