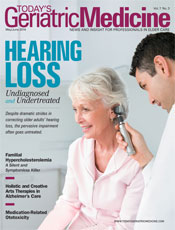 May/June 2014
A New Model for Alzheimer's Care
By Pierre N. Tariot, MD
Today's Geriatric Medicine
Vol. 7 No. 3 P. 34
For the first time in more than 30 years of working with people with Alzheimer's and other dementias, I find that I have become a fearless physician. That's because I now have the kind of broad and deep support system that I could only have dreamed about in my earlier years of practice, and I know that my colleagues and I can help anyone who crosses our threshold.
When patients with signs of dementia come to the Banner Alzheimer's Institute to receive care, they initially see me for a 60- to 90-minute visit, and I have peace of mind in knowing that they simultaneously have rapid, if not immediate, access to nurses, social workers, a psychologist, and a physical therapist who are part of the institute's family and community services team. We can schedule prompt radiology appointments as well as visits with internal or external specialists and complete a detailed evaluation and treatment plan in a matter of days to weeks, rather than months.
Created in 2006, this individualized care approach enables patients and families to optimize their quality of life under highly stressful circumstances while learning to manage the unforgiving realities of this chronic illness and achieving a sense of mastery—and even optimism.
Along with a tailored medical plan, they receive a 100-page handbook and timely counseling on complex nonmedical needs such as legal and financial issues and safety hazards. Additionally, educational and community engagement programs and support groups provide the opportunity to share perspectives and lighten their unique burdens.
My colleagues and I have undertaken this costly and deliberate medical/social experiment because, sadly, the status quo of Alzheimer's treatment is failing millions of families. Patients trapped in the traditional health care model are careening like pinballs from clinician to clinician, office to office, and clinic to hospital, all in search of an elusive diagnosis and, even more so, of help. In fact, an estimated 50% of dementia patients will die before receiving a proper diagnosis.
For many practitioners frustrated by a lack of bandwidth or experience with this mysterious disease, a kind of therapeutic nihilism sets in. All too often, the best an overwhelmed physician can offer a patient is nothing more than what we call "diagnose and adios."
The Banner Alzheimer's Institute treatment model doesn't fit in the current health care payment system. Fortunately for our patients and families, we have this unique opportunity because of the remarkable generosity of corporate and foundation funders and because our funders are willing to spend millions more than our reimbursements to prove that this model could become the new standard of care.
The stakes could not be higher. The World Health Organization has long warned of an Alzheimer's pandemic, and it now estimates that more than 35 million people suffer from some form of dementia, with that number expected to triple by 2050. In the United States, patients with dementia consume 300% more health care dollars than their healthy counterparts because of unnecessary and prolonged hospitalizations, medical redundancies, and needless visits to emergency departments. Only 5% of all Medicare beneficiaries in the Phoenix area (where the Banner Alzheimer's Institute is located) account for an astounding 50% of spending, much of which is attributable to dementia.
As my colleagues and I refine our model, we plan to launch pilot projects in urban and rural settings to teach primary care practitioners how to handle routine cases more successfully and when and how to interact with specialists. To put the cost-benefit in perspective, if we prevent just one person with Alzheimer's from experiencing an unnecessary hospitalization, we can pay a case manager's salary for an entire year.
Imagine if we could stabilize countless patients with dementia who have complex symptoms so that they are not consuming medical resources at an astronomical rate. We could free up billions of dollars to be used on thousands upon thousands of other patients.
At the Banner Alzheimer's Institute, we believe passionately that a non–fee-for-service model will allow us to proactively manage Alzheimer's and other diseases with lower costs and better outcomes for patients, their families, and all of us.
— Pierre N. Tariot, MD, is an internist and geriatric psychiatrist and the director of the Banner Alzheimer's Institute in Phoenix.