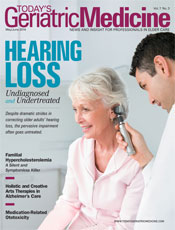 May/June 2014
Spectrum Model of Aging — A Plan for Individualized Aging
By Diane Martin, PhD, and Laura Gillen, BS
Today's Geriatric Medicine
Vol. 7 No. 3 P. 8
The Spectrum Model of Aging, a new interdisciplinary quantified approach to successful aging, aims to increase overall well-being in later life.1 The model employs the field of gerontology as a means of reducing and perhaps even eliminating the boundaries created by other disciplines in order to improve patient outcomes and quality of life for all older adults.
The historical roots of gerontology date to a time when old age was narrowly characterized as a period of physical and mental decline. However, we now know that those outcomes, which have led to a fear of the aging process, are not the inevitable consequences of growing older. As we continue to advance through the 21st century, new research illustrating how biology, psychology, and social and spiritual relationships are interconnected has helped us develop a clearer understanding of the aging experience.
Advances in pharmaceuticals, nutrition, and aging research have fostered an increase in the number of years each of us can expect to live. However, alone they do not necessarily add to the quality of life in the years gained because chronic disease and many other unpleasant aspects of a lifetime of inattention or inaction can lead to limitations in mobility, social isolation, and/or mental illness in the later years. However, just as lifestyle choices, attitudes, and utilization of available resources can influence disease course, they also can affect the overall aging outcome. Therefore, the development and implementation of a personal plan for aging that maximizes health and functioning, life satisfaction, relationships, and spiritual connectedness offers the promise of improved quality of life, regardless of medical diagnoses.
On the macro level, public health campaigns that promote steps to improving health through physical activity, diet modifications, alcohol moderation, and smoking cessation lay the groundwork for an understanding of the needs to be addressed. But these campaigns may lack an emphasis on the long-lasting psychosocial benefits of following such advice. An explanation of how these calls to action relate to well-being in later life sometimes is lost in translation or perhaps not discussed at all.
Gerontologists are poised to address these challenges and frame solutions utilizing an interdisciplinary lens, and the Spectrum Model of Aging, a four-pronged holistic approach to developing individualized aging plans, focuses on this goal.
Individualized Aging Plans
Customized idiosyncratic aging plans for managing health, comfort, and care are at the heart of the Spectrum Model of Aging. These plans include possibilities for prescribed medications, social support, health promotion, and meaning-centered life strategies that also examine the relevance of concepts such as contentment, gratitude, selflessness, and forgiveness. Practitioners and their patients must work together to develop these plans to maximize quality of life and attenuate the negative effects of chronic disease.
In addition to disease management, this person-centered approach considers avenues for stress management, continued cognitive stimulation, the pursuit of activities that impart a sense of meaning and purpose, and the building and continuation of networks for social support.
The personalized approach of an individualized aging plan addresses the diversities within the population and allows for an appreciation of cultural influences. In addition to answering standard questions about health- or medication-related changes, patients can be prompted to respond to questions related to overall well-being. Collecting data on topics such as resiliency, cognitive stimulation, participation in enjoyable activities, and social support will allow practitioners to evaluate patients' bio-psycho-social-spiritual functioning and make recommendations for improving quality of life to promote a healthier and more successful aging process.
Importance of Technology and Data
Technology and data are useful components of an individual aging plan. The office waiting room, for instance, can provide an ideal environment for a patient using an interactive device to identify and elaborate on his or her bio-psycho-social-spiritual needs, which may or may not be related to the physical health concern that prompted that visit to the physician's office. A short follow-up by the admitting staff member could involve main idea questions generated from these data, such as "What changes have occurred in your life?" "What questions would you like to have answered?" and "What do you hope to accomplish today?"
The brief set of questions generated from the data assists practitioners in focusing their time on what is most meaningful to patients in addition to meeting their needs and identifying the problem or concern that prompted the office visit. The practitioner and patient then can work together to consider goals that will best meet the patient's needs.
Then, as follows, avenues to achieving satisfactory results lie within the clinician's purview. As options are discussed and consensus is reached, the practitioner should require accountability from the patient.
With an aging plan in hand, the patient leaves the meeting with goals, steps, and resources that lead to achieving desired outcomes. Initially, success may be measured in terms of repairing deficiencies but, ultimately, aging plans offer a thorough proactive approach to successful aging, tailored to the individual.
Human behavioral theory suggests that a patient's environment, health beliefs, and readiness to improve the factors related to the aging process should be incorporated into a plan for intervention.2 SMART (specific, measurable, attainable, realistic, and time-limited) goals build feelings of confidence and self-efficacy. However, to improve results, it is important to assess the patient's level of health literacy and then provide coaching and access to resources appropriate for the patient's level.
Patient follow-up need not be relegated to the next appointment. Rather, practitioners can chart patient performance and provide feedback on a regular basis by having the patient periodically complete an online tool that highlights variances indicating progress and setbacks patients have experienced. Feedback may spur trajectory adjustments and offers the opportunity for the practitioner or his designate to provide ongoing yet flexible support to assist the patient in reaching the desired aging position goals.
The focused approach of individualized aging plans promotes successful aging regardless of a patient's chronological age or physical or cognitive health status. Among its benefits are the well-designed initiatives and policies for managing health, comfort, and care by clearly identifying a "this first, then that" step-by-step approach for implementing a plan to age well and enjoy an enhanced quality of life.
In Conclusion
Because the Spectrum Model of Aging has an interdisciplinary focus, action plans offer a realm of possibilities from which to choose and can be reformulated if or when a change in functional health status occurs. The resulting plans would illustrate trajectories that mitigate actual or anticipated decline and loss by considering various strategies for improved overall quality of life. These options offer a means to achieve more satisfying person–environment relationships, feelings of personal success, and an increase in overall well-being.
Our micro level model offers practitioners and patients the opportunity to develop personalized proactive plans for wellness, regardless of any medical diagnoses, and honors many different but dignified measures of successful aging.
— Diane Martin, PhD, is director of The Center for the Study of Aging at McDaniel College in Westminster, Maryland.
— Laura Gillen, BS, is a graduate student in McDaniel College's master of science in gerontology program.
References
1. Martin DJ, Gillen LL. Revisiting gerontology's scrapbook: from Metchnikoff to the spectrum model of aging. Gerontologist. 2014;54(1):51-58.
2. Shikany JM, Bragg CS, Ritchie CS. (2009). Behavioral theories applied to nutritional therapies for chronic diseases in older adults. In Bales CW, Ritchie CS, eds. Nutrition and Health: Handbook of Clinical Nutrition and Aging. 2nd ed. New York, NY: Humana Press; 2009.