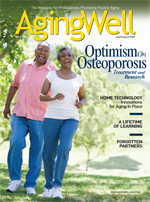 July/August 2009
Conquering Communication Obstacles
By Irene Zelterman, LCSW, C-ASWCM, and Janet Sullivan
Aging Well
Vol. 2 No. 3 P. 8
Years of care management have taught me to look to other disciplines, including nontraditional ones, to identify solutions for clients. In the following case, I incorporated the services of a music therapist and was amazed at what this experience brought to my client.
I received a call from Steve, who was living in England. He described his 82-year-old aunt, Sandra. She lived in a nursing home and, in the absence of other family, Steve sought to help her. He explained that Sandra had always lived alone and that she still maintained her apartment. Because Steve lived outside the country, he hadn't seen her in many years and kept in touch only through yearly holiday cards. The nursing home had obtained his name from Sandra to help locate financial documents to apply for Medicaid.
I visited Sandra in the nursing home. Although she was withdrawn, she was quite agitated. At first, she avoided eye contact and did not respond to me verbally. Eventually, she spoke in a low voice but said very little. Sandra was in the early stages of dementia, but that didn't account for her reluctance to speak. I suspected there was a mental health issue involved.
Within the nursing home, Sandra was socially isolated; she had no one she could speak with since the other residents were incapable of holding a conversation. When she felt more comfortable, she told me that she had earned a master's degree from the University of Chicago and had worked all her life for a large corporation. She confided that she was very unhappy in the nursing home but felt she couldn't care for herself at home. I spoke at length to her about the possibility of returning home with supervised care. She expressed skepticism and fear at the prospect. But we forged a good connection, and she eventually gave me permission to visit her apartment to assess whether returning there was feasible.
In consultation with Steve, I learned more about Sandra's life. Apparently, she suffered from depression and had received electric shock treatment as a young adult. Steve reported his aunt had always been "strange" and moody. He told stories of how one day she was pleasant and the next time was accusatory and paranoid. Steve thought she had no friends.
When I entered her apartment, I was shocked. I'd seen disheveled and cluttered apartments, but this was one of the worst I'd ever seen. After many months of renovations and refurnishing the apartment, Sandra was ready to go home. When she walked in, her face registered the changes, but she offered no complaint or compliment. Not speaking was characteristic of Sandra.
As the days went by, the around-the-clock aides reported that she cursed at, spit at, and hit them. We all attempted to find activities that Sandra would enjoy and for which she'd be willing to go outside. As time when on, she became less willing and eventually refused to go outside altogether. She did, however, like music. She told me she liked opera, especially Wagner.
I had had the good fortune to meet a music therapist named Janet Sullivan. She had worked for years in both inpatient and outpatient settings, treating people with varying stages of mental illness and dementia. Janet agreed to see Sandra to assess whether she could connect with her. Her description of what she did follows:
When Irene first suggested that I do music therapy with Sandra, I was intrigued and thrilled. Music therapy is used in many medical and psychiatric settings but is considered the intervention of choice for people who suffer with dementia. It's ideal for these patients because it can activate short-term memory and help with focus. That's because the brain stores music and the words of songs in a different, usually less afflicted, area from spoken words. It is also another way to communicate and build relationships for people who have limited ability or desire to speak.
The first time I visited Sandra, she was in bed staring vacantly at the television. She looked very frail, and she barely acknowledged my greeting. I had learned from both Irene and the home care workers that Sandra spoke very little due to advanced dementia and depression. I had brought my keyboard but, more personally, I had brought my singing voice. She showed little to me. From Irene, I knew that she liked opera and musicals, so the second time I saw her, I greeted her with singing. She immediately looked up in surprise and smiled. I had, at least for a second, captured her attention.
In our early sessions, my goals were to develop a relationship and find a way that would enable Sandra to communicate, experience pleasure, and increase her access to memories.
I began with songs from the golden age of American musical theater, a collection of songs that most elders from Sandra's generation would consider a reference point. That day, and for many sessions thereafter, whenever Sandra expressed interest with her facial expressions, I mentally put that song into "Sandra's Songbook." If she looked away or didn't recognize a song, it was discarded. Gradually, we built a song repertoire, and eventually she sang with me. Sometimes, she held my gaze. Sometimes, the song would lead Sandra to talk about a brief memory or story. Sometimes, she lay in bed, appearing disengaged or unable to remember what we had done before.
As our relationship continued, I brought my guitar and CDs of operas we listened to together. But we always came back to singing George Gershwin, Cole Porter, and Richard Rodgers and Lorenz Hart because those songs represented Sandra's younger and healthier years. Singing these songs prompted Sandra to speak and reminisce, which is very important for older adults moving toward the end of life.
Through our sharing music together, a relationship was building. I'm not sure if she knew who I was from session to session, and I am not even sure this was important because we were sharing meaningful time together and connecting on a deep level. This was important because I knew that Sandra had been isolated and withdrawn most of her life.
After several months of our sessions, Sandra was hospitalized for a short period of time. When she returned, she was even more frail and now bedridden. It was apparent that our sessions had to change. Singing musicals connected her with a meaningful past. But in her declining physical and emotional condition, she no longer connected with the songs. I felt the goals of our sessions should be to provide comfort and help her prepare for further deterioration or even death rather than energize her with singing. Of course, if a song came up, we'd pursue it. Even in her frail state, there were sessions where Sandra reacted positively to songs like "Sunrise, Sunset."
Sometimes, she would hum during our session. To me, her humming represented distress and overload rather than musical connection. I would ask whether she wanted to stop the session. If she indicated that she wanted to continue, I would weave melodies, cantillation, and lullabies around her hums. I started without words, using the hum as a base. Then I put words to the melodies. Words that came to me spontaneously utilized my fantasies about what she might be feeling or emphasized a connection between the two of us, which was communicated through prolonged eye contact or an expression on her face.
As singer-songwriter Joni Mitchell wrote, "Love is touching souls; Surely, you touched mine." I have been extremely moved and privileged to work with Sandra in such an intimate way.
I have to admit that if I had not seen it for myself, I would never have believed it was possible for Sandra to sing. When she sang, she was a different person from the one I knew. I am overcome with joy and awe when I think of how music therapy clearly touched Sandra in a special way.
— Irene Zelterman, LCSW, C-ASWCM, is founder and executive director of Hearthside Care Coordinators, a care management service in Brooklyn, NY, that covers the New York City metropolitan area.
— Janet Sullivan is a licensed music therapist and a psychoanalyst with a private practice in Manhattan, NY, treating adults and children.