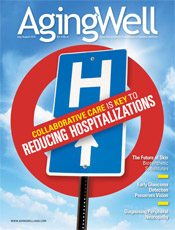 July/August 2012
The Future of Skin
By Jessica Girdwain
Aging Well
Vol. 5 No. 4 P. 18
Biosynthetic skin substitutes offer a promising solution for older adults' wound care.
When a patient's leg ulcer or surgical wound just won't heal, it's frustrating for both the patient and the physician. Now with a growing number of biosynthetic skin products available, physicians are harnessing the latest in biotechnology for wound care—and it's paying off.
Biosynthetic skin substitutes assist in the restoration of the skin bed, giving wounds the chance to heal at an accelerated rate and with less pain and discomfort for the patient. Restoring the skin bed is vital to prevent infection and maintain skin function as well as minimize scarring. Reconstructing skin and caring for wounds can present a challenge, but these skin substitutes offer easy application, provide quicker wound healing, and cost less than traditional dermal grafts.
The new guard of biosynthetic skin substitutes available today are superior when treating elders, notes Tania J. Phillips, MD, a dermatology professor at Boston University School of Medicine who specializes in wound healing and biologic skin substitutes. "The old way we treated wounds was to take a piece of skin from an area of healthy tissue and put it over the wound, also called a skin graft. Many times in the elderly, this was the thigh, which would cause a lot of pain and was often difficult to heal," Phillips says. "With the skin substitutes of today, the procedure is akin to having a dressing put on a wound. It's a simple procedure done in a doctor's office that is pain free and comfortable for the patient." The total time for treating a leg or foot ulcer may be 30 minutes. (One exception is burn patients, who are treated in an operating room, which takes longer.)
Biosynthetic skin basically acts as a temporary wound covering. Many of these skin substitutes contain foreign cells (eg, synthetic or natural materials, such as bovine or shark cartilage, or human cells) that provide a scaffolding material. Then the body's own cells "migrate in, heal the wound, and replace the skin substitute," Phillips explains.

Dramatic Results
Consider Integra Bilayer Matrix Wound Dressing, for example. The product is considered a bilevel dressing consisting of a single layer of material a couple millimeters thick that sits on a silicone backing, with a stiff plastic on the other side, says Mary Maloney, MD, chief of the division of dermatology and a professor of medicine at the University of Massachusetts Medical School in Worcester and an expert in Integra.
How it works highlights just how simple it is for health practitioners to use and why it is a good, gentle treatment for elderly patients: The doctor wets the dressing and peels off the plastic, placing the dressing into the wound. If the wound is deep, the doctor removes the silicone layer and places another dressing on top of it. "The patient's blood vessels will grow through all of these layers to help regenerate skin tissue," Maloney explains.
"Integra is particularly useful at stimulating blood vessel and collagen growth into an open wound," she says. It's used on large wounds where a vascular bed is needed, particularly when there's exposed bone or cartilage. After it's been in place for two to three weeks, doctors can then graft over it.
However, sometimes a graft may not be needed. "With certain patients that have had smaller wounds, I've waited an extra week. That was enough time for them to completely heal by themselves," Maloney says.
Additionally, in the case of deep wounds, biosynthetic skin grafts offer a better aesthetic after healing. As the skin graft is applied, it lies flush with the skin, which diminishes scarring, she adds.
"Our offices use them about once every few weeks—and we do a lot of surgery. … It's been really helpful for our patients in terms of improving healing and minimizing scarring. I call it a 'surgeon-in-a-box,'" Maloney says.
"If I'm doing surgery for skin cancer and there's exposed bone or a deep wound, I will use a biosynthetic skin substitute," says Maloney. In addition, she notes that products like Integra can be used "absolutely anywhere" on the body. (Integra itself is FDA approved for various indications and is not restricted to certain body parts.) "I've applied it to the bottom of a patient's foot who had skin cancer, and the wound healed dramatically."
If it is used in a tough-to-apply spot, Maloney notes that physicians can suture it into place, which Maloney does for every application. "You don't have to do this step, but it is more comfortable for the patient and [the skin substitute] can't get wiped off somehow," she explains.
Depending on the skin substitute, doctors utilize a variety of sutures. Maloney uses Vicryl when applying Integra patches. It's comprised of a mesh of Vicryl and skin cells from the dermis. As skin fibroblasts grow over the mesh, it forms a material that's partly human cells and partly Vicryl, she notes. When placed within the wound, the sutures eventually disintegrate as the patient's own cells grow into the matrix.
It's important for healthcare practitioners to know that each type of biosynthetic skin product is FDA approved only for certain indications (eg, burns, diabetic foot ulcers, venous leg ulcers). However, many providers use them off label for other body sites.
But when they're used off label, the skin product can't be guaranteed to result in a successful outcome. "A lot of biosynthetic skin grafts are delicate and may be destroyed by pressure. Maybe the graft is in an area that the patient sits on, for example. It can be affected, but right now the success rate with off-label sites is purely anecdotal. We just don't have enough data to say whether, aside from what they're FDA approved for, the grafts work better on one body site vs. another," Phillips says.
Ensuring Success
To improve a patient's chances of success with a biosynthetic skin graft, a few things need to happen. Practitioners should be aware that the patient must have the wound for at least one month before treatment with a biosynthetic skin graft can be considered. "We have to try traditional therapies first," Phillips says. For a venous leg ulcer, for example, Phillips notes a patient would receive a compression wrap and follow up with local dressing for one month.
In treating a diabetic foot ulcer, the practitioner would clean the wound, treat the infection, and instruct the patient to keep weight off the wound for at least three to four weeks. Negative pressure therapy should also be considered prior to a biosynthetic procedure. Only after the failure of these traditional methods would a skin graft be considered.
It's also critical to address individual concerns and how a patient's health problems or specific conditions may impact the graft's success. For example, diabetic patients will experience better results if their diabetes is already well controlled. For that reason, when a patient initially seeks wound treatment, it's important that the physician addresses the diabetes before considering biosynthetic skin treatment. "Treatment considerations really depend on the patient's general health and any comorbidities," says Robert A. Norman, DO, MPH, a board-certified dermatologist in Tampa, Florida.
After trying traditional therapies and considering any comorbidities, providers should understand that the wound will accept the graft only if it has been cleaned and shows no signs of infection.
The time it takes for a patient to heal is variable so it's important not to give patients a one-size-fits-all expectation. "When you look under a microscope, it typically takes four to six weeks for your body's own cells to repopulate and heal a wound. But depending on the depth of the wound and if you need several applications of dressing, it can take longer for certain patients," Phillips notes.
A patient's health is a vital factor in how quickly—or slowly—a patient goes through the healing process. "If the person continues to participate in unhealthy behaviors like smoking or eating a poor diet, this will slow healing and impair the chance for treatment success," Norman says. "It's important that doctors know that they want to take on patients that have a good chance to heal.
"As with anything in medicine, it's about maximizing what you have left," he adds. If a patient is older and has comorbidities, for instance, the provider must first consider the patient's general health.
"The problem is that some people in the healthcare world think that biosynthetic skin grafts are magic wands, like you can take a patient who has smoked for 20 years and has severe diabetes and give them one of these new grafts and they'll be fine," Norman says. "A patient can't expect that they can cure anything with a graft. They need to be advised to take the proper steps to good health and managing disease in order for the outcome to be successful in the long term. The patient's body needs to have a good foundation to heal."
Another important consideration is postprocedure nutrition. Many elder patients do not consume adequate amounts of protein, a critical factor in wound healing. Talking to them about their nutritional needs is key. Physicians should also consider recommending patients consult a registered dietitian who can ensure they are eating properly.
According to Norman, while it's important to take on patients who will most likely experience a positive outcome following a biosynthetic skin graft, physicians should not assume that this treatment will be successful for everyone. "That said, I like where the future of skin is going. Biosynthetic skin is intriguing and offers up a promising path for the future," he says.
Superior Treatment for Elders
Biosynthetic skin substitutes are particularly useful for treating older adults. "I think it's particularly good for elders who may not be equipped to deal with more surgery," Maloney says. "If I remove a big tumor in the operating room, an older patient may be at the end of his or her rope and not be able to tolerate a dermal skin graft right away. We can put on a product like Integra and, if necessary, plan for a dermal skin graft or an additional procedure when they're feeling more robust again."
While biosynthetic skin procedures are less expensive than traditional split- or full-skin grafts, they are still expensive. FDA-approved treatments are about $1,000 per application, depending on the extent of usage. Some wounds require multiple applications, according to Phillips. However, Medicare covers most treatments if a patient meets requirements to obtain a graft. In addition, Maloney notes that prices should begin to decrease as more biosynthetic skin products enter the market.
And while it is a relatively simple in-office treatment, Maloney suggests that physicians recognize they can teach office assistants to do skin grafts but, for safety reasons, shouldn't have them perform the procedure unsupervised.
For physicians, it's important to keep skin substitutes in mind as a course of treatment and not allow wounds to go unchecked for a long period of time, assuming that they will heal on their own.
"These biosynthetic skin grafts are excellent for accelerating the healing process. Practitioners should not wait and sit on the wound for six months before getting the patient in. If the wound is not healing in a month or two, doctors should think about this as the next step," Phillips says. "When a wound is more recent, it's easier to heal than one that a patient has had for months or even years. When you accelerate the healing process, like biosynthetic skin does, you prevent painful and potentially dangerous complications down the road."
— Jessica Girdwain is a Chicago-based freelance writer who has contributed health-related articles to several national magazines.
Guide to Biosynthetic Skin
Many companies offer biosynthetic skin substitutes. Here's a closer look at four of them, based on information from their respective websites:
• Apligraf: A living bilayered cell-based product FDA approved to heal diabetic foot ulcers and venous leg ulcers, Apligraf combines bovine type 1 collagen and human dermal cells, which produce matrix proteins. The upper layer is created by promoting human epidermal cells to form a layer that mimics the human epidermis.
• Biobrane: This is a biosynthetic wound dressing constructed of a silicone film with a nylon fabric partially embedded into the film. It is suggested for use on clean partial-thickness burns and donor sites. A recent study in Dermatologic Surgery found that Biobrane may be a good tool for use in dermatologic surgery.
• Dermagraft: Manufactured from human fibroblast cells derived from newborn foreskin tissue, it is composed of fibroblasts, extracellular matrix, and a bioresorbable scaffold. Dermagraft is designed for the treatment of full-thickness diabetic foot ulcers.
• Integra Bilayer Matrix Wound Dressing: Integra is an artificial skin covering composed of two layers. The bottom is a matrix of bovine collagen and a sugar molecule. The upper layer is made of medical-grade silicon. It is indicated for the management of wounds, including those caused by ulcers, surgery, and trauma.
— JG