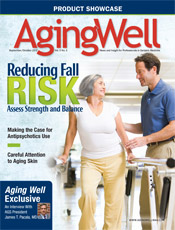 September/October 2012
Aging in Place: Lessons
From the Sunshine State
By Rosemary Laird, MD, MHSA, AGSF
Aging Well
Vol. 5 No. 5 P. 34
Brevard County, Florida's population of more than 500,000 with about 20% aged 65 and older is what all of America is projected to look like in the future: gray.
Like most Americans, these older adults want to age in place. Since 2002, efforts to strengthen healthcare and social services have increased that likelihood. Ongoing challenges in Brevard County include the rapidly increasing ranks of needy elders, a limited trained workforce, and local and national economic downturns. Lessons learned and specialized strategies for moving forward in Brevard County can help communities across the country that will face similar barriers to aging in place in the future.
Many Brevard County residents arrived in the 1950s when Florida was a beautiful but mosquito-ridden peninsula and NASA was contemplating a moon landing. Most of them stayed. Now as the space shuttles have been retired, so too have the first rocket scientists. The county has more elderly residents than most other counties in Florida or the United States. This concentrated aging population spurred a key initiative. Concerned citizens demonstrated great forethought when they decided to change the course of civic history and ensure quality care for older adults.
In 1999, a national survey found Florida well behind the national average for per capita geriatricians: 7.3 nationally compared with 3.4 in Florida.1 In response, members of the local not-for-profit hospital foundation allocated funds to develop a program dedicated to improving the availability and quality of healthcare services for elders. The Health First Aging Institute was developed with the county's first fellowship-trained geriatrician. The institute's mission is to improve care for older adults and provide support for family caregivers.
As part of the institute, two outpatient geriatrics specialty care clinics provide a medical home with interdisciplinary team care for frail elders and those with dementia. The clinics are facility based with support and subsidy from the local hospital. A house calls program serves approximately 650 frail elders enrolled in the Health First Medicare Advantage plan. Other programs are focused on helping family caregivers receive training and support. A community resource center hosts 400 caregivers per month while an ElderCARE website provides 24/7 access to a broad range of information and local referrals.
As of this year, these efforts have led to numerous key successes. Five fellowship-trained geriatricians now work in the county. Dedicated specialty consultation is available for common concerns facing older adults. There have been system- and grant-supported efforts toward necessary system improvements. Collectively these efforts are moving the community toward becoming an area where older adults can safely age in place.
Recently I attended the funeral for a man who had been able to age in place. His life work had been to develop the communications systems that connected astronauts in the rockets and space shuttles with the control centers of Houston and the Kennedy Space Center. So for Mr P, his many NASA colleagues, and all the citizens of Brevard County, my colleagues and I continue our efforts to create a system of healthcare that leaves us well connected to the place we want to be and to the high- quality healthcare we need and deserve in our later years.
Key Strategies to Promote Aging in Place
Providers can implement strategies that can enhance opportunities for older adults to age in place by embracing the following suggestions:
• Help develop comprehensive medical homes for frail elders. Address gaps in clinical care in the community, centralize care sites, and reduce transition-of-care discontinuity between acute and long term care.
• Support family caregivers. Develop resources to support local and long-distance caregivers, workplace solutions for employed caregivers, and support for older adults without family caregivers.
• Promote patient-centered care, including end-of-life/palliative care planning. Patients and families need key education about disease states and realistic understanding of treatment options, long-term prognosis, and quality-of-life issues.
• Develop county-based safety net programs. Implement comprehensive reach and integrated communications systems with a medical home.
• Align incentives. Coordinate among all providers of quality care to the extent possible.
• Use media. Take advantage of opportunities to highlight need, reduce health system illiteracy through targeted reporting and features, recruit support, and promote successes.
• Maintain relationships with local philanthropies. Partner with those sympathetic to the broad needs of older adults.
— Rosemary Laird, MD, MHSA, AGSF, is the medical director of the Health First Aging Institute and president of the Florida Geriatrics Society. She is a coauthor of Take Your Oxygen First: Protecting Your Health and Happiness While Caring for Someone With Memory Loss.
Reference
1. Warshaw GA, Bragg EJ. The training of geriatricians in the United States: three decades of progress. J Am Geriatr Soc. 2003;51(7 Suppl):S338-345.