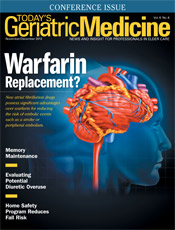 November/December 2013
New Surgical Option for Back Pain
By Michael Perry, MD
Today's Geriatric Medicine
Vol. 6 No. 6 P. 28
More than 80% of Americans have experienced or will experience the crippling aches characteristic of neck or back pain, according to the American Chiropractic Association.1 Sometimes the pain is caused by an injury or traumatic accident. Other times, nature simply takes its course, and the spine slowly begins to deteriorate with age.
Many older adults with back pain can attribute it to lumbar spinal stenosis. The condition mainly presents in people aged 65 and older as part of the aging process, but the arthritislike condition also may appear in younger individuals.
Lumbar spinal stenosis occurs in the spinal column, where the spinal cord, nerve roots, and vertebrae are located. Over time, the spinal canal may become constricted or narrowed. This creates pressure on the spinal cord and spinal nerve roots, causing pain, numbness, or weakness in the legs. The lumbar region is the most common area in which spinal stenosis occurs.
Some sufferers are debilitated by the pain to the point that their quality of life diminishes to a fraction of what it used to be; they can become shells of their former selves. Back pain takes a toll not only on the patient, but also on his or her family and friends. Many patients find that along with their back health, their relationships slowly deteriorate as well.
Surgical Options
But there's good news for older patients who suffer from back and neck pain. Recent evidence suggests that minimally invasive spine surgery may offer older patients more options for spine care. The approach provides the benefits of undergoing an outpatient procedure with minimal blood loss, less scarring, faster recovery time, and fewer postoperative risks.
Traditionally, open-back surgery has been the go-to procedure to treat unresolved chronic neck or back pain. Surgeons performing an open-back procedure typically make a 5- to 10-inch-long incision along a patient's back, cutting through layers of muscle and ligament. They then perform a laminectomy, removing the lamina to decompress the nerves by removing bone spurs and ligaments. However, removing multiple levels of lamina can lead to spinal instability down the road.
When it comes to open-back surgery, a patient's age is an important consideration. Older surgical patients are more prone to having serious medical conditions, such as heart disease and diabetes, precluding them from undergoing open-back surgery despite the fact that it has been assessed by many to be the most effective form of treatment for chronic neck and back pain.
Studies have shown that elderly patients who undergo invasive procedures experience higher complication rates and longer recovery periods. The American Association of Orthopaedic Surgeons indicates that older patients have a tendency to develop blood clots during or after surgery and suffer nerve injury.2 Elderly patients also are more likely to experience a relapse.2
Undergoing any type of surgery will subject the body's systems to stress and therefore may cause problems in the intra- and postoperative periods. Typically, elderly patients who undergo open-back surgery are required to stay in the hospital for several days, driving up the treatment costs.
Many surgeons are hesitant to perform open-back procedures on elderly patients because of the increased risk of complications. Older patients who undergo an invasive surgical procedure are more likely to suffer from an infection, life-threatening complication, or a return visit to the hospital within 30 days postsurgery, according to a study published by the American Medical Association in 2010.3
To treat chronic pain in many elderly patients when open-back surgery is not an option, providers have been limited to conservative treatments, such as recommending physical therapy, pain management techniques, or prescribing pain medication.
Endoscopic Surgery
Although age is a consideration for most surgical procedures, it is less a determinant for endoscopic surgery, as such procedures on the spine rely on pathology rather than age.
Endoscopic procedures require a small, approximately 1-inch incision and the use of an endoscope to gently spread the muscles rather than cut through them. Innovative in the medical realm, minimally invasive procedures allow surgeons to move muscles aside with the help of dilating tubes and an endoscope rather than slicing through the muscle. This muscle-sparing technique allows the procedure to be completed in an ambulatory surgical center or an outpatient setting. Because of the reduced risks associated with endoscopic surgery, surgeons can operate on otherwise healthy elderly patients.
At the Laser Spine Institute, surgeons perform only endoscopic spine surgeries, with an 87% success rate. Such outpatient spine surgeries are gaining popularity in the medical field and among prospective patients. The less invasive technique allows many patients to return to their normal routines at a faster pace. On average, 75% of the institute's patients return to their daily activities within two weeks of surgery.
For example, rather than performing a laminectomy to completely remove the lamina, endoscopic procedures perform a laminotomy or partial removal of the lamina, which preserves more of the lamina and decreases the odds of spinal instability in future years. Many surgeons and medical practices are slowly migrating toward adopting this technique.
The effectiveness of such a procedure is documented in the results of scientific studies. Recently, a study performed by Laser Spine Institute physicians, "Minimally Invasive Surgery Through Endoscopic Laminotomy and Foraminotomy for the Treatment of Lumbar Spinal Stenosis," was published in the Journal of Orthopaedics. From 2009 to 2011, the study followed 320 patients between the ages of 22 and 90 who were diagnosed with lumbar spinal stenosis.
The study found that minimally invasive spine surgery was successful in treating lumbar spinal stenosis. Results also showed that patients who underwent endoscopic spine surgery experienced less blood loss, lower complication rates, and shorter surgery times. Ultimately, the study concluded that endoscopic spine surgery was a safe and effective alternative to open-back surgery, especially for older adults.
A second study, "Minimally Invasive Surgical Treatment for Severe Symptomatic Lumbar Spinal Stenosis: A Case Study," was published earlier this year by the Journal of Spine. The research evaluated the patient, a 63-year-old male surgeon, over the course of the study. Prior to his surgery, he struggled to stand for extended periods of time without pain. He underwent an endoscopic bilateral laminotomy decompression. The case study's results showed that the patient returned to performing surgeries without pain shortly after his procedure.
According to the peer-reviewed journal articles, science is on the side of minimally invasive spine surgery, touting it as a safe and effective alternative to open-back surgery for older adults.
What Patients Should Know
Most older patients with neck or back problems can benefit from endoscopic surgery. Candidates for such procedures must be medically cleared to undergo anesthesia. Patients in good overall health experience faster and better recoveries than those with comorbidities and/or multiple spine issues although they can still benefit from the surgery.
Patients typically can begin exercise, such as riding a stationary bike, after a few weeks. In six weeks, core-strengthening exercises can begin. Core strengthening is essential to support the back. Patients who are overweight need to lose weight before undergoing the procedure because excess weight alters the body's biomechanics and adds stress.
Pain associated with endoscopic procedures is, of course, subjective and can vary significantly among patients. It can be managed through pain medication, muscle relaxants, icing, and temporary bracing. For six weeks following back surgery, patients should not bend over or lift objects weighing more than 10 lbs. Patients gradually can return to nonimpact exercise.
The endoscopic technique is a permanent solution for many patients that allows them to preserve mobility and return to their routines and favorite activities. And it's safe and effective for older adults.
— Michael Perry, MD, is a cofounder and the medical director of the Laser Spine Institute. He is board certified in internal medicine and is a diplomat for the American Board of Internal Medicine.
References
1. Vallfors B. Acute, subacute and chronic low back pain: clinical symptoms, absenteeism and working environment. Scand J Rehabil Med Suppl. 1985;11:1-98.
2. Lumbar spinal stenosis. American Academy of Orthopaedic Surgeons website. http://orthoinfo.aaos.org/topic.cfm?topic=a00329. Updated May 2009. Accessed August 23, 2013.
3. Deyo RA, Mirza SK, Martin BI, Kreuter W, Goodman DC, Jarvik JG. Trends, major medical complications, and charges associated with surgery for lumbar spinal stenosis in older adults. JAMA. 2010;303(13):1259-1265.