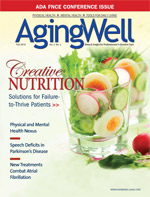 Fall 2010
Creating Age-Friendly Environments
By Cynthia Stuen, PhD, LCSW
Aging Well
Vol. 3 No. 4 P. 34
What makes a city age friendly or a community livable? It is a comprehensive mix of innovations that address improvements in housing, mobility, and the environment. And they're not just about improvements aimed at older adults but those that also benefit parents with small children and individuals with disabling conditions. It's about making the environment in which we live, work, and play the most accessible to all with the ultimate goal of improving the quality of life across the ages.
Having recently celebrated the 20th anniversary of the signing of the Americans With Disabilities Act, it is interesting to reflect on something like a curb cut in a sidewalk. It not only helps an older adult using a wheelchair to safely cross the street but also enables a mother pushing a stroller to easily do the same thing. Making sure the curb cut has a different texture to enable a blind person using a cane to determine it exists and is different from the sidewalk surface is another dimension of factors to be considered factors when designing universal access.
And just as it's essential to consider mobility, convenience, and safety issues that make function and navigation easier in outdoor settings, it's equally important to exercise the same considerations in developing or adapting interior environments.
Have you ever entered a restaurant on a bright sunny day and discovered it to be very dimly lit? For a brief interlude, you could not see much. After the impatient host showed you to your table, having waited for your eyes to adjust to the changing light level, you are handed a menu printed in elegant italic font with gray lettering on light gray paper. You reach for the candle to provide more light so you can decipher the menu.
The adjustment to changing levels of light, whether going from dark to light or light to dark, is called accommodation. As we age, beginning with each decade of adulthood, the accommodation process takes a little longer. In addition, as we age, we need more light to accomplish the same tasks we could previously accomplish with less. This isn't serious; it's just the normal processes of the aging eye, just as presbyopia (which means "aging eye") manifests itself some time in our middle years, resulting in the need for glasses to read or do computer work.
Despite a restaurant's ambience or allure, subdued lighting can make reading the menu and even walking across the room challenging in poorly lit establishments. Thoughtful consideration could make such an environment significantly easier to navigate, particularly for older adults with failing eye sight.
In 2007, the World Health Organization challenged cities around the world to make urban centers models where older adults could live longer, healthier, and better lives. In New York City, Mayor Michael R. Bloomberg's administration joined with the City Council and the New York Academy of Medicine to launch the Age-Friendly New York City project. I was fortunate to serve on the steering committee to address issues of aging and those of individuals with vision loss. New York City has identified 59 initiatives involving city agencies and community partners to address enhancements to community and civic participation, housing, public spaces and transportation, and health and social services. One initiative, for example, involves utilizing school buses during the day to transport older adults for shopping, and another links struggling artists with studio space in existing senior centers in exchange for art instruction.
The key is always asking individuals of all ages what could improve their lives in a particular environment. Conducting town hall and focus group forums provides the innovative ideas. In this time of economic downturn, there are not enough resources to do everything, so we do what can with what we have to enhance the quality of life for individuals of all ages. It is important to remember that it is not "us vs. them."
Wouldn't it be nice if the restaurant mentioned above, when redesigning its menu, used a sans-serif font in 12-point type and were educated on the use of good color contrast for aging eyes?
As the late Robert N. Butler, MD, quoted the fifth-century Greek poet Pindar in the foreward of his book The Longevity Revolution, "Do not yearn after immortality, but exhaust the limits of the possible." It is possible with innovation, technology, and environmental and behavioral approaches to create age-friendly cities and communities that benefit all ages. What an opportunity for aging well in the 21st century.
— Cynthia Stuen, PhD, LCSW, is senior vice president for policy and education at Lighthouse International and immediate past chair of the American Society on Aging.