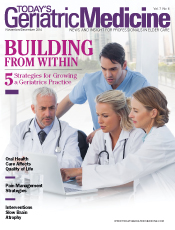 November/December 2014
Cognitive Decline Screening and Resources
By Marie A. Bernard, MD
Today's Geriatric Medicine
Vol. 7 No. 6 P. 34
It has been nearly six years since I left my position as chair of the department of geriatric medicine at the University of Oklahoma College of Medicine and came to the National Institute on Aging (NIA) at National Institutes of Health to serve as deputy director. I do miss working directly with patients and their families to solve the problems of age and chronic illness. But I must admit I do not miss the typical caseload of the clinic, with ever-increasing pressure to see more and more patients in shorter and shorter times. In order to provide optimal care to our geriatric patients, we found that we needed more time than standard relative value units and other benchmarks would allow.
One of the most exciting things I have seen in my time at NIA has been the translation of research findings into practical tools that geriatricians and other primary care providers can use to more effectively care for their older patients.
In the area of cognitive impairment, for example, primary care providers, particularly geriatricians, are often the first medical professionals to be asked about or spot the signs of cognitive problems in our older patients. And when cognitive impairment is detected, the primary care provider is often in the best position to conduct the additional evaluation necessary to ensure that there is not a reversible cause for the impairment. Should reversible causes not be found, we are also best positioned to discuss this potentially difficult situation with the patient and family. We are all too familiar with the fear, confusion, and mistaken ideas that many people have when the data suggest dementia.
For clinicians seeking to evaluate patients for cognitive impairment, such as, perhaps, during the annual wellness visit now covered by Medicare under the Affordable Care Act, there is a new searchable database that you may want to know about. Earlier this year, the NIA offered the Instruments to Detect Cognitive Impairment in Older Adults database, containing information about 116 examination instruments. The database, created by NIA staff in consultation with experts in the field, includes instruments ranging from the brief Clock Drawing Test to the more extensive Montreal Cognitive Assessment.
Clinicians and researchers can search by 11 specific criteria, such as cost, time to administer, language, or format. They can also identify instruments that have been evaluated in specific patient populations such as African Americans and Hispanics, as well as for specific diagnoses, such as Alzheimer's disease, frontotemporal dementia, and depression. Full descriptions, including method of administration, cognitive domains assessed, and other characteristics, are available for each instrument, and references are cited and conveniently linked.
One way to help your patient and his or her caregiver is to provide the resources to deal with the challenges of a potential dementia diagnosis. Excellent information can be found through the website www.nia.nih.gov/alzheimers, which offers materials addressing everything from concerns about forgetfulness to Alzheimer's disease and guidance about planning for the future and caregiving issues. You may also want to talk with patients about the opportunity to participate in clinical trials related to aging, including those for cognitive impairment or other age-related diseases or conditions. A useful tip sheet that you can provide to patients can be found on the NIA website.
I hope that you will take advantage of these and other resources available from NIA. Our goal is to support research to improve the health and well-being of older adults. With your help, the benefits of that research can be offered directly to patients in communities nationwide.
— Marie A. Bernard, MD, is deputy director of the National Institute on Aging. She cochairs the Department of Health and Human Services Older Adults Workgroup and the Alzheimer's and Other Dementias Workgroup for Healthy People 2020. Within the National Institutes of Health she serves on the Extramural Activities Working Group, the Diversity Working Group, and cochairs the Women of Color Committee of the Women in Biomedical Careers Working Group. She has held numerous national leadership roles, including chair of the Clinical Medicine Section of the Gerontological Society of America, chair of the VA National Research Advisory Committee, board member of the American Geriatrics Society, and president of the Association for Gerontology in Higher Education.