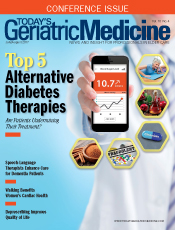 July/August 2017
Long Term Care: Parkinson's Disease Psychosis in Long Term Care
By Amita Patel, MD, CMD, MHA, CPE
Today's Geriatric Medicine
Vol. 10 No. 4 P. 26
By the time a geriatric psychiatrist or long term care health care professional sees a Parkinson's disease patient, the disease has often progressed significantly. Caring families make the decision to transfer a loved one into the care of professionals after years of managing motor manifestations and nonmotor symptoms to the best of their ability. The development of hallucinations and delusions by a Parkinson's patient is particularly distressing for caregivers and a leading cause of nursing home placement.1 Recently a new treatment for hallucinations and delusions associated with Parkinson's disease has provided new hope for clinicians and families.
Undetected Parkinson's Disease Psychosis
Of the approximately one million people in the United States living with Parkinson's disease,2 more than one-half will develop the hallmark symptoms of Parkinson's disease psychosis (PDP)—hallucinations (often visual) and delusions, or false beliefs.3,4 Despite their common occurrence, only 10% to 20% of patients (or their caregivers) will proactively mention hallucinations and delusions to a health care provider, possibly because they are embarrassed by the symptoms or simply do not realize they are actual symptoms of a disease known as Parkinson's disease.5
Distinct from other psychotic conditions,4 PDP's accurate diagnosis relies on a Parkinson's diagnosis preceding the onset of hallucinations and delusions. A diagnosis of PDP requires that for at least one month, a patient must have experienced at least one of the following symptoms: illusions, false sense of presence, hallucinations, and/or delusions. Additionally, other potential causes for hallucinations and delusions, such as infection, must be excluded.6 Experience has shown that it's quite common for a patient to be completely lucid with the exception of making unverifiable claims about what he or she might be seeing or believing.
Identifying Symptoms
People with PDP most often experience visual hallucinations. At first, a patient seeing imagined groups of children in the yard, small animals in the bedroom, or deceased loved ones might not be bothersome. However, as the hallucinations increase in frequency or progress into more disturbing examples such as rodents scurrying on the floor, people with Parkinson's can become upset and agitated,7 particularly if their loved ones or caregivers will not agree that what they are seeing is real. Although visual hallucinations are most common, people with PDP might also experience auditory or sensory hallucinations as well as the experience of fleeting images or the sensation that "something" is there, just out of sight. Illusions occur as well; patients may mistake a real object, such as a tree, for something else, like a person wearing a green hat.8
Delusions are false beliefs that are not supportable by fact.1 Caregivers find it particularly challenging to reason with their loved ones who cannot be swayed. Remarkably, delusions across the patient population seem to have similar themes, as they are usually paranoid. A husband might accuse his spouse of 50 years of adultery or conspiracy to steal the couple's life savings, even if they are just browsing the internet at home.
As mentioned, very few families report psychosis symptoms, which means that a patient's health history will be incomplete. The health care provider needs to take responsibility for eliciting symptom reporting as well as explaining the range of symptoms a person with Parkinson's might experience as the disease progresses. If clinicians can present hallucinations and delusions as another aspect of Parkinson's disease, then patients and their families may more readily share occurrences, which can enable more rapid development of a treatment strategy.
The Smith Family: A Case Study
In 2010, Mr. Smith (whose name is changed to protect his privacy), now 80, was diagnosed with Parkinson's disease. As a retired chief of police at a local hospital, his diagnosis at first didn't affect his quality of life. He remained fairly mobile and was able to accompany his wife of 61 years on errands and family visits. However, in the summer of 2016, Mr. Smith was admitted to an Ohio psychiatric hospital after his wife took him to the emergency department when he began to experience regular visions, confusion, and paranoid thoughts.
The admission was the culmination of symptoms that had begun two years prior. As described by his wife, Mr. Smith began to see a strange family of four in his home, and while he didn't recognize the strangers, he took a particular dislike to the man. Feeling vigilant, Mr. Smith would stay up all night watching the imagined strangers. In addition, he would claim to see an army dressed in red and living in the home next door. He became convinced they would soon attack. Eventually Mr. Smith's experience of visual hallucinations and delusions overtook his wife's ability to care for him. She became particularly distressed and frustrated when he accused her of adultery.
After careful questioning and a full evaluation at the psychiatric hospital, I diagnosed Mr. Smith with PDP and suggested that he start treatment with Nuplazid (pimavanserin). Pimavanserin is the first and only FDA-approved medicine for the treatment of hallucinations and delusions associated with PDP. In most patients, it takes from four to six weeks before an individual with Parkinson's and/or their family members will notice any change in behavior. In the case of Mr. Smith, he began to experience far fewer hallucinations and delusions within a few weeks. In fact, his ability to recognize when he was hallucinating improved to the extent that he was able to return home.
Treatment Relieves Caregiver Burden
Data show that due to the demands placed on caregivers by PDP, Parkinson's patients with hallucinations are 2.5 times more likely to be admitted into a nursing home than those without the condition.1 Once admitted, PDP patients are likely to remain there permanently and have a high rate of mortality.9,10 In the case of Mrs. Smith, she felt she had no choice but to take her husband to the emergency department when his delusions became unmanageable.
With the FDA approval of pimavanserin, physicians have a new tool to address troublesome symptoms such as hallucinations and delusions. Unlike other atypical antipsychotics, pimavanserin is a selective serotonin inverse agonist, meaning it has a unique mechanism of action. This is important because pimavanerin does not block dopamine receptors so it does not impair motor function.10
The FDA approval was based on data from a pivotal phase III clinical trial and other supportive studies demonstrating that pimavanserin significantly reduced the frequency and severity of psychotic symptoms compared with placebo, without impacting motor function. Phase III data were evaluated based on the Scale for the Assessment of Positive Symptoms, adapted for Parkinson's disease. The scale included items that are reflective of hallucinations and delusions associated with PDP, such as visual, auditory, and jealousy measures.11 The most common adverse reactions in this study were peripheral edema and confused state. Adverse reactions occurred at an incidence rate of greater than or equal to 5% and at least twice the rate of placebo. The recommended dose of Nuplazid is 34 mg, taken as two 17 mg-strength tablets together once daily at any time of day without titration. The medication can be taken with or without food.
It is hypothesized that certain Parkinson's medications (addressing motor symptoms) can contribute to the experience of PDP, though this aspect of the disease also occurs independently. Therefore, some patients may experience a reduction in hallucinations and delusions if their primary Parkinson's treatment, which acts on dopamine, is reduced. It is important to remember, however, that reduction in primary Parkinson's treatment may consequently worsen motor symptoms.
As a geriatric psychiatrist, I've worked with many patients and their families. All too often, a person admitted into a nursing facility will spend the rest of his or her life away from home. The availability of an approved treatment to address hallucinations and delusions associated with Parkinson's disease is very encouraging to me as well as to families. Although it's only one specific example, Mr. Smith was able to leave the psychiatric hospital and return home with his wife. Given this success, I urge health care professionals to look for signs of hallucinations and delusions associated with Parkinson's disease.
— Amita Patel, MD, CMD, MHA, CPE, a geriatric psychiatrist, is the director of the geriatric psychiatry inpatient unit at Haven Behavioral Senior Care Hospital in Dayton, Ohio, and Wilson Memorial Hospital in Sidney, Ohio. Formerly a clinical associate professor in the department of psychiatry at Wright State University, Boonshoft School of Medicine, she has received several teaching awards. She is a distinguished fellow of the American Psychiatric Association and a certified medical director of the Society for Post-Acute and Long Term Care Medicine.
References
1. Aarsland D, Larsen JP, Tandberg E, Laake K. Predictors of nursing home placement in Parkinson's disease: a population-based, prospective study. J Am Geriatr Soc. 2000;48(8):938-942.
2. Statistics on Parkinson's. Parkinson's Disease Foundation website. http://www.pdf.org/en/parkinson_statistics. Accessed May 15, 2017.
3. Jankovic J. Parkinson's disease: clinical features and diagnosis. J Neurol Neurosurg Psychiatry. 2008;79(4):368-376.
4. Forsaa EB, Larsen JP, Wentzel-Larsen T, et al. A 12-year population-based study of psychosis in Parkinson disease. Arch Neurol. 2010;67(8):996-1001.
5. Fénelon G, Alves G. Epidemiology of psychosis in Parkinson's disease. J Neurol Sci. 2010;289(1-2):12-17.
6. Ravina B, Marder K, Fernandez HH, et al. Diagnostic criteria for psychosis in Parkinson's disease: report of an NINDS, NIMH work group. Mov Disord. 2007;22(8):1061-1068.
7. Weintraub D, Hurtig HI. Presentation and management of psychosis in Parkinson's disease and dementia with Lewy bodies. Am J Psychiatry. 2007;164(10):1491-1498.
8. Reynolds RI. A psychological definition of illusion. Philos Psychol. 1988;1(2):217-233.
9. Goetz CG, Stebbins GT. Risk factors for nursing home placement in advanced Parkinson's disease. Neurology. 1993;43(11):2227-2229.
10. NUPLAZID (pimavanserin) tablets, for oral use. ACADIA Pharmaceuticals website. http://www.acadia-pharm.com/wp-content/uploads/2016/04/NUPLAZID-pimavanserin-Package-Insert.pdf. Published 2016.
11. Voss T, Bahr D, Cummings J, Mills R, Ravina B, Williams H. Performance of a shortened scale for assessment of positive symptoms for Parkinson's disease psychosis. Parkinsonism Relat Disord. 2013;19(3):295-299.