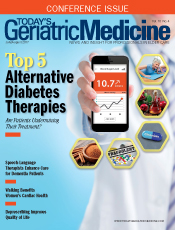 July/August 2017
Vintage Voices: Facilitating Dementia Detection in Rural Areas
By Lisa Kirk Wiese, PhD, RN, APHN-BC, CNE; Christine L. Williams, DNSc, PMHCNS-BC; and Debra Hain, APRN, ANP-BC, GNP-BC, FAAN
Today's Geriatric Medicine
Vol. 10 No. 4 P. 34
More than 50% of Americans with dementia do not receive a cognitive assessment before they are institutionalized. Rural older adults encounter a multitude of factors that put them at an even higher risk for developing Alzheimer's disease (AD) such as limited education, decreased health literacy, low income, increased heart disease, lack of insurance, and limited access to health care. Minorities in rural areas face an additional risk—blacks are nearly twice as likely as whites, and Hispanics are 1.8 times as likely as whites, to develop AD, according to the Alzheimer's Association.
Rural communities are commonly designated as medically underserved areas and health professional shortage areas for primary and specialty care. Even if rural older adults become aware of problems with memory, there are insufficient numbers of providers to screen, diagnose, and treat the illness. Patients often have to wait hours to see a health practitioner and cannot make appointments in advance. Consequently, residents treat the nearest emergency department as the clinic or have to travel long distances to the nearest hospital. For older patients, these are major barriers to seeking health care.
Personnel at the Christine E. Lynn College of Nursing at Florida Atlantic University are piloting a new approach to increasing dementia detection, diagnosis, and treatment in the community with support from the Florida Department of Health's Ed and Ethel Moore Alzheimer's Research program. Local community health nurses and students, medical students, and lay health educators will be trained to conduct brief cognitive assessments during planned memory screening days at area independent and assisted living facilities. Individuals identified as being at risk will be referred to culturally diverse geriatric nurse practitioners, who will conduct dementia-specific geriatric assessments in either the home or local clinic. Depression and health literacy screenings will also be conducted. The team will receive cultural awareness training by local social workers and lay health educators who are gatekeepers in the community. Participants will be enrolled in the "ROAD (Rural Older Adults with Dementia)-Next-Steps," program that is modeled after the Alzheimer's Association Next Steps program of following patients after cognitive assessment to ensure that rural residents receive continuing support as needed.
The team anticipates that offering health care access to a nurse practitioner at either a rural clinic site or home health visit will be more effective than the current practice of waiting until symptoms develop. We also expect that home-based dementia screening and detection services will be more effective than screening and treatment at a local clinic.
A key outcome of this study is to delay earlier transitions to skilled nursing facilities, which could decrease health care costs as much as 30% for people with AD. Previous studies have shown that Medicaid can provide home care-based services to three people for the cost of caring for one person in a long term care institution.
Marlaine Smith, RN, PhD, AHN-BC, FAAN, dean and professor of Florida Atlantic University's Christine E. Lynn College of Nursing notes that providing earlier cognitive assessment to facilitate earlier management of cognitive decline issues can assist with aging in place and decreased health care costs. She highlights that with more convenience, a less threatening environment, and elimination of barriers such as cost, transportation, and long wait times, we can help individuals in rural areas live with greater independence at home and avoid admission to acute or long term care institutions.
The long-term goal of our study is to create a model for increasing early detection and treatment of AD in other rural underserved populations by eliminating barriers such as transportation, long wait times, and lack of available providers who are willing and trained to conduct dementia evaluations.
— Lisa Kirk Wiese, PhD, RN, APHN-BC, CNE, an assistant professor at Florida Atlantic University's (FAU) Christine E. Lynn College of Nursing, is board certified in advanced public health nursing and nursing education. With a focus on Alzheimer's disease in rural populations, she is conducting research in diverse rural populations, including Appalachia and south central Florida. She is testing a new instrument for assessing basic knowledge of Alzheimer's disease that is appropriate for use in underserved populations, and piloting a novel approach to increasing cognitive screening and dementia detection and treatment in rural older adults.
— Christine L. Williams, DNSc, PMHCNS-BC, is a professor and director of the PhD in Nursing Program in FAU's Christine E. Lynn College of Nursing. As a board-certified clinical nurse specialist in adult psychiatric mental health nursing, she is involved in several studies including communication between caregivers and persons with cognitive impairment, stress in caregivers and persons attending day programs for memory impairment, and the role of culture in willingness to be screened for memory problems.
— Debra Hain, APRN, ANP-BC, GNP-BC, FAAN, is an associate professor in FAU's Christine E. Lynn College of Nursing with dual American Nurses Credentialing Center board certification as an adult and gerontological nurse practitioner. With practice experience in nephrology nursing, memory disorder clinic, and hospice care, her scholarly endeavors have focused on improving health outcomes of older adults with chronic kidney disease and those with cognitive impairment.