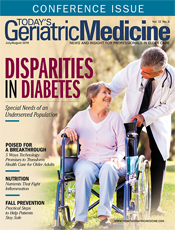 July/August 2019
Disparities in Diabetes
By Mario Anglada
Today's Geriatric Medicine
Vol. 12 No. 4 P. 10
Special Needs of an Underserved Population
Geriatric care professionals should be aware of the disparities in health care for Hispanics and other underserved populations living with diabetes. For those in charge of creating health care services for these medically underserved communities, specifically for the Hispanic uninsured, the challenge is to create a systematic process that makes health care simple to navigate. In the current environment, however, Hispanic consumers often face a persistent lack of access to care, insurance coverage, and culturally relevant or in-language care.
This is significant given that Hispanics will compose almost 29% of the US population by 2050, and at least one-fourth of Hispanic adults in the United States don't have a primary health care provider.
A study in the Journal of Immigrant and Minority Health found that "Hispanics with diabetes had higher poverty rates, lower education, less physical activity, and less health care utilization/expenditures than did non-Hispanics."
Higher Health Risks
According to the US Department of health and Human Services (HHS) Office of Minority Health, "Hispanic health is often shaped by language/cultural barriers, limited access to preventive care, and lack of health insurance." The Centers for Disease Control and Prevention states that leading causes of illness and death among Hispanics include diabetes, heart disease, cancer, accidents, and stroke. Other health conditions and risks include asthma, COPD, HIV/AIDS, obesity, suicide, and liver disease.
Furthermore, Hispanic people have higher incidence of obesity, which is a risk factor for diabetes, compared with non-Hispanic whites. Other points to consider: The low birth weight rate of Puerto Ricans is two times that of non-Hispanic whites. Puerto Ricans experience more asthma, HIV/AIDS, and infant mortality, and Mexican-Americans experience disproportionate rates of diabetes.
These factors become particularly troublesome when it comes to addressing diabetes. The Centers for Disease Control and Prevention reports that 50% of Hispanic adults in the United States are expected to develop type 2 diabetes, compared with 40% for non-Hispanic adults. Research reveals that ethnic minorities, especially Hispanics, are overly burdened with diabetes mellitus.
Higher Uninsured
Hispanics have the highest uninsured rates of any racial or ethnic group within the United States according to the HHS Office of Minority Health. The latest numbers from the Census Bureau indicate that 47% of Hispanics have private insurance coverage. Among Hispanic subgroups, coverage varied as follows:
• 44.3% for Mexicans;
• 52.9% for Puerto Ricans;
• 55.5% for Cubans; and
• 41.4% for Central Americans.
Public health coverage varied among Hispanic subgroups as follows:
• 38.3% for Mexicans;
• 45.4%% for Puerto Ricans;
• 35.9% for Cubans; and
• 33.6% for Central Americans.
Those without health insurance coverage varied among Hispanic subgroups as follows:
• 21.5% of Mexicans;
• 8.5% of Puerto Ricans;
• 13.9% of Cubans; and
• 28.2% of Central Americans.
What's more, 19.5% of the Hispanic population was not covered by health insurance in 2015, compared with 6.3% of the non-Hispanic white population.
Only 7% of US physicians are Hispanic, despite this population's US demographics as follows:
• 17% of today's US population is Hispanic.
• 20% are impoverished and can't afford primary care.
• 50% are more likely to die from diabetes or liver disease.
• 23% have a higher rate of obesity than do whites.
• 24% have a higher rate blood pressure than do whites.
Health Solutions Fill the Gap
Primary care physician and prescription programs geared toward underserved populations are now beginning to transform the health care system, making affordable medication and culturally relevant care accessible for some of the most medically underserved populations.
Proven technology can be used to leverage decades of health industry knowledge and speed access to care, particularly within Spanish-speaking communities. These communities must be engaged in culturally and medically relevant ways that meet their unique health needs. Most of these issues arise from the lack of physician availability or due to their uninsured status. Technology solutions help to engage health care consumers regardless of ethnicity.
Today's technological solutions and digital access are designed to meet Hispanic needs and align with their utilization of new technology tools: 84% of all Hispanics are online, and Hispanic internet smartphone usage is 10.5 hours per week—25% more than the national average.
How Health Care Solutions Work
Underserved consumers require access in three critical ways: primary care, chronic condition management, and medications. A platform should provide all three, offering products and services directly to the consumer with no third-party funding. This cuts costs and enables consumers to pay out-of-pocket at a reasonable price point. For instance, a medication program's highest price point might be $40 for a 60-day supply.
Unlike typical health care models, this approach helps drive down costs. By having a clear vision of the care gap and patient needs, and by looking at the interconnectivities of patient communities, innovative solutions are beginning to negotiate on a larger scale. These solutions include encompassing a broader set of consumers and engaging with health care providers in the United States and, for example, Mexico, in terms of addressing the health needs of Hispanics living with diabetes. Furthermore, this is an opportunity to interconnect families that purchased health care out of their own pockets here in the United States, as well as for family members in Mexico or other Hispanic countries.
These innovative models rely on partnerships, including pharmacy benefit management companies, to enable access to a preexisting network for the deployment of medical and pharmacy products and services to participating pharmacies. Partners also provide access to prebuilt products and services that function within the solutions network as best-in-class solutions.
The key for Hispanic patients with diabetes and other chronic illness are products and services that have been modified to be culturally relevant and available in English or Spanish.
Technology: Fostering Patient Engagement
Low-income or underserved consumers are becoming more digitally savvy, making them prime candidates for engagement with health care services using innovative technology tools.
Technology is the linchpin of engagement because it creates an environment of inclusivity that's been missing in modern health care. Therefore, it's important to build momentum toward ensuring that these health care consumers have access to technology and innovative, cost-effective health care that's also culturally relevant.
Partner institutions, patient advocacy groups, and retailers will play a significant role in hastening this important transformation.
A Focus on Mexican-American Needs
According to the Pew Center, "The Latino population in the United States reached nearly 58 million in 2016 and has been the principal driver of U.S. demographic growth, accounting for half of national population growth since 2000."
In 2016, Hispanics made up 18% of the nation's population and were the second-largest racial or ethnic group behind whites. They are also the nation's second-fastest-growing racial or ethnic group, with a 2% growth rate between 2015 and 2016. Hispanics of Mexican origin accounted for 63.3% of the nation's Hispanic population in 2015, making them the largest share of any origin group by a wide margin.
Many Mexicans send money across international borders for their family members in Mexico. One solution provider analyzed that corridor of money and assessed that $1.5 billion a year flow from the United States into Mexico for the purchase of medication.
A prescription solution portal can enable these consumers to choose their country of origin, add specific medications to an online shopping cart for family members in that country at the standardized US price point, and pay with a credit or debit card or go to a retail partner and pay cash. The recipient gets a transmittal of the voucher, and the medication is delivered anywhere in Mexico within 24 hours of purchase.
A growing number of hospital systems in the United States and the government of such places as Puerto Rico, Mexico, and Peru find this model of leveraging remittance into the country of origin as a promising way of providing health care services in those countries. This type of health care ecosystem is built on the idea of interconnectivity. Today, it's medication, chronic condition management, and telemedicine, but may soon include nutritional solutions and medical devices.
To be truly effective, these services must be offered directly to cash-paying consumers to achieve viably low price points.
Focus on People With Diabetes
The main challenge for underserved populations with diabetes has been that, rather than being provided care in a systematic way, these patients have typically fallen under the general population, even though many of them encounter special health care challenges on top of cultural differences and significant language barriers. Furthermore, gaps in cultural sensitivities between Hispanic patients and their physicians have made accessing health care more difficult.
When people with diabetes in underserved communities can engage with primary health care providers according to their specific wants and needs and gain full access to their own individual health care data, they can begin to make better health care choices, seek preventive care, and maintain a healthier lifestyle.
This is especially true when they use a health care solution that enables information to be shared easily and securely with their physicians, clinics, hospitals, and family members, and within their own communities. For underserved patients with diabetes, it's particularly vital for them to access a supportive health care environment wherever it's needed.
This means access to programs, chronic condition management assistance, and telemedicine using a cash-based wellness strategy.
Ultimate Solution for Low-Income Patients
The federal government's recent move to enforce greater price transparency is a positive move in terms of helping health care consumers access quality, cost-effective care, which is so critical for the nation's medically underserved patients—especially those with diabetes. Innovative new companies have made progress with cash-based primary care and pharmacy solutions, including medication voucher programs that enable health care consumers to prepurchase generic medications at an affordable price. Consumers can purchase these for personal use or they can be given to a friend or family member in the United States and Puerto Rico, or internationally to countries such as Mexico, Guatemala, Honduras, and El Salvador.
Cash-pay consumers can save a huge percentage on brand name and generic medications across a wide network of pharmacies using a free prescription savings card. Also helpful are end-to-end clinical solution for patients with asthma, diabetes, hypertension, and obesity, and vouchers for apps, medications, peripherals, tablets, testing supplies, apps, and access to lifestyle coach consults and a bilingual telemedicine platform. This gives underserved populations access to quality health care where and when they need it most: in their own communities.
Solutions such as these can drastically simplify access and delivery of quality health and wellness products and enable individuals to learn about their health, determine their wellness needs, get low cost medications, manage chronic conditions, and engage in behavior changes that empower them to lead healthier and more productive lives.
Ultimately, technology is in step with growing demand for quality care and medications that Hispanics and other underserved individuals can afford. The result: these health care consumers are more engaged, supported, and empowered to manage their health in a way that benefits families, communities, and the entire health care system.
— Mario Anglada, CEO of Hoy Health, spent 23 years on the corporate side of Procter & Gamble, Johnson & Johnson, Nestle Health Science, and Univision Communications. These experiences gave him a deep knowledge of the needs of the Hispanic community, and he had a keen sense that the largest minority in the United States was grossly underserved in terms of access to pharmaceuticals and health knowledge. Hoy Health (www.HoyHealth.com) is a first-of-its-kind health-tech platform that provides a comprehensive and integrated bilingual health care support ecosystem to medically underserved patients offering solutions relative to medication access, medication adherence, telehealth, and chronic condition management programs. Hoy Health's core businesses include HoyMEDS, a prescription medication discount program; HoyRX, a medication discount voucher program; HoyCCM, a clinical chronic condition management program, and its direct to consumer retail counterpart HoyLIFE chronic condition management kit; and HoyDOC, a telemedicine program.