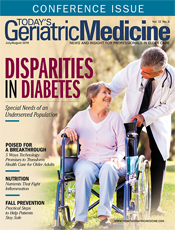 July/August 2019
The Last Word: Age-Friendly Approach — The Remedy to Ageism in Health Care Systems
By Carmel Bitondo Dyer, MD, FACP, AGSF
Today's Geriatric Medicine
Vol. 12 No. 4 P. 34
Ask any group of friends or colleagues whether they think it's easy to navigate the current health care system. Some will say no and some yes. Now ask any group of older adults or their caregivers the same question; no one will answer in the affirmative. Health care systems are simply not designed to serve older adults.
In the current health care system, older adults are beginning to account for the lion's share of hospitalizations, surgeries, primary care, and emergency department visits. Health care costs are increasing at 4% to 7% per year, and older adults account for approximately 43% of aggregate expenditures. The outcomes are not always favorable. For instance, 1 in 7 older adults experiences an adverse event in the hospital; large percentages are not discharged to home. Overmedication and inappropriate prescribing for older adults cause significant morbidity and mortality. Most people are well aware of the problem; most do not realize there are remedies.
In the 20th century, the need for specialized care for children was solved by the formation of children's hospitals, which are now located across the country. Pediatricians subspecialize in fields such as pulmonary and critical care medicine, neonatology, gastroenterology, and many others. The National Association of Children's Hospitals and Related Institutions, or NACHRI, sets high-quality standards for these health systems. Older adults deserve high-quality specialized care, yet the current programs that provide it are small in number and are in no way equipped to serve the large number of patients who need them. Education in the care of older patients is limited in many health professional schools across the United States. Current health care systems for adults are designed for the average middle-aged patient and are insufficient to meet the demands of elderly, both robust and frail—and thus are ageist.
In the 21st century, distinct hospitals are not the way to remedy this problem. It's more practical to leverage existing services within a health system and build upon the strengths. By incorporating comprehensive care driven by evidence-based geriatrics practices, healthy systems will increase value through better outcomes and lower costs. Linking inpatient and outpatient services (staying in network) provides better care, promotes better information flow, and reduces waste. Full-circle care can be supported by technology that improves the flow of information and strong case management. Programs such as acute care of the elderly units, geriatric orthopedic comanagement, geriatric emergency departments, and appropriately applied palliative care, for instance, have all been shown in isolation to increase health care value. The age-friendly approach incorporates these types of programs into current systems.
There are not enough providers such as geriatric doctors, nurses, and social workers to staff large facilities, so training must be geared to educate the geriatrics workforce to meet the needs of frail older patients—also a part of the age-friendly approach. Academic centers can play a key role here. The goal is that an older patient can access any part of any health care system and receive age-appropriate care delivered by persons trained to render it.
The remedy for ageism is to couple age-appropriate training with senior care best practices. Age-friendly health systems will reap the benefits of better outcomes at lower costs. Patients and families will reap the benefits of safer age-appropriate care and increased confidence in the systems designed to meet their needs.
— Carmel Bitondo Dyer, MD, FACP, AGSF, is a professor of geriatric and palliative medicine.