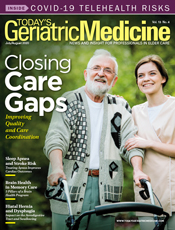 July/August 2020
From the Editor: Don't Sleep on Apnea
By Kate Jackson
Today's Geriatric Medicine
Vol. 13 No. 4 P. 5
There's a good chance that no matter your area of practice, many of your patients have some form of apnea. There's also a good chance that many of those patients have cardiovascular disease as well. For this issue, contributor Jamie Santa Cruz explores the association between the two. Her conversation with experts and review of the literature suggest that treating apnea leads to improved cardiovascular outcomes. She offers takeaways for clinicians that will help them better diagnose and treat apnea to improve heart health.
In another feature, four brain health experts—Krystal L. Culler, DBH, MA; Cathee Stegall; Patrick Cleary; and Caroline Larimore—discuss research-informed interventions and describe one nonprofit organization's model of memory care based on early intervention and the promotion of a healthy lifestyle. Its simple, research-supported interventions include physical exercise, a Mediterranean-influenced lifestyle, lifelong learning, and restfulness.
Another feature explores the burgeoning population of older adults and the consequent challenges to managing clinical and nonclinical issues for patients as care increasingly moves from the hospital to the home.
A fourth feature story explores a key challenge in geriatric care—preventing complications of hiatal hernias. The feature highlights the need for speech language therapists to recognize the signs and symptoms of swallow dysfunction that may occur in patients with this condition.
But what's top of mind for all clinicians at this time, of course, is COVID-19. Although the nation is slowly opening, the way in which health care is delivered is likely to be forever changed. As the situation evolves, Today's Geriatric Medicine will continue to report on the impact of the virus and on emerging knowledge about how it may be prevented and treated. For example, telehealth has emerged as a crucial means by which clinicians can assess and manage care. However, with increased use comes risks and challenges. Contributor Heather Annolino, RN, MBA, CPHRM, addresses this topic in her article "Telehealth During the COVID-19 Pandemic."
Finally, we know that the coronavirus will continue to have an impact on the way you practice and that you'll need to stay on top of ever-changing information. We'll continue to report on it here, and you can find resources and links to the latest information in Today's Geriatric Medicine's Facebook COVID-19 Forum. Sign up to stay in the loop. And we'd like to hear from you about how the virus is affecting the way you practice.