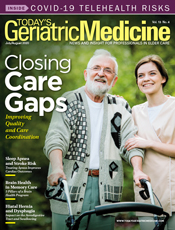 July/August 2020
Clinical Matters: Telehealth During The COVID-19 Pandemic — Increased Demand Means Increased Risk
By Heather Annolino, RN, MBA, CPHRM
Today's Geriatric Medicine
Vol. 13 No. 4 P. 8
It's no mystery that COVID-19 has turned the entire health care system on its ear. The novel virus has placed a never-before-seen burden on local health systems, forcing alternative technologies and processes into the forefront of patient care. On March 6, 2020, Congress responded by passing a $500 million spending plan to combat the virus through expanded telehealth services to assist possible COVID-19 patients and provide non–COVID-19 patients—particularly at-risk older adults—with an alternative to in-person hospital visits, slowing the spread of the virus and flattening the curve. The new measures facilitate radical changes in the way medicine is delivered, enabling older patients to access hospital-level medical care outside of care facilities—in their homes.
While the exponential growth of telemedicine has empowered patients' access and somewhat stabilized the financial longevity of health practices during these uncertain times, the increased demand has also potentially increased risk factors for health care providers. Online waiting queues for patients are becoming longer, and physicians providing these services are becoming overloaded. A higher volume of sicker patients—many of whom are aged 65 and older—coupled with the need for more efficient care likely has created a wider margin for error. To compound the problem, many older patients engaging with telehealth services for the first time are experiencing potential obstacles to care, including difficulty navigating the required technology and spotty access to broadband and cellular service, all of which can impede fluid communication with physicians and create unnecessary incidents.
While many US hospital systems may not have the technological capability to scale up to 50% virtual care, many are nonetheless making rapid and dramatic changes to their telehealth programs. As a result, providers must optimize their telehealth strategies and program framework to ensure data are available for analysis and put consistent processes and protections in place to mitigate the compounding risk factors. In times like these, when surges may be imminent, any telemedicine-related events that do occur should be entered into an incident reporting tool or a health care risk management/patient safety software system. The optimal way to learn from these events is to do an analysis. While that might be difficult now, when this is all over, it will be important to have those data to prepare for the next disaster.
With the potential of a widely available vaccine still in the distant future, many medical professionals are planning for the complications associated with the virus to be around for the foreseeable future. While the modified and relaxed guidelines will continue to evolve throughout the pandemic as more patients and health care facilities embrace telehealth, there's an increased likelihood it will become a service of choice for a subset of patients based on certain criteria. Taking the time to identify and develop practical guidelines can strengthen an organization's overall risk management policies.
Following are a few tips to consider when implementing or expanding telehealth services with optimal strategies and the framework for a program that minimizes provider and patient risk. This list is not all-inclusive, and organizations will need to regularly review specific policies throughout the pandemic.
Credentialing
Historically, given the individual mandates many states require, credentialing for telemedicine has been a challenge for physicians working across state lines. Guidelines are continually evolving during the crisis, and organizations need to stay up to date to minimize financial and practical risks. Addressing challenges associated with credentialing risks for organizations can include, but are not limited to, the following:
• Develop and maintain a list of telemedicine providers.
• Ensure the facility providing the telemedicine practitioner complies with the Medicare Conditions of Participation credentialing standards as well as any national, state, and local regulations; modify any existing telemedicine agreements as needed.
• Obtain licensure requirements guidance from the Federation of State Medical Boards; federal, state, and local governments; and government agencies that seek emergency changes to license portability during the COVID-19 pandemic.
• Require that both the hospital and the telemedicine provider have professional liability insurance at a specified coverage level.
• A few states have defined a distinctive standard of care for telemedicine, such as regulations for the physician-patient relationship, proper patient identity, electronic prescribing, and in-person follow-up. Be sure to stay on top of these standards.
• Consider the relevant licensing and regulatory requirements for advanced practice nurses and physician assistants requiring that each hold the necessary licensing, qualifications, and experience; confirm nurse practitioners have an appropriate collaborative agreement, if required, and any necessary prescriptive authority.
• In addition to clinical notes, ensure that staff document other details of the telemedicine session, eg, mode of service, names of all attendees, sites that were linked, and any technical issues or concerns.
Security, Privacy, and Confidentiality During COVID-19
From ransomware to phishing, the threat of cyberattacks has become an increasing risk for all industries. To reduce this threat, health care organizations need to ensure the technology used and its supporting IT infrastructure can provide the necessary privacy protections and meets HIPAA/HITECH requirements. In addition to HIPAA/HITECH, organizations need to take into consideration state privacy and security laws for a robust cyber risk management policy. Must-haves include the following:
• Use the US Department of Health and Human Services Office for Civil Rights' (OCR) suggested applications—Apple FaceTime, Facebook Messenger video chat, Google Hangouts video, or Skype—to provide telehealth during the pandemic. These options are not usually available but are now permitted by the OCR's recent notification of enforcement discretion for telehealth.
• Develop backup and downtime procedures.
• Provide cybersecurity protections.
• Establish secure procedures for patient encounters and incorporate them as part of their permanent medical records.
• Implement an effective method of patient authentication.
• Create ease of access to existing medical records for providers.
• States should consider their own state privacy laws: Are there state laws that may affect telehealth, eg, a functional limitation on a specific distant/originating site?
Informed Consent
Getting a patient's consent is vital for any telehealth program, as it's a legal requirement for many states and a condition of reimbursement for some payers. Additionally, by thoroughly developing consent protocols, health care facilities can mitigate risks associated with accusations of inadequate consent. Following are some suggestions:
• Develop a process for managing patient-provided health information.
• Ensure physicians know the informed consent requirements for telemedicine.
• Have physicians discuss the benefits and risks of telemedicine verbally with patients before obtaining a signed consent form.
• Define the scope of service for each type of telemedicine service provided.
• Maintain clear criteria for patient selection.
• Oversee archiving and retrieval of video and images as applicable.
• Require patient consent forms and include the following information:
- names, locations, credentials, and affiliations of the staff involved in the consultation and follow-up;
- a description of the procedure or exam;
- potential benefits and risks of the procedure or exam;
- an explanation of how care is to be documented and assessed;
- security measures that will be taken; and
- contingency plans for any technology issues that may arise.
As COVID-19 remains a threat to many patient populations in the United States, including older adults and those with preexisting health conditions, many will continue to minimize their chances of exposure until a vaccine is widely available. Family members will encourage older relatives to use telehealth in order to safely receive the care they may need, paving the way for more widespread adoption of the technology moving forward. As the health crisis progresses throughout and past the summer months, virtual systems will most likely continue and physicians may be overextended. Health care providers should be prepared to proactively mitigate the risks associated with this increased demand and system overload for the benefit of their patients and physicians as well as the financial fortitude of their institutions. There is no other option in the "new normal."
—  Heather Annolino, RN, MBA, CPHRM, is senior director of Healthcare Practice at Ventiv, where she plays an integral part in developing Ventiv's Patient Safety solutions. She has more than 25 years of experience in health care.