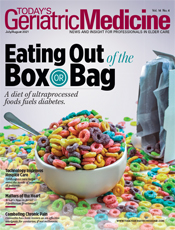 July/August 2021
The Last Word: Overcoming Racial Disparities in Breast Cancer Radiotherapy
By Dennis R. Holmes, MD, FACS
Today's Geriatric Medicine
Vol. 14 No. 4 P. 34
It's been well established that Black women experience breast cancer survival rates at least 10% lower than white women of equal stage and age, related in part to disparities in access to breast cancer care.
Among patients undergoing breast-conserving surgery, breast radiation therapy is an important cancer treatment modality associated with an overall 60% to 70% reduction in local recurrence. Despite its proven efficacy, a major barrier to the successful administration of breast radiotherapy has been the requirement of daily travel to a radiation oncology center for a four- to six-week course of whole breast external beam radiotherapy (EBRT). This barrier can be particularly challenging among underserved groups, including Black women, where lack of convenient transportation, lack of childcare assistance, and inability to take time off work may lead to delays in starting radiation, missed radiation treatments, and failure to complete radiation, all of which can increase the risk of local recurrence within the breast.
The challenges that underserved women face in starting and completing breast cancer therapy were demonstrated in the Carolina Breast Cancer Study, which enrolled nearly 3,000 women in its most recent phase. The study found that nearly one-third of all Black women have a prolonged treatment duration exceeding 56 days for postoperative EBRT, while just over one-fifth of white women had such long delays. These findings are consistent with several other studies showing that compared with white women, Black women are diagnosed with breast cancer at a lower rate and at more advanced stages, receive postsurgical radiation therapy less frequently, report greater breast cancer–related financial impact, and suffer higher overall mortality.
The effort to reduce breast cancer health disparities took a giant leap forward with the recent publication of the long-term results of the TARGIT-A trial, a randomized controlled trial comparing the effectiveness of targeted intraoperative radiotherapy (TARGIT-IORT) and traditional postoperative EBRT in the management of early-stage invasive breast cancer. TARGIT-IORT is a single dose of targeted radiation delivered to the tumor bed from inside the breast. It's administered during breast-conserving surgery immediately following the removal of the tumor while the patient remains asleep. The treatment targets the breast tissue immediately surrounding the lumpectomy site—the place where the risk of recurrence is highest. This spares the rest of the breast and surrounding organs the side effects of radiation. When the patient wakes from surgery, both her breast cancer operation and breast radiation treatment are complete, without the need for additional trips for radiotherapy in most cases.
The TARGIT-A trial enrolled 2,220 women, one-half of whom received TARGIT-IORT at the time of lumpectomy and one-half of whom received traditional EBRT several weeks after surgery. All women had their cancer outcomes tracked for a median of eight years, but the earlier trial participants were monitored as long as 20 years. Long-term survival data consistently demonstrated no difference in the rate of breast cancer recurrence inside the breast or elsewhere in the body. For 8 out of 10 patients receiving TARGIT-IORT, no further radiotherapy was needed.
Not only did the TARGIT-IORT treatment prove to be just as effective as traditional postoperative EBRT, it also eliminated the problem of radiation noncompliance that is commonly faced by the underserved. Investigators also learned that patients who received TARGIT had a significantly lower rate of heart attacks, indicating that the very focused TARGIT treatment can better avoid unintentional radiation of the heart, which is a fear that sometimes leads patients to refuse radiation. Breast appearance and patient quality of life were also better with TARGIT-IORT compared with traditional postoperative EBRT.
Historical studies have demonstrated that for every four breast cancer recurrences prevented with the use of radiation, one breast cancer–related death is prevented. Thus, facilitating the administration of breast radiation among underserved women is essential to reducing breast cancer treatment disparities that might compromise long-term survival.
— Dennis R. Holmes, MD, FACS, is the medical director of the Adventist Health Glendale Breast Surgery Program. He's a coinvestigator in the TARGIT-A Trial and coauthor of the TARGIT-A publication. Holmes is also a cofounder of the TARGIT Collaborative Group, a national cancer advocacy organization of doctors and scientists working to improve cancer patient care and access to TARGIT-IORT through education, patient advocacy, and collaborative research. To learn more about this treatment, visit targetbreastcancer.org.