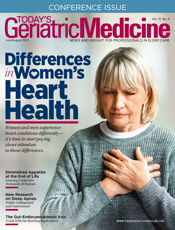 July/August 2022
The Last Word: Addressing Concerns About Erectile Dysfunction After BPH Surgery
By James R. Johannes, MD
Today's Geriatric Medicine
Vol. 15 No. 4 P. 34
Benign prostatic hyperplasia (BPH), commonly known as enlarged prostate, is one of the most common age-related complaints in men's health. It affects about one-half of men in their 50s, with the prevalence increasing with age to affect up to 90% of men older than 80. Many cases of mild or moderate symptoms are well managed with medications that relax or shrink the prostate, such as tamsulosin and finasteride, respectively.1
As a urologist, I see patients whose symptoms aren't optimally managed using medication and require a procedure to restore urinary function. Many of them have used medications for years, settling for partial relief, until a spouse brings them to a urologist or they are admitted to the hospital for another health event, laying bare a problem with urinary retention. When we talk about surgery, they're often reluctant, fearing erectile dysfunction (ED).
Patients tend to perceive a higher risk of ED related to BPH surgery than actually exists, a misconception that can come from the internet or even from their primary care physicians. When I explain that the ED risk is low, they're very surprised. I go through an educational process, help them choose the best option to fit their needs and priorities, and ensure they understand that we can treat ED if it does occur.
Weighing the Options
BPH treatment is individualized. We start with an anatomic assessment, including measurement of the prostate and a cystoscopy to look into the urethra, prostate, and bladder. The anatomic assessment can narrow options and help us find the best treatment for an individual patient. For example, if the inside of the prostate has normal anatomic enlargement and it is less than 80 g, then all procedures are on the table. Above 80 g, we recommend holmium laser enucleation of the prostate (HoLEP).
Next, we weigh the available options. If medication no longer completely controls a patient's urinary symptoms but those symptoms remain mild, he might choose a minimally invasive in-office procedure, such as water vapor therapy or prostatic urethral lift. These procedures have virtually no risk for ED, according to Rezūm and UroLift prescribing information.
Patients who require a greater magnitude of improvement or longer durability or who have anatomic variation not amenable to minimally invasive treatments can have a surgical procedure such as HoLEP or transurethral resection of the prostate (TURP). These procedures carry similar risks for ED (about 3% to 5% after the acute recovery phase).2 Most patients will lose their ejaculation and experience a "dry climax," but many patients are already accustomed to this as a side effect of BPH medications. Postoperatively, patients usually need to have a catheter for a few days, although this isn't always necessary with HoLEP because the anatomic dissection and laser technology cause less bleeding compared with TURP. There is very little discomfort with these procedures; patients often only need acetaminophen or ibuprofen postoperatively.
Although the risks are higher for surgery than they are for the in-office procedures, surgery is a more permanent solution, and it's the only option in more advanced cases. For example, if a patient is in retention requiring catheterization or has deterioration of renal function, surgery will often offer the best improvement and safest long-term option.
Addressing ED if It Occurs
Just as it's essential to explain the low risk of ED, it's also important to let patients know that if they are in that small percentage who get ED, we have very robust options to address it. Put simply, we can always get someone an erection.
A lot of my patients already have some underlying erection issues and get good results with oral medications such as sildenafil citrate (Viagra) or tadalafil (Cialis). I tell them there's 5% chance that their erections afterward would be worse. We can start them on oral medication or adjust their existing dose. If medication is not effective, we can move to more aggressive measures such as injection therapy, a vacuum assist device, or surgery. In my experience, it's rare to need anything other than oral medications or injections after BPH surgery.
Patients want relief from their urinary symptoms, and they're receptive to learning about the small risk of ED. They weigh that risk against their experiences with BPH and desire to improve their quality of life. And if they experience ED, help is available.
— James R. Johannes, MD, is a urologist at Lehigh Valley Health Network (LVHN) in Allentown, Pennsylvania. LVHN is a Center of Excellence, where Johannes uses a Lumenis Pulse 120H Laser System with MOSES Technology to treat patients with BPH and kidney stones.
References
1. What is benign prostatic hyperplasia (BPH)? Urology Care Foundation website. https://www.urologyhealth.org/urologic-conditions/benign-prostatic-hyperplasia-(bph). Updated September 2021.
2. Light A, Jabarkhyl D, Gilling P, et al. Erectile function following surgery for benign prostatic obstruction: a systematic review and network meta-analysis of randomised controlled trials. Eur Urol. 2021;80(2):174-187.