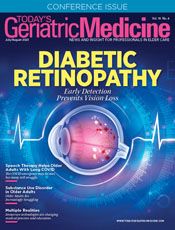 July/August 2023
Bone Health: Clothing and New Smart Technology Solutions for Protecting Hips
By Michele Deppe
Today's Geriatric Medicine
Vol. 16 No. 4 P. 26
New devices are superior to hip protectors of the past.
Hip fractures are devastating," says Patricia A. Quigley, PhD, FAAN, FAANP, FARN, a rehabilitation nurse and consultant based in Florida. "Protecting older adults from hip fractures is a public-health priority in all settings," she adds. The people most at-risk people, she says, are older adults with osteopenia and osteoporosis or those with a history of hip fracture who are mobile (not bedridden). Other older adults at risk for hip fractures may have poor balance and poor eyesight and may be taking medications that cause dizziness or weaken bones. A lack of physical activity and a diet low in nutrients also set people up for falls. In an older population, some illnesses add to fall risk, such as dementia and Parkinson's disease.
The sobering facts are that adults aged 85 and older are 10 times more likely to fracture a hip than are those aged 65 to 69.1 Adults in their 80s typically suffer decline, institutionalization, and death following a hip fracture, and 10% to 20% of this population suffer a subsequent fracture.2 Because the population of older adults in their 80s is the fasting growing age group, expected to reach roughly 8.9 million in 2030, this problem isn't likely to diminish without intervention.
Hip protectors help reverse these dire statistics. They're "the only invention designed to protect from hip fractures," Quigley says. According to one study, hip protectors could reduce the risk of hip fracture by 80% or more.3 Other studies conclude that hip protectors aren't effective, but some data don't represent the accurate picture, she says, and she firmly believes in the protection hip protectors provide. "The studies about effectiveness are limited due to the problem with adherence," she explains. "The issue has been that people won't wear them." Some of the reason she cites for their reluctance to wear them include finding them uncomfortable or unattractive. Other illnesses, as well as the burden on caregivers' time and efforts to put them on and take them off, are also deterrents.
Several studies show a wide range of results for the efficacy of hip protectors, Quigley says, based on variables such as the make and model, how much force was exerted by a fall, and staff adherence in helping the older adult wear the protector consistently. But when worn, some technologically improved hip protectors have been proven effective based on biomechanical impact testing.
The Evolution of Hip Protectors
Recent smart technology has improved the design and functionality, creating more safety for those at risk. "The world of innovation is rich, and protective garments just get better," Quigley says. Thus, there are alternatives to traditional hip protectors. One of the most progressive is Tango belts. They're still being tested, but she's excited about how effective they are in preventing hip fractures during a fall. They're "smart belts," and they include an airbag deployment based on battery power. The airbag surrounds the anatomical hip bilaterally. "If the Tango belt airbag deploys, the patient must send the belt back to the company for a new airbag," she says. There is a motion-sensing system in the Tango belt on the wearer's hip area. Based on an algorithm, the belt senses when a fall is about to occur. The airbag is activated to protect the wearer during the impact. Connected to WiFi, the belt then alerts caregivers (or a call button on the device can be pushed) so that they can come and assist the wearer. The alert system can include audio and visual information and update caregivers via email and SMS messaging. Some great clinical metrics captured from the belt's technology may also be utilized. These metrics include a signal if the battery is low or the belt is improperly positioned, the number of hours of daily wear, if the person wearing the belt has experienced an impact, and how confident the wearer is moving, based on determinants such as gait speed and stability of movement. In addition, there are interesting clues as to what happened during a fall episode (ie, how many steps were taken before the fall).
Practical Considerations
Many different brands and models are available on the market, Quigley notes, including hip protectors incorporated into sweatpants and shorts, which may be more appealing to some compared with standard hip protectors. "Having multiple choices available to match patient needs and preferences ensures better adherence with wear," she says.
Sizes are not standardized, making ordering a hip protector an individualized process. A manufacturer's best fit is usually based on the hip circumference and whether the patient requires a male or female version.
"Hip protectors should be worn during the day when out of bed," Quigley advises. When older adults get up frequently at night, they should wear undergarments containing a hip protector. There have been improvements in fabric options as well. GeriHip hip protectors are made from antimicrobial fabric and, according to its manufacturer, are 60% more protective and 40% thinner than previous versions. Medline hip protectors use "advanced spacer fabric pads" designed to disperse the impact energy during a fall. Safehip brand protectors are distinguished by their easy on-and-off Velcro straps with a snug fit under clothing. These protectors are geared toward active older adults who want to hike, ride bikes, or do housework and desire extra protection in the event of a fall.
Laundering and drying the hip protector is vital, and the foam in the pad must be completely dry to be effective, Quigley says. Replacement considerations are essential. The patient needs affordable, accessible options and enough hip protectors for continuous wear.
Conclusion
Quigley and two others authored a case study published in Physical Medicine and Rehabilitation Research.3 The study took place in a large long term care facility and involved a three-step process for an interdisciplinary team that would be a good guideline for successfully adopting hip protectors. First, identify which people are good candidates to use a hip protector. Second, implement hip protectors into the routine of the patient and health care providers, particularly if the protector has smart belt technology. Finally, achieve adherence to using the hip protector consistently.
Due diligence still needs to be practiced, particularly in creating an environment that helps prevent falls. Risk assessments can point to potential hazards such as slippery floors, sharp-edged furniture, and rugs without beveled edges that cause tripping. Some older adults may need beds that are a certain height off the floor, padded shower interiors, and even helmets to protect the head to reduce the risk of head injury that can occur with a fall. Floor mats that are secure and padded and placed by the bed and chair can be an easy way to help reduce risk of hip fracture. Some older adults may benefit from being taught easy exercises to increase balance. Using simple equipment to prevent falls, like a walking cane or shower bench, and safety practices, such as getting in the habit of standing up slowly, can also reduce risk.
Hip protectors are effective and offer high value for investment. And Quigley also says they come with two risks: not using them or using ill-fitting products. "They need to fit properly," she says. "And if they are too big, they will move and not protect the head of the trochanter."
Since protectors are effective in preventing hip fractures, it's curious that there have been few, if any, conducted in hospital settings. Still, "One must question why there is an overreliance on evidence when common sense solutions exist to increase the safety of older adults, Quigley writes, "such as padded clothing over the trochanter, as worn by football players. Thus, basic common sense can be a driver for solutions that offer more benefit than harm to a patient."
— Michele Deppe is a freelance writer based in South Carolina.
References
1. Hung WW, Egol KA, Zuckerman JD, Siu AL. Hip fracture management: tailoring care for the older patient. JAMA. 2012;307(20):2185-2194.
2. Kannus P, Parkkari J, Niemi S, et al. Prevention of hip fracture in older adults with the use of a hip protector. N Engl J Med. 2000;343(21):1506-1513.
3. Quigley P, Singhatat W, Tarbert R. Technology innovation to protect hips from fall-related fracture. Phys Med Rehabil Res. 2019;4(3). doi: 10.15761/PMRR.1000205.