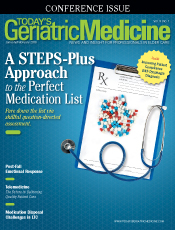 January/February 2016
Telemedicine: The Future in Delivering Quality Patient Care
By Phil McNulty and Jacqueline Sylvia
Today's Geriatric Medicine
Vol. 9 No. 1 P. 22
Telemedicine improves quality of care and reduces unnecessary hospital readmissions, promoting enhanced care coordination.
Technology changes within health care facilities are a hot-button issue for industry professionals nationwide, especially within geographies with high concentrations of aging populations. At the 2015 White House Conference on Aging (WHCOA), the emphasis on technology's role in delivering care was clear: find ways to leverage innovative tools to help people age in the most positive, productive way possible.
The CEO of AARP, Jo Ann Jenkins, sees the future for aging Americans clearly: "Innovative changes in technology, health care, and retirement security are helping people to see aging as a time of continued growth, not a long decline into diminishment," she said at the start of the conference. "[The WHCOA] opens the door to creating innovative solutions that make life better for all people as they age and for building innovative systems that serve the wants and needs of a new generation of Americans."
Coupled with these goals is a new landscape governing how readmissions affect not only hospitals but also skilled nursing facilities (SNFs) and long term care facilities. Care teams within SNFs know intimately how readmissions affect the patients in their care, with risks that challenge their already fragile conditions while potentially increasing the likelihood of infection and polypharmacy, along with discomfort and stress for the resident and family. These incidents can have a profound impact not only on patients, but due to pending changes taking place under the Affordable Care Act, readmission rates will also potentially impact Medicare reimbursements to SNFs.
Under the Protecting Access to Medicare Ace of 2014, SNFs will have Medicare reimbursements linked to their own readmissions rates. The law focuses on "potentially preventable" readmissions, demanding that SNFs understand what qualifies under this definition and then develop plans for reducing the potential occurrence of these types of readmissions. While this drive to reduce readmissions was initially aimed at hospitals, SNFs now find themselves under the same pressure to provide better postacute care and identify new services that ensure continuity of high-quality care once a patient has been declared physically ready for discharge. If SNFs do not adequately prepare patients for discharge and subsequently see them readmitted, penalties could cost a given nursing facility up to 2% of Medicare reimbursements.
Given these changes, the need to adopt new strategies grounded in technological innovations will serve health care professionals well in their drive to improve quality of care, reduce unnecessary readmissions, and leverage technology to inspire greater care coordination as the industry prepares for the needs of the baby boomer population.
Better Care Through Telemedicine
When considering the impact of readmission penalties, nursing homes and other facilities that care for elderly patients must begin to consider the deployment of solutions that enhance their abilities to make more informed decisions about the best course of action when treating a patient.
The accuracy of a physician's evaluation dictates whether a patient must be exposed to the risk of transport to the hospital. Telemedicine consultations offer a way to potentially reduce readmissions and foster greater collaboration between hospitals and nursing homes by allowing a physician to remotely examine a patient's condition. In doing so, the physician can use this individual observation to provide a diagnosis and recommend the appropriate level of care, often eliminating the need for disruptive and sometimes traumatic trips to the emergency department.
The leadership team at Golden Hill Nursing & Rehabilitation Center, a nursing home facility based in Kingston, New York, had a vision to change the health care paradigm, particularly the way health care is provided at long term care facilities, to address the exponential growth of the elderly population. The team recognized that a robust telemedicine solution needed to be an integral part of a comprehensive approach combining multiple technology modalities integrated together to improve patient care. Approaching health care with technology solutions including telemedicine could pay dividends for residents, nursing staff, and the families of those under the facility's care.
Golden Hill uses telemedicine throughout its facility of 280 patients, which has been a particularly important investment for its restorative care unit. The facility's owner, Athony Bacchi, MD, and Joseph Scarpa, MD, Golden Hill's chief medical officer, the driving forces behind telemedicine adoption, envisioned the creation of a new subacute medical unit that will help to stabilize patients outside of the hospital setting while reducing hospital readmissions.
With 40 patient beds, of which 20 are used for patients who require ICU-like monitoring, the subacute unit features a telemetry system used for around-the-clock monitoring of vital signs. The unit is staffed by nurses with a minimum of five years of experience in intensive/critical care units who are supervised by critical care physicians. The nurse/patient ratio here is 1:6. Cardiac issues such as arrhythmias can be detected and reported in seconds, thanks to the monitoring capabilities afforded in part by a telemedicine system. This level of monitoring and responsive treatment is especially important as the baby boomer population continues to grow, along with the need to uphold higher standards and treat patients on a timely basis in a predictive way.
"We are able to provide appropriate, high-quality care based on monitoring factors such as stroke volume, cardiac outputs, and other metrics," Bacchi says. "This allows care providers to make interventions to help prevent a crisis from developing that requires admittance to the hospital. But to be successful in this approach, it requires not only extensive technology investments but also appropriate staffing levels and ratio of patients to staff."
Of course, technology is but one part of the entire design of Golden Hill's approach to predicting patient conditions and preventing avoidable hospital admissions. Bacchi's team performed a workflow process overhaul, in effect, to integrate the best mixture of technology and services to enhance patient care.
Choosing an Adoptable Solution
When Golden Hill began the process of implementing a new approach to resident care, it took into consideration multiple factors. The technology, the people, and the physical environment of the facility were primary concerns in what would become a multimillion-dollar investment in the future of Golden Hill.
From a technology standpoint, the nursing facility chose to work with ProConnections of Westford, Massachusetts, a provider of proven, simple-to-use telemedicine solutions purpose-built for health care services. Golden Hill investigated several telemedicine options before choosing the ProConnections Medical Consultation System (ProMCS) platform. It was discovered that competing solutions were more comparable to a Skype-based platform as opposed to the comprehensive telemedicine solution offered by ProConnections. With the need to listen to the heart, lungs, and abdomen with an electronic stethoscope or to examine the inner ear, nose, and throat using a video otoscope, Golden Hill's team knew the technology platform had to be sufficiently versatile and robust to enable physicians to have as meaningful an encounter as possible.
"We needed to be able to confidently take any number of measurements and perform a wide range of observations," Bacchi says. "Plus, we wanted to be able to capture what we were seeing and upload it into the patient's EMR to enable multiple physicians and specialists to communicate and collaborate as seamlessly as possible."
By implementing a program that relies on high quality audio/visual capabilities to deliver feedback, much of the guesswork of a remote diagnosis is eliminated. The telemedicine system can provide a clear view of any number of key health indicators, from dilated pupils to labored breathing, allowing more informed decisions and providing nurses and caregivers with immediate access to offsite physicians and specialists. "With telemedicine, our team can listen to the heartbeat, make better assessments, and develop a more informed treatment plan for the patient," Bacchi notes.
Even specialists such as surgeons can benefit from telemedicine. According to Scarpa, surgeons are able to view surgically repaired injuries with such clarity and detail that they can make decisions remotely about how to treat inflammations or other flare-ups. "Whether you're a cardiologist or a surgeon, the clarity of the images captured by the ProMCS are so clear that physicians and specialists can truly get up close to a patient, even when miles away," he says.
However, equipping a facility with the latest technology is not as simple as plugging in and powering up, although with ProConnections' system it comes pretty close. There were some facility infrastructure issues associated with the construction of older buildings that weren't equipped for wireless technology and other parts of the facility that required remodeling to access a strong broadband signal. Fortunately, the ProMCS can be mounted to the wall or a mobile cart, providing a range of installation options that were important in making the equipment accessible to staff, according to Scarpa. "Our staff doesn't have to bring anything with them—just visit patients and access the equipment from their rooms."
Engaging the physicians and care teams is also critical to realizing the full potential of a telemedicine solution, so training was an obvious concern for Golden Hill when investing in such technology. Ease of use and physician adoption would be essential for the success of the subacute care unit the facility was developing, especially considering that many physicians have been performing assessments and treatments the same way for decades. While they may all carry smartphones in their pockets, diagnosing patients via a video monitor is a quantum leap from sending a text message to a nurse.
A critical factor for choosing a telemedicine solution was its ease of use. "It had to be easy to use. If it took 10 minutes to log on or required endless combinations of usernames and passwords, physicians wouldn't use it," Bacchi says. "What we needed was a solution that was truly a one-click approach so that physicians and care teams could turn on their computers, choose the appropriate unit [for monitoring], and they're on. When we show physicians how easy it is to use, they get excited. Because of that, training our staff on the equipment has also been quite seamless."
It's important to remember that telemedicine is not just a whiz-bang technology that makes it easier for physicians and nurses to talk to each other. It is responding to a very real need within facilities like Golden Hill, whereby the hectic schedules physicians and specialists keep prevents them from spending an entire day at any one facility. Often a patient may begin the day feeling well and no issues may surface while a physician makes his or her rounds. After the day progresses and physicians have left the facility, a patient may begin to complain of discomfort or other issues that would be simple to address if the physician were still on the premises. Now, with a telemedicine platform in place, Golden Hill can access the insight of the physicians most familiar with its residents within minutes of a patient notifying staff of his or her medical concern.
With many facilities forced to make treat-or-transport decisions that may unnecessarily jeopardize a patient's health due to physician unavailability, combined with the stiff penalties tied to hospital readmissions, telemedicine is helping organizations like Golden Hill make more informed assessments while responding quickly to patient care concerns without requiring a trip to the hospital. In fact, since deploying new technologies such as telemedicine and telemetry, it has seen its readmission rate drop down to less than 15%, a rate that is expected to further decrease.
"There's always a concern with the potential learning curve when you introduce a new tool or technology within the nursing home environment," Bacchi says. "As the demonstrations [of the telemedicine equipment] went on, our staff realized just how easy it was to use. Some physicians are shy, and others are just plain resistant to technology. But if you show them how simple it can be, and that their patients now have the ability to talk to the caregiver they trust the most—their doctor—at any time, use of the system becomes quite natural."
Providing Added Comfort in Trying Times
Technology integration presents an opportunity for nursing homes and SNFs to improve the in-house experience for patients, their families, and loved ones. Reducing unnecessary hospital admissions and the trauma associated with transport decisions reduces the impact on families. Knowing their loved ones are being kept in place because of the ability to provide a physician's consultation from the patient's bedside is valuable from a family relations standpoint, particularly in locations where weather conditions can be dangerous.
For Bacchi and Scarpa, their long-term vision is to see telemedicine and telemetry effectively become the first phase of an overall care model transformation, one that involves everyone who is invested in the care of a patient. Utilizing mobile and tablet devices and providing 24/7 access to a patient's family are aspects of the care model they hope to achieve and that other facilities may choose to adopt.
"It is a great tool," Bacchi says. "Hopefully it will be adopted throughout the country as the standard we use rather than sending a person to the emergency department."
Preparing for a Population Shift
With the anticipated influx of baby boomers who will require high-quality care in the years ahead, the team at Golden Hill understood intimately the necessity for critical infrastructure upgrades now to prepare for future patient care. Combined with a demanding reimbursement policy environment, it's clear that health care organizations must adopt new care delivery models that improve efficiencies and reduce costs while maintaining high quality care. Telemedicine technology is at the forefront of these advancements, and leaders from the State of New York have taken notice of the measures Golden Hill is implementing. "The Department of Health as well as the Commissioner of the Aging and other dignitaries have visited us and witnessed the equipment in use," Scarpa notes. "When they see the technology operating, they are completely amazed."
While it's critical to emphasize the technology's power to improve patient quality-of-life metrics and health outcomes, especially for family members who evaluate their relationships with caregivers on the basis of such factors, facility administrators must also weigh a fiduciary responsibility to ensure that telemedicine offers a net financial benefit. On this front, identifying a technology solution that addresses these concerns while promising ease of use and rapid training for physicians and nurses tasked with using it makes telemedicine a compelling candidate for widespread use in long term care facilities nationwide.
— Phil McNulty is a cofounder of ProConnections, Inc, based in Westford, Massachusetts, and serves as its chief operating officer and chief financial officer.
— Jacqueline Sylvia is the chief operating officer at VestraCare, DBA Golden Hill Nursing and Rehabilitation Center in Kingston, New York. She serves as Golden Hill's administrator responsible for operations, patient care, risk management, and compliance.