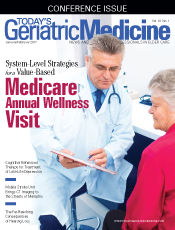 January/February 2017
Elevating Caregivers' Relevance
By Richard Schulz, PhD
Today's Geriatric Medicine
Vol. 10 No. 1 P. 34
Nearly 18 million individuals in the United States are family caregivers of someone aged 65 or older. They provide the lion's share of long-term services and supports (LTSS) for our elders. Family caregivers represent an essential resource to society, yet they are often ignored or marginalized in existing health and LTSS. With the aging of the baby boomers, the need for family caregivers will increase dramatically while the pool of potential caregivers is shrinking because of smaller families, increased labor force participation among women, higher rates of never married and divorced older adults, and the increasing geographic disbursement of families.
The National Academies of Sciences, Engineering, and Medicine convened an expert committee to examine what is known about the nation's family caregivers, identify barriers they encounter in acting on behalf of older adults, and articulate policy to address their needs. The resulting report, "Families Caring for an Aging America," calls for a transformation in the policies and practices affecting the role of families in the support and care of older adults, stating that today's emphasis on person-centered care needs to evolve into a focus on person- and family-centered care. The report urges the new administration taking office in 2017 to create and implement a National Family Caregiver Strategy. Key features of this plan should include the following:
• effective mechanisms to ensure that family caregivers are routinely identified in the delivery of services to older adults with impairments and that their needs are assessed and supported;
• Medicare and Medicaid payment reforms that motivate providers to engage family caregivers in delivery processes across all modes of payment and models of care;
• enhanced training and increased capacity of health care and social service providers to recognize and to engage family caregivers, and to provide them with evidence-based supports and referrals to community resources;
• evaluation and adoption of federal policies that provide economic support to working caregivers; and
• expansion of existing data collection infrastructures to facilitate monitoring, tracking, and reporting on the experience of family caregivers.
Achieving the vision laid out by the report will require resources and motivation to undertake changes in health care and LTSS financing, provider practice, and new educational initiatives. Financing arrangements should reward providers for the explicit identification and support of family caregivers. At the same time, performance standards should hold providers accountable for supporting family caregivers when the plan of care rests on their involvement. Preparing providers to deliver person- and family-centered care to older adults will also require a broad-based effort to address and ensure the competence of health care and LTSS providers to work with family caregivers of older adults.
If the needs of our older adults' caregivers are not addressed, we, as a society, risk compromising the well-being of our elders and their families. Failure to take on these challenges means a lost opportunity to discover the potential societal benefits of effectively engaging and supporting family caregivers in the care of older adults—both economic and otherwise. The public's investment in family caregiving for older adults should be carefully considered and public dollars shepherded responsibly. As federal and state agencies move to develop new programs and supports to address the needs of family caregivers, it will be important to prioritize the needs of the most vulnerable caregivers and tailor eligibility appropriately.
To learn more, please visit http://nationalacademies.org/hmd/reports/2016/families-caring-for-an-aging-america.aspx .
— Richard Schulz, PhD, is the distinguished professor of psychiatry in the School of Medicine at the University of Pittsburgh. He served as chair of the committee that issued the report.