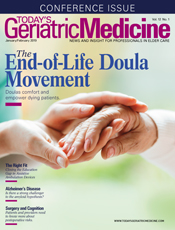 January/February 2019
From the Editor: What's Old Is New
By Kate Jackson
Today's Geriatric Medicine
Vol. 12 No. 1 P. 3
Few would dispute that end-of-life care can be inadequate; many if not most individuals do not spend their last days in peace and comfort. A "new" type of practitioner aims to change that by offering nonmedical, compassionate support to the dying that complements the efforts of families and hospice and palliative care providers.
While doulas (from the Greek word for female servant) have existed since ancient times to empower women giving birth, end-of-life doulas, whether male or female, form a relatively new discipline emerging to help change the culture of death, honor its complexity, and shift the focus from fear and helplessness to empowerment. By providing advocacy, companionship, and compassion, they lift the burden of isolation to forge meaningful and enriching relationships.
A testimony to interest in the discipline is the rise of organizations such as the National End-of-Life Doula Alliance, the Lifespan Doula Association, and the International End of Life Doula Association, whose cofounder Henry Fersko-Weiss, LCSW, wrote Caring for the Dying: The Doula Approach to a Meaningful Death. Further, the National Hospice and Palliative Care Organization (NHPCO) has formed an End-of-Life Doula Council that aims to research the doula role and establish best practices.
Francesca Arnoldy, whose new book, Cultivating the Doula Heart: Essentials of Compassionate Care, provides an overview of the role and scope of a doula, is encouraged by NHPCO's acknowledgement of the doula role. "I believe this council and the associated collaboration between doulas and medical care teams will help clarify and establish this new yet burgeoning career," she says.
Arnoldy was inspired to become a doula by becoming a mother. "The shift in time and space that ensues during labor and delivery along with the endless variation of experiences captivated my mind and heart," she says. But when her grandfather died, she found herself taking on the role of doula as a "calm, compassionate care provider." The essence of support, she says, is no different when attending a birth or a death.
Arnoldy created and curated the curriculum for the University of Vermont Larner College of Medicine's End-of-Life Doula Professional Certificate Program (https://learn.uvm.edu/program/end-of-life-doula-certificate), an endeavor that took more than a year to complete. She read, researched, and interviewed subject matter experts in order to carefully craft content.
"There are other training programs around that differ in terms of breadth and depth," she says. "Ours is quite comprehensive and involved, covering much more than merely the doula role. We discuss hospice, palliative care, and the overarching topic of death and dying, including the spiritual, physical, emotional, social, and practical components."
The course is available online, and the program welcomes a diverse audience, including end-of-life care providers such as doctors, nurses, nursing assistants, spiritual care providers, mental health clinicians, and allied therapists, says Arnoldy, who also travels to provide four-hour workshops.
In this issue's cover story, Arnoldy offers a lyrical look at the doula's role in end-of-life care, concluding, "Through all the ways we doula, we promote empowerment and healing born of processing and bravely facing that which threatens one's sense of intactness. This healing—not in the sense of a cure, but in the sense of an unbroken soul—generates peace in the face of chaos."