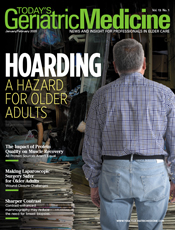 January/February 2020
The Last Word: The Value of Health Literacy
By Michael Wasserman, MD
Today's Geriatric Medicine
Vol. 13 No. 1 P. 34
Those who teach and practice health literacy may not fully realize the extent to which they bring value. The Affordable Care Act defines health literacy as the degree to which an individual has the capacity to obtain, communicate, process, and understand basic health information and services to make appropriate health decisions. But health literacy isn't only about effectively communicating health information to patients and their families; it's also about how those of us in the field of health care communicate with one another.
While teaching medical students how to interview patients, I've learned one major lesson: Focusing on the science of health care can obscure the importance of making sure that patients, and others, actually understand what you're talking about. In medical school, doctors learn to speak their own language, a language that's essentially foreign to everyone else. In order to deliver person-centered care, we must pay attention to the effectiveness of our communications. That's what health literacy is all about.
Our health care system is made up of doctors, nurses, social workers, therapists, dietitians, medical assistants, and receptionists. They all have to communicate with one another. Our patients have family members. Everyone comes from their own backgrounds and cultures. When we discuss health care issues with our patients, their families, and with one another, we need to be cognizant of the importance of clearly communicating. Being a geriatrician, it's always mattered how I talk to my patients. If they don't understand what I'm saying, how can they actively participate in their own care? If their family members don't understand what's going on with them, how can they explain their health care needs to their loved ones?
One of my dearest patients was diagnosed with prostate cancer while in his 80s. His urologist was aggressively treating the prostate cancer with medications that essentially castrated him. The treatment was killing the prostate cancer, but it was also killing my patient. The standard treatment for prostate cancer is to reduce testosterone. Men need testosterone in order to have muscle mass and energy. They also need testosterone for heart health. When my patient ended up in the hospital with pneumonia, I knew that I had to do something. I explained to him that the treatment for his prostate cancer was working to kill the cancer cells, but by robbing him of his strength, it was also killing him. I also explained to him that many older men had cancer cells in their prostate but didn't die from prostate cancer. He knew that something wasn't right, but the urologist wanted him to have this treatment, which put him in a quandary.
Health literacy extends to physicians communicating with one another, so I told him I'd speak to his urologist. I called the physician and told him I was about to take my patient off the medication and that I was actually planning to put him on testosterone. The urologist started yelling at me. I patiently listened and then explained that there was no evidence-based literature contradicting my approach. I explained that we needed to evaluate my patient in terms of his overall function and quality of life. We agreed that if my patient's prostate-specific antigen (PSA) showed evidence of the cancer spreading to the bone, we could consider restarting treatment.
We stopped my patient's treatment when he was 87 years old. I placed him on testosterone for about a year, at which time his body began making its own testosterone and he didn't need any more supplements. He regained his strength and energy. His PSA went up a bit and ultimately leveled out. That was 14 years ago. He recently celebrated his 101st birthday.
If I hadn't been able to help my patient understand the need to be off his prostate cancer medication, it wouldn't have happened. If I hadn't been able to help the urologist understand why I was taking this approach, it also wouldn't have happened. Health literacy comes in many forms.
Health literacy needs to be given a seat at the table of the delivery of health care. There are no academic programs in health literacy. The marketplace has driven the growth of health literacy in recognition of the needs of consumers, but this is by no means an adequate recognition of a field whose time has come and whose place is so valuable and necessary. We need to develop an army of health literacy experts who can teach doctors how to communicate with patients and their families. We need this same army to teach doctors how to more effectively communicate with one another. We desperately need the entire health care workforce to be able to talk to one another in order to truly bring person-centered care to today's health care consumers. Health literacy's time has come.
— Michael Wasserman, MD, a fellowship-trained geriatrician and certified medical director, is a member of the Loran Group. He is president of the California Association of Long Term Care Medicine.