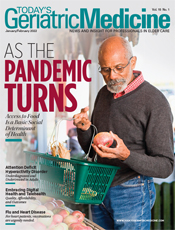 January/February 2022
Older Adults Embrace Digital Health & Telehealth
By Michael Gorton, MS, JD, and Jay H. Sanders, MD, FACP, FACAAI, FATA
Today's Geriatric Medicine
Vol. 15 No. 1 P. 18
Surge in Virtual Care Influences Quality, Affordability, and Outcomes
In an era of digital connectivity, the mandate is to migrate from a reaction-oriented, disease-based model of engagement to one that is proactive and personalized to enable better treatment and more efficient care. This is an evolutionary leap from the legacy models of telehealth that simply provided on-demand care for self-limited, nonemergent problems associated with coughs, allergies, urinary tract infections, and other primary care issues.
For most consumers—especially older adults—a digital platform needs to support a comprehensive, easy to use approach to care. This is precisely where a curated suite of digital solutions should enable users to actively engage in their health, no matter their location or circumstance. The integration of all the digital health assets and associated data—a centralized digital medical home—is an essential ingredient for the comprehensive care of patients. This allows streamlined information exchange between care teams, patients, and families, including the results of diagnostic testing and screening tools, ultimately resulting in optimized care that is highly personalized and effective.
Ease of use and the availability of home point of care technology are key to consumer engagement, with opportunities to meet the tailored needs and expectations of each person. Tomorrow's exam room needs to be where the patient lives, not where the doctor works. Many older adults want—and demand—quick access to the right tools and solutions at the appropriate time for the best care. They are seeking programs and services such as at-home testing and screening tools that are available at the touch of the screen.
These characteristics as outlined above emerge as pillars for effectively managing the complex health care challenges for older adults, especially individuals aging in place, who require timely access to care, the need for improved care coordination, and the impact of social determinants of health (SDOH) in achieving better outcomes. Comprehensive digital solutions align with the Triple Aim of improving the individual experience of care, improving access to that care, and reducing the per-capita cost of care for populations.
Lessons Learned During the COVID Pandemic
COVID-19 taught some valuable lessons about caring for older adults; for example, not only are older patients able to utilize digital health solutions, including telehealth, as key components of their health care experience but they also prefer this option.1 During the pandemic, telehealth use by older adults skyrocketed, with 1 in 4 older Americans saying they had a virtual medical visit that included video consults. Ninety-one percent said it was easy to connect with their doctors.2

With 76% of older Americans intending to age in place, telehealth is playing a major role in maintaining their mental/behavioral and physical health, supporting their caregivers, and coordinating their care while addressing SDOH. One poll found that roughly one-half of older adults are comfortable using telehealth to get health care, and those who have used it largely view it positively: 91% said they had a favorable experience with telehealth, and 78% added that they plan to use it again.3 Digital health companies that provide telehealth must go beyond addressing primary care issues through a video visit. The opportunity now is to expand consumer engagement and manage many aspects of health remotely, especially with a growing number of older adults choosing to remain at home.
As a result, numerous geriatric health decision leaders are partnering with digital health specialists to improve care, enhance provider and patient/caregiver satisfaction, and strive for better patient outcomes. The optimal platform combines digital health with a patient-centered medical home that securely manages scheduling primary care and behavioral health virtual care visits, at-home lab testing, and much more.
Telehealth in a Post-COVID World
Since the beginning of the pandemic, some 60% to 90% of physicians were using some sort of telehealth services, with about one-half using it for the first time. Going forward, digital health experts see more health at home, and telehealth will play a major part in making this a reality.4
Telemedicine is also playing an ever-expanding role in the management of chronic disease. The COVID-19 pandemic has proven telehealth's efficacy, and there will be broader adoption. More frequent virtual visits, combined with connecting with multiple providers in the care of a patient, will significantly reduce unnecessary emergency department visits and could avoid expensive hospital visits and rehospitalizations, significantly helping to lower overall medical expenses for both the individual and the insurer.5
Beyond COVID-19, telehealth remains a viable, cost-effective opportunity to enhance patient engagement, with utilization expected to grow by nearly 700% by 2025.6 Telehealth also helps extend the reach of physicians to care for an even greater number of individuals in the home setting. With at-home health services, patients can have virtual visits, remote monitoring, and digital patient engagement tools to enhance their experiences with a broad health care team. Additionally, tech-enabled home medication administration can help older adults in the shift to receiving infusible and injectable drugs from the clinic to the home setting.7
Telehealth is helping manage many chronic conditions, including arthritis, diabetes, COPD, and coronary disease, as well as depression and other mental/behavioral health issues.8 In many cases, virtual consults have been shown to be as effective as in-person visits.9 Telehealth provides a major lifeline for older adults, improving assessment, diagnosis, monitoring, symptom management, and health engagement—and, ultimately, outcomes. In fact, the Centers for Disease Control and Prevention's (CDC) Community Preventive Services Task Force recommends several telehealth interventions to reduce risk factors for patients with high blood pressure, cardiovascular disease, diabetes, HIV infection, asthma, obesity, and end-stage renal disease. Telehealth also helps with medication adherence and clinical and dietary outcomes.10 Telehealth is playing an active role in chronic care management, helping to keep patients healthier and avoid hospitalizations. A case study of high-risk patients found telehealth lowered hospital readmissions by 83%, reduced emergency department visits by 50% and improved the quality of life for patients, as well as improved communication across family caregivers, patients, and providers.11 In 2015, the Centers for Medicare & Medicaid Services began reimbursing for chronic care management services, recognizing that these services are a critical component of primary care and assist patients with multiple chronic issues that can put them at significant risk of functional decline.12 Patients with chronic conditions account for 76% of all physician visits, and lack of or limited access to care is costly to patients, payers, and providers.13
Remote Patient Monitoring
Aligned with the surge in video and phone consults during the pandemic, remote patient monitoring (RPM) has moved to the head of the line, with patients having access to at-home measurement devices, wearable sensors, phone apps, symptom trackers, and patient portals to support self-care. Going forward, and as additional tools become available, there is potential to harness RPM for assessing and monitoring many diseases and conditions.14 Device data and RPM can provide deeper insight on chronic conditions for providers and patients who are aging in place. To address the needs of these older adults, this digital technology also helps with safety, mobility, nutrition/hydration, medication adherence, and cognition support. In addition, computerized remote tests can help revolutionize the long-term management of chronic conditions.15
Boosting RPM use in older adult care is going to require a strategy for addressing digital health literacy and patient navigation. Providers need to be sensitive to these issues because there are wide differentials across the older population regarding the ability to engage with digital technology.16
Regardless of concerns about RPM and digital health literacy, there is still growing confidence about the value of these solutions, but with the following caveats:
• Patients must understand the technology.
• Patients need adequate bandwidth and connectivity.
• Patients should not be intimidated by the technology.
• A younger caregiver is the information technology guide.
Telemedicine Helps Older Adults in Many Aspects of Care
Mental/Behavioral Health
According to the CDC, more than one-fourth of adults aged 65 and older are considered socially isolated. Older adults are more likely to face loneliness and social isolation because of many factors, such as hearing loss, chronic illness, living alone, and loss of friends and family members. Being socially isolated can also lead to problems, including depression and functional cognitive decline, and poor social relationships are associated with higher rates of heart disease and stroke. However, there are many apps and devices older adults can use to keep from becoming socially isolated.17
According to the National Alliance on Mental Illness, more than 6.5 million Americans aged 65 and older are dealing with some form of depression.18 Depression rates are high for older adults hospitalized or institutionalized with comorbidities.19 Chronic diseases associated with high depression rates include stroke, cancer, coronary heart disease, dementia, and Alzheimer's disease.
Telepsychiatry, a subset arm of telemedicine, can help with mental and behavioral health, especially for older adults, by providing psychiatric evaluations, therapy, patient education, and medication management. Patients in rural areas can access care when there might not be any options, further supporting continuity of care and follow-up after treatment. Telepsychiatry provides an inherent scalability vs the typical long waits associated with in-person care.20
Moreover, this category of telemedicine helps integrate behavioral health and primary care, which can lead to better patient outcomes, reduce delays in care, and avoid trips to the hospital. One major benefit of telehealth is that accessing behavioral health from home reduces the stigma of accessing care.
Medication Adherence
The value of telehealth and digital solutions to support patient adherence to medication and treatment cannot be overstated. Automated medication management tools, including timely reminders and convenient dispensers are helping older adults age in place and stay on track with treatment.21 Promoting adherence is essential to achieving better outcomes; the CDC estimates that drug nonadherence causes 30% to 50% of chronic disease treatment failures.
These solutions go the extra mile to reinforce physician treatment recommendations. It's estimated that one-half of those taking medications in the United States aren't following doctors' recommendations, a factor that's driving the nation's health care bill upwards by about $310 billion in avoidable costs and $100 billion in avoidable hospitalizations.22
Polypharmacy presents many negative consequences as well.23,24 Taking multiple medications has been associated with greater health care costs and an increased risk of adverse drug events, drug-drug interactions, medication nonadherence, reduced functional capacity, and multiple geriatric syndromes.
Resolving challenges among those taking multiple medications will deliver significant results, in not only advancing quality care but also cost savings. A rule of thumb is that the top 1% of high-acuity chronic disease patients accounts for more than 20% of that health care bill, to the tune of about $100,000 per patient per year. Fortunately, digital "toolkits" are useful in managing complications and risks of polypharmacy.
Telehealth Helps Reduce Ageism — an SDOH
Combating ageism is one of the goals of the World Health Organization's Decade of Healthy Aging (2021–2030) and is an SDOH that's mostly been ignored until now. Research shows that 1 in 2 people have ageist attitudes against older adults, and this prejudice can negatively affect older people's health, according to the World Health Organization's global report on ageism.25
Regular telehealth visits can profoundly help fight ageism as an SDOH by making care easier to access and more patient-centered and comprehensive than a short in-person visit. Together, providers and patients can spend time assessing medications, mobility, mental awareness, and so much more.26
The aging baby boomer population has contributed to the growth of telehealth by helping older adults to manage their long-term health issues from the comfort of their own homes.8 However, the digital divide continues to create barriers to health and well-being for lower-income older adults aging in place.28 Now and in the future, telehealth is one way to help at-risk populations stay well and be connected to community resources, and at the same time address SDOH.28
Welcome Relief for Patients and Caregivers
Telehealth can support patients and their caregivers by giving them access to care and education at home, which is especially important for older adults with limited mobility and cognitive function who live in rural areas with low numbers of dementia care providers. Dementia patients might only be seen every six months or once a year, which affects the quality of their care.29
Caregivers need to be included in the telehealth care management process to improve outcomes and quality of life for patients. The number of caregivers increased by 9.5 million from 2015 to 2020, and surveys show that they want more help with care management.30 This help includes easier access to medical support systems, such as telehealth medical provider visits, along with case management, mental health services, and social services. Digital platforms can also help find and train caregivers to support aging in place.31
Telehealth Supports Care Coordination, Chronic Care Management, and Transitional Care Management
With a shortage of primary care providers and specialists resulting from an aging population of physicians and many retiring, telehealth can help patients receive better care coordination among their families, caregivers, and rehabilitation team members. In fact, the VA has been using telehealth services since 2003 to assist patients with disabilities who can't travel or reside in remote areas that make it difficult to travel.32
Telehealth is also valuable in transitional care management, an initiative started by the Centers for Medicare & Medicaid Services to provide patients with services involving a transition of care for 30 days after discharge from an inpatient acute care hospital or inpatient psychiatric hospital.33
Furthermore, telehealth provides benefits to patients and providers before and after surgical procedures with mobile apps that give reminders to stop eating and drinking before the procedure and to take medication afterwards.34 It can also allow patients to check their vitals daily and answer questions on how their symptoms are progressing. Their providers can get alerts about high-risk readings and address issues sooner.35
Choosing the Right Telehealth Solution
In the transition to a population health outcomes approach to health care, the optimal digital health solutions create an easy, personal, and economic opportunity that empowers stakeholders with tools, education, and guidance to support healthier, longer, and happier lives. Grounded in a suite of digital health offerings, analytics, and services, the best digital solution platform touches patients along their entire health journeys—creating a true digital medical home.
Ideally, a closed-loop referral network should be established, including primary care, specialty and behavioral health physicians, and clinicians. This allows for more accurate diagnoses and enables providers to more rapidly close gaps in care, flag health issues, and engage in preventive care to limit disease progression and avoid costly hospitalizations.
In the immediate future, digital solutions and a proactive digital medical home are expected to play an even more important role. There will be more options for home-based health services, such as at-home lab testing, behavioral telehealth, and genomics assessment and testing. This will enable treatment that goes well beyond primary and urgent care to address chronic disease management, including collaboration and communications with long term care facilities, dialysis centers, clinics, and others.4
Almost overnight, digital health has joined the ranks of other existential platforms, such as e-prescribing, claim systems, and electronic health records. In the future, health care will be a mixture of physical, digital, and artificial intelligence–enabled care. With advancing technologies, the ability to care for older adults, especially those aging in place, will be limitless.36
— Michael Gorton, MS, JD, is CEO and founder of Recuro Health and founding CEO and chairman of Teledoc.
— Jay H. Sanders, MD, FACP, FACAAI, FATA, is a member of the Recuro Health Advisory Board and CEO of The Global Telemedicine Group. He's also an adjunct professor of medicine at Johns Hopkins University School of Medicine, and founder and president emeritus of the American Telemedicine Association.
References
1. Why seniors are embracing telehealth during the pandemic. iSalus website. https://isalushealthcare.com/blog/why-seniors-are-embracing-telehealth-during-the-pandemic/. Published August 24, 2020.
2. Telehealth visits have skyrocketed for older adults but concerns, barriers remain. Michigan News website. https://news.umich.edu/telehealth-visits-have-skyrocketed-for-older-adults-but-concerns-barriers-remain/. Published August 17, 2020.
3. King R. Poll: Medicare Advantage members are taking to telehealth. FierceHealthcare website. https://www.fiercehealthcare.com/payer/poll-shows-ma-seniors-who-use-telehealth-are-excited-to-use-service-again. Published May 27, 2020.
4. Strazewski L. Telehealth post-pandemic future: where do we go from here? American Medical Association website. https://www.ama-assn.org/practice-management/digital/telehealth-s-post-pandemic-future-where-do-we-go-here. Published September 7, 2020.
5. Kichloo A, Albosta M, Dettloff K, et al. Telemedicine, the current COVID-19 pandemic and the future: a narrative review and perspectives moving forward in the USA. Fam Med Community Health. 2020;8(3):e000530.
6. Landman F. Exploring the growth of telehealth and what it means for the industry. ReadWrite website. https://readwrite.com/2021/03/22/exploring-the-growth-of-telehealth-and-what-it-means-for-the-industry/. Published March 22, 2021.
7. Bestsennyy O, Gilbert G, Harris A, Rost J. Telehealth: a quarter-trillion-dollar post-COVID-19 reality? McKinsey & Company website. https://www.mckinsey.com/industries/healthcare-systems-and-services/our-insights/telehealth-a-quarter-trillion-dollar-post-covid-19-reality. Published July 9, 2021.
8. Telehealth and seniors. AgingInPlace website. https://aginginplace.org/telehealth-and-seniors/
9. 8 ways telehealth can help in chronic disease management. liv HEALTH website. https://livhealth.com/telehealth-in-chronic-disease-management/. Published March 24, 2020.
10. Telehealth interventions to improve chronic disease. Centers for Disease Control and Prevention website. https://www.cdc.gov/dhdsp/pubs/telehealth.htm. Updated May 11, 2020.
11. Health Recovery Solutions. Case study: Frederick Health. https://www.healthrecoverysolutions.com/hubfs/Frederick%20Health%20Case%20Study.pdf?__
hsfp=607951890&&__hssc=
12. Centers for Medicare & Medicaid Services. Chronic care management services. https://www.cms.gov/outreach-and-education/medicare-learning-network-mln/mlnproducts/downloads/chroniccaremanagement.pdf. Published July 2019.
13. Partnership to Fight Chronic Disease. The growing crisis of chronic disease in the United States. https://www.fightchronicdisease.org/sites/default/files/docs/GrowingCrisisofChronicDiseaseintheUS
factsheet_81009.pdf

14. Habibi S. How digital tech is transforming remote patient monitoring. Forbes website. https://www.forbes.com/sites/forbestechcouncil/2021/05/28/how-digital-tech-is-transforming-remote-patient-monitoring/?sh=3266a43a1205. Published May 28, 2021.
15. D'Aquila M. 6 top tech products to help seniors age in place. HomeCare website. https://www.homecaremag.com/aging-place/september-2021/6-top-tech-products-help-seniors-age-place. Published August 31, 2021.
16. Heath S. Digital health literacy considerations for RPM in senior care. Patient Engagement HIT website. https://patientengagementhit.com/news/digital-health-literacy-considerations-for-rpm-in-senior-care. Published May 21, 2021.
17. Loneliness and social isolation linked to serious health conditions. Centers for Disease Control and Prevention website. https://www.cdc.gov/aging/publications/features/lonely-older-adults.html. Updated April 26, 2021.
18. Isolation-induced depression in seniors. AgingInPlace website. https://aginginplace.org/isolation-induced-depression-in-seniors/
19. Chronic diseases and cognitive decline — a public health issue. Centers for Disease Control and Prevention website. https://www.cdc.gov/aging/publications/chronic-diseases-brief.html. Updated September 10, 2020.
20. What is telepsychiatry? American Psychiatric Association website. https://www.psychiatry.org/patients-families/what-is-telepsychiatry. Published August 2020.
21. How telehealth is helping seniors age in place. AgeWise Colorado website. https://agewisecolorado.org/blog/seniors-telehealth/
22. Wicklund E. Using telehealth to help patients with medication adherence. mHealthIntelligence website. https://mhealthintelligence.com/news/using-telehealth-to-help-patients-with-medication-adherence. Published March 9, 2018.
23. Maher RL Jr, Hanlon JT, Hajjar ER. Clinical consequences of polypharmacy in elderly. Expert Opin Drug Saf. 2014;13(1):57-65.
24. Turgeon J, Michaud V. Decreasing adverse drug events. Today's Geriatric Medicine. 2020;13(1):8-9.
25. Mikton C, de la Fuente-Núñez V, Officer A, Krug E. Ageism: a social determinant of health that has come of age. Lancet. 2021;397(10282):1333-1334.
26. Solberg L. The keys to effective telemedicine for older adults. Institute for Healthcare Improvement website. http://www.ihi.org/communities/blogs/the-keys-to-effective-telemedicine-for-older-adults. Published April 6, 2020.
27. Clare CA. Telehealth and the digital divide as a social determinant of health during the COVID-19 pandemic. Netw Model Anal Health Inform Bioinform. 2021;10(1):26.
28. Nicholson J. Addressing social determinants of health with technology during public health emergencies. Journal of AHIMA website. https://journal.ahima.org/addressing-social-determinants-of-health-with-technology-during-public-health-emergencies/. Published June 1, 2020.
29. Telehealth: improving dementia care. National Institute on Aging website. https://www.nia.nih.gov/news/telehealth-improving-dementia-care. Published September 23, 2020.
30. Factoring in caregivers adds value to a telehealth program. mHealthIntelligence website. https://mhealthintelligence.com/features/factoring-in-caregivers-adds-value-to-a-telehealth-program. Published October 16, 2020.
31. Benefits of telehealth for seniors. Iora website. https://ioraprimarycare.com/blog/benefits-telehealth-seniors/. Published April 9, 2021.
32. Gruessner V. Does telehealth technology adoption advance care coordination? mHealthIntelligence website. https://mhealthintelligence.com/news/does-telehealth-technology-adoption-advance-care-coordination. Published September 15, 2015.
33. Godek R. Transitional care management: features, benefits, and getting started. ThoroughCare website. https://www.thoroughcare.net/blog/what-is-tcm. Published May 27, 2020.
34. How telemedicine is improving care coordination. HIMSS website. https://www.himss.org/news/how-telemedicine-improving-care-coordination. Published June 21, 2019.
35. Rayzel C. Supplementing patient care coordination with telehealth. Health Recovery Solutions website. https://www.healthrecoverysolutions.com/blog/telehealth-in-managed-care-real-time-care-coordination
36. Landi H. Amwell rolls out new telehealth platform that integrates with digital health tools. FierceHealthcare website. https://www.fiercehealthcare.com/tech/amwell-rolls-out-new-telehealth-platform-integrates-wearables-ai-tools. Published April 28, 2021.