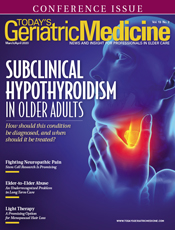 March/April 2020
From the Editor: Avoiding Overtreatment in the Elder Population
By Kate Jackson
Today's Geriatric Medicine
Vol. 13 No. 2 P. 4
The American Thyroid Association estimates that roughly 20 million Americans have some type of thyroid disease.
Hypothyroidism—a condition characterized by inadequate production of thyroid hormone, affects roughly 4.6% of the population, according to the National Institute of Diabetes and Digestive and Kidney Diseases. Among its causes are the use of certain medications, radiation treatment, inflammation, surgical removal of the thyroid, pituitary disease, and Hashimoto's disease, an autoimmune condition. Although hypothyroidism can be present from birth, it often goes undiagnosed. Early and appropriate diagnosis and treatment is crucial to address a wide range of potentially debilitating symptoms. When it comes to older adults, however, researchers and clinicians are recognizing that the condition may be overtreated. Studies indicate not only that older adults with only mildly altered thyroid-stimulating hormone levels don't appear to benefit from medication, but also that they're not prone to the cardiac and other repercussions that affect younger patients. In our cover story, Jamie Santa Cruz looks at the research and talks to experts about guidelines for diagnosing and treating older individuals with hypothyroidism.
For many women after menopause, hair loss is not only a medical condition but an emotional stressor. Medical treatments are available, including the drug finasteride, which is also used to treat benign prostatic hyperplasia in men who have an enlarged prostate, and a topical application, minoxidil, yet some women may not wish to use pharmaceuticals, lotions, or foams. A relatively new option is light therapy. Although there's not yet a great deal of research, studies suggest light therapy, whether applied in the clinic or in home use, may be an effective approach. Karen Clark, MD, a board-certified gynecologist, reports on this emerging technology.
Also in this issue, contributor Lindsey Getz addresses a problem in long term care facilities that's often hidden or overlooked: resident-on-resident abuse. While elder abuse—abuse by caregivers or providers—gets the lion's share of attention, violence between residents is often more tolerated or even ignored. Getz talks to experts who discuss red flags, different types of abuse, and strategies providers can implement to reduce harm.
Also common and often overlooked are significant risks associated with a popular class of drugs typically used for heartburn and gastroesophageal reflux disease: proton pump inhibitors. In this issue's Medication Monitor department, Mark Coggins, PharmD, BCGP, FASCP, looks at the dark side of these effective medications and points to the need for better patient education.
On the lighter side, contributor Michele Deppe interviews Paula Hertel, MSW, and Nancy Schier Anzelmo, MSG, cofounders of Connected Horse, a program that brings the evidence-based benefits of equine therapy to Alzheimer's disease patients and their caregivers.