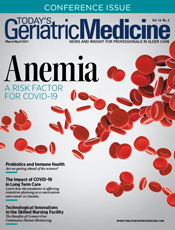 March/April 2021
From the Editor: The Struggle Goes On
By Kate Jackson
Today's Geriatric Medicine
Vol. 14 No. 2 P. 4
After development at unprecedented speed, vaccines for the coronavirus are rolling out, but it's likely to take many months before a significant proportion of the population receives them. There will be many people, including health care workers, who will refuse to be vaccinated, and there are still many questions about the efficacy of the vaccines and the duration of the immunity they confer. Prevention measures will continue to be imperative, providers will continue to treat COVID-19 patients, researchers will continue to look at the damage and hope to find ways to mitigate it, and technology will continue to attempt to address foreseen and unforeseen challenges.
COVID-19, therefore, will remain a significant topic of coverage in TGM. And while not all health care workers treat COVID-19 patients directly, they're affected indirectly, and it's essential for everyone to stay informed.
In this issue, contributor Mark Coggins—who in the last issue explored the impact of the virus on kidney health—looks at the link between severe COVID-19 and anemia. According to research published in the European Journal of Epidemiology, iron metabolism and anemia are associated with multiple organ dysfunction syndrome in patients suffering from COVID-19. Another study of patients in Wuhan, China, concluded that because patients with anemia had one or more comorbidities and more severe COVID-19 than those without, it's essential for providers to pay greater attention to the hemoglobin levels of COVID-19 patients upon admission to hospitals.
Since anemia appears to be an important risk factor in the development of the disease, it's important for providers to be aware of the association and carefully monitor anemia patients and emphasize prevention.
Because many consumers have avoided nonessential medical care and elective surgeries have been postponed, hospitals and private practices struggle to remain viable, and the pandemic has created obstacles to quality measurement. Contributor Josh Hetler reports on the challenges and the importance of effective value-based care approaches. Now more than ever, he notes, "it's become critically important for health systems to adopt effective tools that will enable providers to identify care gaps, access data that informs clinical decisions, improve quality and risk adjustment scores, and enhance patient outcomes."
Finally, in "The Last Word," Patrick K. Porter discusses the potential effect of COVID-19—both that of the disease itself and the isolation it's engendered—on cognition and urges providers to emphasize activities that boost brain health.