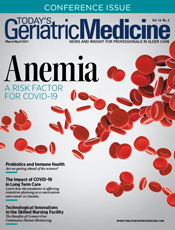 March/April 2021
Education: Virtual Programming Hones Empathy Skills
By Michele Deppe
Today's Geriatric Medicine
Vol. 14 No. 2 P. 8
A new type of interactive training teaches caregivers actionable skills, improving their confidence and competence in dealing with older adults.
Most people agree that 2020 was a tough year, and for some, it was devastating. If you were fortunate enough to have been untouched by such losses, imagine if it were much worse: perhaps losing your job, or your home, or someone you love—or all of these.
Engage with, from the Mental Health Association of Maryland (MHAMD), is an innovative, live virtual skills training program aimed at helping people who work with older adults that also helps health care facilities retain employees. The first module increases awareness and develops the abilities necessary to engage in healthy, caring relationships with older adults.
"In one of our teaching examples, we talk about what would create tremendous stress in your life for you, right now, as a way to evoke an emotional response. Then, while in that state of mind, we connect those feelings to those experienced by many older adults as a way to develop true, lasting empathy," says Stephen B. Goldberg, MD, the program's developer and medical director, as well as a board-certified psychiatrist. "These types of challenges are what older adults experience. When you realize how you would feel, how hard it would be, you're suddenly empathetic, almost accidentally."
Technology-Based Training Leads to Measurable, On-the-Job Impact
Engage with's content is based on relevant topics and designed to meet the Phase II and III long term care training requirements for behavioral health determined by the Centers for Medicare & Medicaid Services (CMS). "There was no single training approach that satisfied all of the new requirements," says Goldberg, so, in coordination with MHAMD, he developed a comprehensive skills training program that addressed this unmet need. Three years in the making, his comprehensive skills-based program is based on a virtual gaming platform.
Through the two-year-long pilot study, conducted in long term care facilities, more than 2,500 employees trained with the program and saw significant feedback results. "We hired the University of Maryland to perform the evaluation, and the training itself went through a two-year evaluation process to gauge effectiveness," Goldberg says. "We were limited by the data some of these pilot facilities were willing to share, but we demonstrated a reduction in turnover by more than 40%."
The cost of replacing a certified nursing assistant can be an investment of around $5,000, which includes advertising, recruitment, interviewing, hiring, onboarding, and further training for the person to be able to work independently, Goldberg explains. If someone quits their job in two months because they were never taught the skills necessary to work with older adults successfully, then that's quite a loss to the facility and for continuity of care. "For people who are working in that environment, it's sometimes difficult to truly empathize with the patients," he says. "We found that attendees of the training said they were thinking about it and were still using the actual skills they learned six months after it was completed."
As a journalist, I received a link to explore a demo of the Engage with program. Like other online games, people can talk with one another and with the instructor live, in real time, via the microphone in their devices. The four-hour training takes place in a virtual nursing home world. It's fun and absorbing, with entertaining games to play with the other participants and interesting (sometimes hilarious) interviews with older people.
"The training begins in a virtual auditorium. To keep it engaging and dynamic, we teleport people's avatars to different parts of the virtual long term care facility to watch videos, engage in small group exercises, and even play an interactive game that focusses on how to demonstrate respect," Goldberg says. "We've integrated over 60 'touchpoints' (interaction opportunities) throughout the training. Touchpoints include everything from 'yes' and 'no' responses to 'raising your hand' after a return from a break, answering questions about scenarios presented, to the evaluation questions at the end of the training. These touchpoints keep people engaged, and they also serve to verify people's engagement."
What Everyone Needs to Know
The program begins with a four-hour core skills training, "What Everyone Needs to Know," with five two-hour optional supplements. There's a total of 31 skills taught within the 14 hours of comprehensive skills training. Successful completion of the four-hour training earns participants a certification from the MHAMD. Those who complete all 14 hours of training earn an advanced certification, which also meets CMS Phase II and III requirements for behavioral health.
One of the program's basic tenets is purposeful communication, and some of the skills taught in the core skills training include active listening, nonverbal communication, and verbal expression. "Much of it is about getting participants to realize how they present themselves," Goldberg says. "We teach in the program how looking at your phone, being too distracted to answer a direct question, or rolling your eyes communicates something, that you are not actively listening and that they [the residents] are not important to you," he says. "You may not intend to be insulting because it is out of your awareness, but that does not make it any less insulting to the older adults. They may then react by being disruptive, oppositional, or resisting care, particularly when they are unable to express their feelings."
Another one of the core skills is demonstrating respect, which is different than being respectful. "The training program stresses that 'being respectful' is something based on your personal beliefs, norms, or cultural awareness," Goldberg says. "But demonstrating respect is based on the other person's personal belief, norms, or culture." For example, he says, "If your style of showing respect is to talk to someone casually and lay a hand on their shoulder to put them at ease, you have probably noticed that it works for most people most of the time. But if you're, say, a white male interacting with a Muslim female, her reaction to your style may be very different than what you are used to experiencing. And if she is negative in her reaction because it was insulting to her, you may not know that. Her reaction can then easily be attributed to her personality style, not to your insulting action. This type of miscommunication can create a cycle of negative interactions that can be long-lasting."
There's an authenticity to the program, because it uses realistic circumstances and deals with typical, and often negative, emotions. "When they acknowledge how hard it is for them to 'let it go' when someone insults them, they are then challenged to consider how it feels to older adults," Goldberg says. "Finally, they begin to connect this to some of the negative interactions and resistance to care (RTC) they have experienced. These relationship tensions and RTC could contribute to employee dissatisfaction and why some employee consider leaving their jobs.
 "The concept of preservation of ego is one of the foundational principles of the training," he continues. " When you think about all of the conflicts and the problems between people throughout history and today, you can often trace the origin of those conflicts to an initial perceived insult, intentional or not; it is easy to offend someone."

The training looks at older adults' past life experiences and when those events occurred to learn how both shape their current views the world. "People today look differently," Goldberg says. He explains that older adults may look at your scrubs and equate them to coming to work in pajamas, which can be perceived as disrespectful by someone who grew up in a time when dressing up for work demonstrated respect. Maybe they grew up in a time when only criminals and tough people wore tattoos, and so your tattoos, although appropriate and now considered the norm, may seem threatening to someone who associates them with 'bad' people. Goldberg says, "If health care workers are not thinking about demonstrating respect and are not purposeful in how they communicate, these types of insults and misperceptions could impact how the older adults perceive their actions and efforts."
People may perceive words or actions in a negative way during day to day spontaneous interactions, Goldberg says. Perhaps you call someone by their first name when they prefer to be more formal. Maybe you try to help them up when they didn't need help or ask for it. "We're encouraging people to reflect on these interpersonal behaviors and their impact on relationships," he adds. "Through the skills training, participants begin to realize that their approach may be, for some older adults some of the time, insulting. And, when they are able to acknowledge that they themselves would react in similar ways when they are insulted, it opens their eyes to why they see some of the same negative reactions in older adults. Getting them to see this connection is really where the growth occurs."
Training for Everyone
As of the start of 2021, MHAMD has made the Engage with training available to long term care, assisted living, and other facilities across the nation. "I think will truly make a difference in health care communities," Goldberg says. He adds that because CMS requires that people get this training, it's an excellent opportunity to virtually experience it in an informative, interactive, and innovative way.
"By 2022, we're looking to make the skills training available to the public so that anyone could go online and sign up for the program," Goldberg says. "People who are living with and supporting older adults in their homes, caring for aging family members, or, for whatever reason, feel that they could benefit from it, will be able to have access to this training."
The Engage with team has partnered with a software company that does all of the digital processing in the cloud. "You don't need to have a fancy gaming console, high-powered computer, or access to high-tech stuff, and it does not have any significant storage requirements," Goldberg says. "Just a tablet, laptop, or any computer with a stable internet connection will suffice. As long as you can watch an online video with your device, you could fully participate in this training."
— Michele Deppe is a freelance writer based in upstate South Carolina.