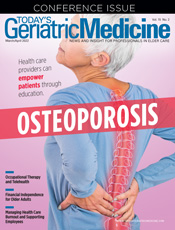 March/April 2022
From the Editor: Examining Burnout, Compassion Fatigue
By Kate Jackson
Today's Geriatric Medicine
Vol. 15 No. 2 P. 4
We all know that frontline hospital workers are exhausted. As the pandemic wears on, many feel depleted, even broken. Some have left or will move out of the profession, leaving those who remain with a still greater burden, and others will suffer the mental and physical consequences of toiling beyond their endurance to save lives.
But it isn't only emergency department and ICU doctors and nurses and who are suffering; virtually everyone who sees patients (and even many behind the scenes) are worn out. Psychologists and social workers, for example, are working long hours and can't come close to meeting the current level of need for mental health services.
It's not hyperbole to note that burnout and compassion fatigue are rampant.
Burnout represents the last straw—the point of exhaustion or frustration at which a person feels that they have nothing more to give. It's brought on by a variety of circumstances, often an increased workload and longer-than-usual working hours, but it also can be caused by work-life imbalance, a dysfunctional or hostile work culture, and a perception of lack of control. It results in fatigue, lack of enthusiasm, and in the extreme, apathy.
Compassion fatigue is the less discussed and recognized affliction, but it's equally debilitating. Unlike burnout, it's not a response to being physically overworked but rather to being emotionally overworked. Often called secondary traumatic stress, it arises from the emotional burden of trying to help others who are in extreme distress or who have been traumatized.
Health care providers absorb their patients' pain and suffering and often reach a point at which they can no longer be helpful. It's as though their well of empathy has run dry. It impairs cognitive abilities, behavior, and judgment, and can lead to, among other things, isolation, depression, PTSD, and despair. And in this COVID-19 climate, few feel they have the time or the luxury to practice the self-care and self-compassion needed to counter the negative effects and pay the cost of caring.
In this issue, Ayme Zemke looks at the signs and symptoms of burnout and discusses some strategies for addressing it. In a future issue, we'll address what health care workers can do to prevent or cope with compassion fatigue.
Enjoy also our authors' takes on osteoporosis, the role of telehealth in occupational therapy, and more.

TGMeditor@gvpub.com