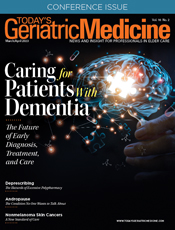 March/April 2023
Nonmelanoma Skin Cancers: A New Standard of Care
By Jon R. Ward, MD
Today's Geriatric Medicine
Vol. 16 No. 2 P. 22
The idea of having surgery, at any age, can be a somewhat frightening prospect. And the older we get, the more difficult it can be for the body to heal properly. This is especially true with major surgeries.
But what about something that could be considered a "minor surgery," such as using a scalpel to remove a nonmelanoma skin cancer (NMSC)? There is still localized anesthesia, cutting, bleeding, sutures, weeks of recovery, and healing. After all of that, there's the prospect of surgical scarring and, in many cases, reconstructive surgery.
Among the 3.3 million people diagnosed with NMSC every year, many are retired older adults living in areas with an abundance of outdoor activities and sun exposure.1 This procedure, called Mohs surgery, is frequently recommended, and it has been a treatment for basal and squamous cell carcinomas for nearly a century. In recent decades, Mohs surgery has become recognized as the gold standard for the treatment of NMSC.
Mohs is a special type of surgery that cuts out layers of the skin in stages until all the cancer is gone. As with any treatment, there are risks and steps that patients need to take to prepare for surgery. The amount and type of care a patient needs after Mohs surgery depends on the wound that is left from where the cancer was removed. There is no way to know beforehand how big the wound will be, how it will be closed, and if a patient will need extensive reconstructive surgery.
Mohs surgery is typically performed in a dermatology office by a specialized dermatologic surgeon, a Mohs surgeon. Mohs surgery produces cure rates of 93% to 99% for the most common skin cancers—squamous cell and basal cell skin cancers. Mohs is typically performed on individuals who have skin cancers near or on functional and cosmetically sensitive areas, such as the eyes, nose, lips, ears, scalp, fingers, toes, and genitals. Mohs can also be performed if the skin cancer is large or aggressive, if multiple skin cancers are close together, if surgical excision is less likely to remove all the skin cancer, or after previous treatments have failed. Primary complications from Mohs surgery include bleeding, itching, pain, swelling, infection, larger than expected wound, loss of nerve function, risk of disfigurement, and risk of regrowth of tumor after removal. A majority of individuals will require some form of reconstructive surgery after the Mohs surgery is completed in order to minimize surgical defects or improve cosmetic and functional outcomes.
But while many older adults elect to have Mohs surgery to remove cancerous lesions, others are simply electing to forego treatment. According to analysis published in the Journal of the American Academy of Dermatology,2 while incidence rates of NMSCs have continued to rise, particularly among older adults, these cancers are more likely to be untreated in those patients. The study, in which the cases of 927 patients were evaluated, referenced "reasons most commonly documented for missing treatment." Some of the more common reasons older patients choose to forgo treatment rather than submit to Mohs surgery include general anxiety related to surgery, the desire to avoid a potentially painful procedure, fear of potential cosmetic issues, and concern over having to suspend the use of prescriptions that address their other health issues.
Treatment for skin cancer should never be neglected, and fortunately, a nonsurgical treatment option is now available for patients looking for a noninvasive approach. Although NMSCs are rarely life threatening, they can cause disfigurement or death. Further, if a given treatment doesn't occur early, the cancer is most likely to return. Both basal and squamous cell cancers can spread locally to surrounding skin or tissues or distantly to other parts of the body. There are great treatment options for patients with comorbid conditions that do not require surgical intervention, Image-Guided Superficial Radiotherapy (Image-Guided SRT) being one.
Another Way
In 2021, the results of a ground-breaking study were published that showed a 99.3% cure rate in treating basal cell and squamous cell carcinomas without surgery with a newer, advanced technology called Image-Guided SRT. This FDA-cleared technology eradicates skin cancer using low levels of X-rays combined with modern radiotherapy protocols.
The research, one of the largest multi-institutional studies of superficial radiotherapy for the treatment of these cancers, was published in the peer-reviewed journal Oncology and Therapy. Fifty-seven percent of subjects in the study were male and 43% were female; the median age was 73.2 years.3
In the study, researchers evaluated the medical records of 1,632 patients with a combined 2,917 stage 0-2 lesions treated with Image-Guided SRT. Of the lesions that were treated with Image-Guided SRT, 2,897, or 99.3%, did not have evidence of disease at the patient's last follow-up visits. The mean duration of follow-up was 69.8 weeks.3
The study concluded that "Image-Guided SRT should be considered as a first-line option for treating nonmelanoma skin cancer in suitable early-stage patients." It clearly demonstrates the status of Image-Guided SRT as a standard of care for patients.
How It Works
This nonsurgical approach involves the use of ultrasound images to direct low-level X-ray energy at precise areas of the skin, damaging and killing cancer cells. Image-Guided SRT, unlike Mohs surgery, involves no scalpel, no pain or bleeding, no surgical scarring, and no need for reconstructive surgery.
The image guidance part of this treatment requires lesions and normal tissue to be evaluated in an adaptive manner to ensure proper superficial radiotherapy delivery. When using Image-Guided SRT, clinicians can assess in real time, at each treatment, the exact dimensions and location of the lesion and response during course of care, contributing to a higher standard of care and better patient outcomes. Furthermore, Image-Guided SRT's "see as you treat" technology facilitates the adaptive radiotherapy protocol responsible for its high cure rate and provides an added benefit to patients—visible proof that the tumor is shrinking, which contributes to improved patient compliance.
Image-Guided SRT is designed to reach most lesions from the skin surface to the dermis, effectively penetrating 0 to 6 mm where the NMSCs reside, with the depth of most lesions ranging from 0.1 to 4 mm; it can penetrate up to 10 mm (or more) below the surface of the skin, if needed, based on energy selected; it allows for certainty regarding tumor depth; and it preserves the surrounding healthy tissue, while effectively treating the malignant cells.
Other advances in the technology that comes with Image-Guided SRT are the ability to provide, record, and verify system precision tracking of treatment progress, on-board dosimetry, and additional quality and safety assurance.
Some other issues to consider when offering patients a choice in treating NMSCs include the following:
• The treatment is quick, safe, and painless: Image-Guided SRT is delivered in stages in a dermatologist's office—typically involving a series of treatments, three to four times per week, over several weeks.
• The treatment is efficient: up to three lesions can be treated during a course of care. (On average, around 1.67 lesions are detected at diagnosis.) This contrasts with Mohs surgery, where in most cases, only a single lesion is treated at each visit.
• The treatment works: Image-Guided SRT's cure rate of 99.3% compares favorably to Mohs surgery cure rates of 98% for basal cell carcinoma and 96% for squamous cell carcinoma. Image-Guided SRT can treat NMSCs on virtually any part of the body, no matter what skin type.
• The treatment is FDA cleared, covered by Medicare and most insurance plans, and already offered by more than 500 dermatologists in the United States who have treated over 45,000 patients and 70,000 lesions. More than 1,200 patients are being treated each month, including over 750 Medicare beneficiaries each month, and that number continues to grow. This makes Image-Guided SRT a community standard of care.
• The treatment is highly regarded by patients: Patient satisfaction scores are impressive, with 99% of patients reporting they were happy with their decision and they would recommend Image-Guided SRT to others diagnosed with NMSC.
• And finally, the treatment is getting noticed: the governors of four states—Alabama, Iowa, Louisiana, and Michigan—have all recently issued gubernatorial proclamations raising awareness about NMSCs and encouraging their citizens to consider treatment options such as Image-Guided SRT when talking with their doctors. In addition, members of the US Senate and House of Representatives, as well as state senators and representatives and local mayors, are learning about and speaking out about the benefits of this alternative to surgery.
Additional Factors to Consider
Image-Guided SRT is a proven, nonsurgical, noninvasive, effective treatment for nearly all patients with NMSC, especially when surgery is not an appropriate option, eg, for patients on blood thinners or patients with lesions on the eyelid/peri-orbital area, nares, ear and below the knee, and those with diabetes or who are prediabetic. It provides excellent cosmetic results, as there is no incision and, thus, no surgical scarring.
This should all be good news for older adults, their families, their caregivers, and those who manage their medical care, including internists, geriatricians, dermatologists, and allied health providers. Image-Guided SRT: a safe, effective, and painless treatment of NMSCs without surgery, should be the new standard of care.
— Jon R. Ward, MD, is a dermatology specialist.
References
1. Skin cancer (nonmelanoma) - statistics. Cancer.net website. https://www.cancer.net/cancer-types/skin-cancer-non-melanoma/statistics. Published February 2022.
2. Basu P, Beckles A, Porter ML, Olbricht S. Nonmelanoma skin cancers are more likely to be untreated in elderly patients. J Am Acad Dermatol. 2020;82(2):505-507.
3. Yu L, Oh C, Shea CR. The treatment of non-melanoma skin cancer with Image-Guided Superficial Radiation Therapy: an analysis of 2917 invasive and in situ keratinocytic carcinoma lesions. Oncol Ther. 2021;9(1):153-166.
Skin Cancer Basics
The skin is the body's largest organ, providing protection against temperature extremes, injury, and infection. Its outer layer is made up of flat squamous cells, and under that are rounder basal cells. When those two cell types are heavily exposed to the sun, particularly on the face, neck, arms, and hands, DNA damage can occur, resulting in either basal cell carcinoma or squamous cell carcinoma, typically referred to as nonmelanoma skin cancer (NMSC). This type of skin cancer tends to grow slowly and rarely spreads to other parts of the body but is by far the most common type of cancer in the United States, totaling some 5.4 million cases annually among roughly 3.3 million Americans.1 Roughly 2,000 individuals die from NMSC each year, and, according to the American Cancer Society, NMSC rates have been growing for many years, likely due to improved detection, increasing sun exposure, and people living longer.1
Basal cell skin cancers represent eight of 10 NMSCs. These present like bumps or growths that are pearly or waxy, white, light pink, or brown. Sometimes they can be red, scaly patches or sores that bleed easily and do not heal.
Squamous cell skin cancers represent two of 10 NMSC diagnoses. Some types are very fast growing and aggressive. Squamous cell skin cancer can present with scaly, crusted, and large patches; a sore that does not heal; or a wart or mole that has changed in shape, texture, and color. For all skin cancers, early detection and treatment result in a high cure rate. If left unattended, skin cancers can be destructive and deadly; they can move beyond the initial location and spread to surrounding skin, tissues, bones, and organs.
Melanoma, the less common skin cancer, develops in the pigment producing cells of skin, melanocytes. The American Cancer Society predicted that roughly 99,780 new melanomas would be diagnosed last year, with 7,650 individuals expected to die of melanoma.
It's important for your patients to be aware of the signs, protect themselves, and be advised to seek routine dermatologists' appointments for skin checks.
Reference
1. Basal and squamous cell skin cancer. American Cancer Society website. https://www.cancer.org/cancer/basal-and-squamous-cell-skin-cancer.html. Accessed September 19, 2022.
Skin Cancer Treatment Summary
Mohs surgery is the most common treatment, with a 93% to 99% cure rate determined by cell type.
Side effects of Mohs may include bleeding, pain, stitches, risk of infection, and the potential need for reconstructive surgery.
Patient satisfaction with Mohs varies based on skill of the surgeon and extent of the disease.
Image-Guided Superficial Radiotherapy (Image-Guided SRT) is the latest nonsurgical treatment innovation, with a 99.3% cure rate across both basal and squamous cell skin cancers.
Side effects of Image-Guided SRT commonly include temporary reddening or dryness of skin and potential for tender or bright reddening and patchy breakdown of skin.
Of 10,000 patients surveyed, 99.8% were happy with Image-Guided SRT treatment and would recommend it to others.