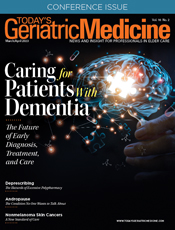 March/April 2023
Strategic Planning: Impact Commitments Support System and Community Health
By Nicki Gibbs
Today's Geriatric Medicine
Vol. 16 No. 2 P. 26
We live in an era of personalized products and services. Geriatric care providers are not immune to these trends. Older adults increasingly expect individualized, consumerlike care when it comes to their health and wellness. In fact, a recent survey from AgingChoices, found that 92% of prospects surveyed expect a personalized experience.1
Geriatricians and providers working to connect with older adult populations and attract patients to their systems or clinics may find support in a surprising place: their organizations' social responsibility—or impact—commitments.
People want to interact with organizations that align with their values and bring these values to life through demonstrated action. A 2021 PwC Global Consumer Insights Pulse Survey found that 53% of consumers choose to support companies that have strong company values and demonstrate a commitment to doing the right thing.2
Impact commitments in a health care setting can support multiple health system goals when leaders are focused on key opportunities for organizational growth and advancing and improving community health. Geriatricians and providers can engage with this work by learning more about their organizations' commitments and understanding how impact commitments can unlock benefits for health systems and older adult care communities by finding ways to use their role to help organizations advance and meet targets.
Defining Impact Commitments
Impact commitments can take many forms and have a wide range of formality and financial and resource investments. While no framework is perfect, each offers benefits or compromises. Because health care systems must meet specific regulations and stakeholder expectations, they may choose to follow a broader, more flexible corporate social responsibility program. However, adopting standardized certifications may lend more credibility to their social responsibility efforts. Geriatricians and providers may not be overly familiar with their organizations' impact commitment frameworks, but human resources teams and corporate social responsibility or social impact leads are great resources that can help them learn more about an organization's approach.
A few common impact commitment frameworks include the following:
• CSR: CSR, which stands for corporate social responsibility, is an approach that's not required to align to specific certifications, which means it tends to be self-regulated and focused broadly on using resources to make a positive impact. CSR can boost a business's bottom line simply by adding value and innovation, expanding growth options, and improving relations between customers and employees.3 The looser structure of CSR programs means organizations can be flexible in how they scope initiatives and how they want to report on progress toward their goals, whether that's in a publication, employee presentation, annual report, or regular social media updates.
• ESG: ESG stands for environmental, social, and governance and is used as a way for systems to organize and focus their impact initiatives. ESG originally started as a way for investors to assess whether to invest in companies that demonstrate responsible operations, as defined by their environmental, social, and governance activities. A relatively recent concept, ESG is rapidly growing in popularity. Today there are more than $330 billion in assets under management in ESG funds.4 However, because there are no global standards organizations must meet to describe themselves as an ESG organization, performance can be difficult to validate.
• B Corp Certification: B Corp certification is a legal status that organizations can pursue by altering their governance to support decisions and practices that impact stakeholders. Ultimately, B Corps focus on balancing profit and purpose. B Corps must demonstrate a holistic focus beyond a single environmental or social issue and meet rigorous standards of environmental and social performance. They must also demonstrate transparency through intensive reporting. B Corps can follow this reporting process to receive recertification and an impact score every three years. Today, more than 4,000 businesses globally are certified B Corps.5
Beginning With a Sense of Purpose
While the framework a health care system adopts is important, it's equally crucial that the approach and initiatives be authentic to the organization's operations and culture.
The options for impact initiatives are vast, which may cause leaders either to cast too wide a net or feel so overwhelmed they don't know where to start. Having defined values and purpose or a mission in place gives an organization a solid foundation on which to ground its focus.
Organizations that clearly define and activate their purpose or mission and values are better equipped to navigate change, mitigate disruption, and drive measurable business results.
A purpose or mission and values are core strategic elements that help organizations stay on track and advance to achieve their commitments. Purpose can be defined as a commitment to using business as a force for good and mission as a commitment to what the business is trying to accomplish.5 Values help guide how employees should act while on the job to advance overarching goals.
Leader and employee investment in an overall purpose or mission and values ensures these elements are integrated into cross-organization teams and initiatives, guiding everything from strategic planning to day-to-day activities.
Unlocking Benefits to Older Adult Care Communities and Systems
Once a foundational purpose/mission and values are established, it becomes much easier to identify an impact focus that an organization can use its resources and expertise to advance. This helps ground social, environmental, and community activities in areas that are growth-oriented, authentic to the business, and beneficial for a wide range of stakeholders.
Impact commitments have the potential to deliver measurable, meaningful progress and benefits to an organization and the communities it serves.
For organizations focused on geriatric health, the effects of a global pandemic and social unrest have highlighted several areas that could benefit from dedicated support. Studies have shown how the COVID-19 pandemic disproportionately impacted older adults, deepening existing disparities in care.6 Geriatricians may commit to addressing common obstacles that prevent their patients from accessing care. Or aim to increase provider diversity to align with the communities that are receiving care. Or even work to reduce waste to ensure its patients live in a healthier environment.
No matter what a system chooses to focus on, goals should be based on numeric targets. Effective measurement and reporting help keep teams accountable and provide an objective way to review performance and understand what's working well and identify opportunities for improvement.7
In addition to advancing community health, investing in impact commitments benefits the health system. Organizations that prioritize impact commitments see improvements in employee engagement. Seventy percent of employees now demand purposeful work, and employees want to work for organizations that align with their personal values or contribute back to the world.8 Impact commitments are an effective way to demonstrate meaningful examples of what an organization stands for. Showing progress against these commitments helps build trust with team members and motivates them to participate. Studies have shown that companies engaged in CSR activities reported a 16% boost in employee productivity, and staff turnover rates were 50% lower than those in companies without CSR efforts.3
How Geriatricians Can Support Impact Commitments
While practicing geriatricians may not be responsible for developing or overseeing their organization's impact commitments, they can still play a role in supporting and advancing this critical work. Following are a few suggestions for how to get started:
• Stay informed: Keep an eye out for updates and information provided by your organization. Pay attention to company communications and annual reports, which will outline high-level strategies, focus areas, and progress toward goals. These publications may also include opportunities for individual team members to submit feedback, ideas, and suggestions.
• Get involved: There are likely opportunities for employees to participate in advancing impact commitments, whether by attending specific training, joining employee resource groups, or signing up for volunteer events. Look for opportunities to learn and get involved. Health Leaders Media offers five strategies for addressing social determinants of health focused on awareness, adjustment, assistance, alignment, and advocacy.9 Geriatricians can commit to trying out some of these strategies as they see patients and complete other daily activities.
• Connect with patients: Learn more about opportunities or challenges within the community you serve by connecting with patients. Only 43% of respondents to a PwC Health Research Institute global consumer survey said their doctor has even discussed social determinants of health with them.10 Sharing demonstrated action toward commitments could help health providers strengthen their relationships with their patients and the broader community. These conversations can spark inspiration for new ways your organization can address social, environmental, or community issues and can be an opportunity to reiterate values alignment between patients and the organization.
Geriatricians have a unique opportunity to advance health equity by paying attention to where an organization's expertise and community needs overlap. As health care organizations grapple with the effects of the pandemic on systems and team members, investing time and energy into a corporate responsibility strategy can feel overwhelming. But organizations, by taking the time to develop a strategy that's aligned with business growth and their purpose, can activate and share impactful work that bolsters reputation, advances growth, attracts older adults to health systems, and supports geriatric communities.
— Nicki Gibbs leads strategy and services development at Beehive Strategic Communication, a purpose-driven strategic communication firm specializing in integrated communication and other services. She has more than 20 years of strategic communication experience and is Prosci Change Management certified. Gibbs' ability to imagine what's possible creates contagious enthusiasm that moves businesses forward.
References
1. AgingChoices. What senior living prospects want: insights from over 1,700 consumers looking for senior living and why personalization matters. https://f.hubspotusercontent10.net/hubfs/5411516/AgingChoices%20Studies/What-Prospects-Want_AgingChoices-Report%20(final%209.1.21).pdf. Published September 2021. Accessed August 16, 2022
2. A time for hope: consumers' outlook brightens despite headwinds: December 2021 consumer insights pulse survey. PwC website. https://www.pwc.com/vn/en/publications/vietnam-publications/consumer-insights-survey.html. Published December 2021. Accessed February 17, 2023.
3. Seely H. Top corporate social responsibility trends for 2022. Work for Impact website. https://www.workforimpact.com/blog/top-corporate-social-responsibility-trends-2022. Updated April 5, 2022. Accessed August 16, 2022.
4. Gerber MS, Norman G, Toms S, et al. ESG: 2021 trends and expectations for 2022. Skadden website. https://www.skadden.com/insights/publications/2022/02/esg-2021-trends-and-expectations-for-2022. Updated February 11, 2022. Accessed August 16, 2022.
5. Celebrate B Corp Month with Minnesota's purpose-driven companies. Beehive Strategic Communication website. https://beehivepr.biz/celebrate-b-corp-month-with-minnesotas-purpose-driven-companies/. Updated March 1, 2022. Accessed August 16, 2022.
6. Culver E. 7 things to know about the aging US population. Advisory Board website. https://www.advisory.com/blog/2022/04/aging-population. Updated April 5, 2022. Accessed August 16, 2022.
7. Measure communication effectiveness with metrics that matter. Beehive Strategic Communication website. https://beehivepr.biz/how-to-measure-communication-effectiveness/. Updated July 14, 2022. Accessed August 16, 2022.
8. Wiles J. Employees increasingly seek value and purpose at work. Gartner website. https://www.gartner.com/en/articles/employees-seek-personal-value-and-purpose-at-work-be-prepared-to-deliver. Published January 13, 2022.
9. Cheney C. 5 ways healthcare organizations can address social determinants of health. Healthleaders website. https://www.healthleadersmedia.com/clinical-care/5-ways-healthcare-organizations-can-address-social-determinants-health. Updated October 21, 2019. Accessed August 16, 2022.
10. PwC health research institute report shows social determinants of health undermining progress of modern medicine. PwC website. https://www.pwc.com/gx/en/news-room/press-releases/2019/social-determinants-of-health.html. Updated September 24, 2019. Accessed August 16, 2022.