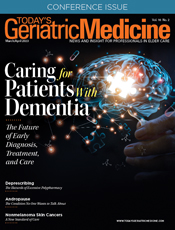 March/April 2023
Editor's Note: Looking Past the Headlines
By Kate Jackson
Today's Geriatric Medicine
Vol. 16 No. 2 P. 4
Time and again, the media trumpet a breakthrough in the treatment of Alzheimer's. Often these announcements are followed by one type of disappointment or another, and the breakthroughs appear to be more like collapses. One after another, a promising new drug fails to meet expectations. Another new medication, Aduhelm, approved in 2021, remains mired in controversy concerning the manner of its approval and complaints about dubious benefits. More recently, at the beginning of January, the FDA accelerated approval for lecanemab, a drug that, according to Phase 3 trial results, appears to modestly slow the progression of cognitive decline in patients with early, mild disease. The drug, which will be marketed as Leqembi, is a monoclonal antibody that binds to amyloid beta. Findings showed that lecanemab, given as an intravenous infusion every two weeks, resulted in "moderately less decline on measures of cognition and function" than did a placebo, and in patients with early disease, it reduced markers of amyloid.
The Alzheimer's Association hailed the FDA's approval, with its chief science officer, Maria C. Carrillo, PhD, saying, "This treatment can change the course of Alzheimer's in a meaningful way for people in the early stages of the disease, allowing more time to participate in daily life and live independently."
If that sounds like a bright spot in what's been a long bleak patch in Alzheimer's research, the outlook remains cloudy. Common adverse effects, some serious, included reactions to the infusion and potentially life-threatening brain swelling and bleeding. Further, the price of the drug is $26,500 per year per patient, and it's not clear at this time whether, when, or to what extent it will be covered by private insurance or Medicare.
In this issue's cover story, Reza Hosseini Ghomi, MD, says, "The lion's share of public attention goes to clinical trials and subsequent drugs produced by the largest pharmaceuticals and those targeting amyloid beta. These drugs represent the continued pursuit of a biological underpinning of dementia that we now know is likely not the right target. For more than a decade, these drugs have failed to yield clinical benefit and become publicly available. The most recent news regarding positive early results for yet another candidate drug pursuing this same target leaves many unanswered questions for providers." Ghomi goes on to envision the future of early diagnosis, treatment, and care for patients with dementia.
— Kate Jackson
kjackson@gvpub.com