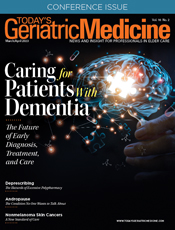 March/April 2023
Home Health: Barriers to Aging in Place
By Lindsey Getz
Today's Geriatric Medicine
Vol. 16 No. 2 P. 8
Although various research demonstrates that most older adults would prefer aging in place to other long term care scenarios, there are barriers standing in the way of preparedness.
Finances are one of those significant hurdles. According to a study from The Associated Press-NORC Center for Public Affairs Research, which was funded by The SCAN Foundation, 88% of adults aged 60 and older want to receive care in their homes, compared with just 1% who would prefer moving to a nursing home. However, most do not feel prepared for their own care needs, with 60% expressing that they have done little or no planning. And only 19% of Americans are confident they have the financial resources to pay for long term care.
Sarita A. Mohanty, MD, president and CEO of The SCAN Foundation, says aging in place alleviates older adults' number one concern with growing older—the loss of independence. But the costs of long-term living can be staggering.
"The SCAN Foundation supported research showing nearly three-quarters of middle-income older adults—those with assets between $25,000 to $101,000—will be unable to meet long term care and housing needs a decade from now," she explains. "The 11.5 million people in the 'forgotten middle' have less than $65,000 in assets, which is the average annual cost for assisted living rent and care." Mohanty calls this a tipping point.
"Older adults do not have enough money to pay for long term care but have too much money to qualify for Medicaid," she continues. "Policymakers must prioritize developing long term care financing solutions to ward off the coming cliff. There is also an assumption that everyone has at least some family to care for them as they age, as well as social support for their aging in place. But the number of kinless older adults is expected to grow as demographics further shift."
Access to Resources and Programs
The cost associated with in-home care is a burden. In addition, access to resources and programming can also stand in the way of aging in place.
Brianna Brim, PhD, MOT, OTR/L, CPAM, CLIPP, an assistant professor in the Occupational Therapy Program and clinical director of the Occupational Institute at Salus University in Elkins Park, Pennsylvania, has been studying aging in place, partnering with a nonprofit and providing pro-bono occupational therapy services through her clinic. Ralston My Way is a nonprofit home care agency serving older adults in Philadelphia. From her work, Brim says she has learned that barriers are often misunderstood and underaddressed.
"Our data shows that a lot of older adults already know their own barriers—but they don't have simple ways to address them," Brim says. "And it's not uncommon for older adults to avoid bringing up any of their concerns over fear that they'll have to leave their home. For instance, older adults may not want to say or respond well to the F word—fall—because they do not want their independence to be taken away. We found that whenever we mentioned that word, they shut down the conversation. But that means there are barriers with easy solutions going unaddressed."
Access to resources is also a barrier, Brim says. Many of the resources that they'd been using shut down during the pandemic—and haven't resumed as normal. But even before COVID-19, Brim says a lack of resources and programming was a significant concern. There are programs in some states that are aimed at keeping older adults in their homes. Often these are quite successful—but not widespread.
One such program is PACE (Programs of All-Inclusive Care for the Elderly). This managed at-home care program is a Medicare/Medicaid program that aims to support aging in place.
According to Pamela Jung, president of Cross Country Workforce Solutions Group, a division of Cross Country Healthcare (a provider of in-home care), a program like PACE can help ensure that medical and social needs are provided at home.
"Aging in place with an all-inclusive care program, such as PACE, can be very beneficial for seniors," she says. "Their medical and social needs are provided for in the comfort of their own home and community. Studies have shown that participation in these types of programs is associated with improved quality of care, less mortality, preservation of function, less hospital and nursing home utilization, and lower medical costs. PACE helps to diminish feelings of isolation in seniors due to the many activities they can participate in during their visits to the centers."
But a recent national study from Cross Country Workforce found that 80% of study participants had never heard of PACE. Four out of five respondents had no awareness of this option. On top of that, Jung adds that PACE is not available everywhere. At press time, 32 states had adopted PACE programs.
As with other research, Jung says, their study demonstrated that older adults want to find ways to remain in their homes.
"As our Aging in Place study shows, 70% of respondents prefer to age at home vs going to a nursing home or other institutional care. Patients are more comfortable in their home environment, more motivated to get out of bed and do things around the house. They can stay in their community and continue the daily activities they enjoy. For many, in-home care provides an alternative to offer more independence while optimizing individual care. It centers health care around the person's life rather than their life around health care. It's important that we match a patient's personality and health care needs with a caregiver that is equipped to handle all personal preferences and health care requirements."
Finding Answers
There's no simple answer to overcoming barriers to aging in place, but experts agree that it must start with policies and programs.
"It all starts with advocacy and more funding," Brim says. "We need more programs that can help support aging in place. We also need more programs that are covered by insurance to make them affordable. Research has shown that keeping older adults out of hospitals and long term care facilities can actually come with cost savings, so it makes sense to make aging in place programs coverable."
Early referrals to home assessments can also make a huge difference, Brim says, adding that the focus should be on prevention—not waiting until there has been a fall or some other significant issue.
"Sometimes the safety updates that a home needs are basic—working smoke detectors or handrails," Brim explains. "There is such a focus on stairs, but in my experience, many older adults do well with stairs—unless the stairs are in disrepair, which is an equity issue. Sometimes homes just need repair work that could solve a problem—which is why the home assessment is so important."
Prioritizing policies and programs, Mohanty says, is a key part of the solution.
"This could mean expanding access to care for older adults at the federal and state levels, such as expanding Medicaid eligibility and offering long term care options for those ineligible for Medicaid," she says. "Also, every state should adopt a comprehensive plan for aging that addresses long term care and other needs at the local level—particularly how care is coordinated, delivered, and financed."
As far as the role of the primary care provider (or geriatrician) in all of this, Mohanty says communication is critical, noting that clinicians should talk to their patients about aging goals and motivations—and identify solutions to help them thrive at home and within their communities.
"This includes asking questions about their future preferences and reiterating the need to plan how their needs will be met and how they will be paid for," she continues. "While helping every patient age in place is not the job of every physician, advocating for one's patients is. Physicians and the organizations they work for can influence systems change and advocate for access to services for their older adult patients. For example, physicians can engage with organizations like the American Geriatrics Society to inform content that supports caring for older adults. Physicians can inform policymakers to ensure systems are in place to meet the needs of older adults in the region."
Primary care providers and geriatricians, Brim adds, should also be willing to defer to other experts, particularly given the importance of home assessments when keeping older adults in place.
"Social workers, physical therapists, and occupational therapists are all professionals that can problem solve and find solutions to common barriers," Brim says. "There is no one simple answer, as this is a complex issue, but we have to start changing how we view aging in place. By starting these conversations earlier, and getting more of a team involved, we can make a real difference."
— Lindsey Getz is an award-winning freelance writer in Royersford, Pennsylvania.