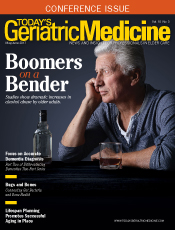 May/June 2017
Long Term Care: Telehealth — An Untapped Opportunity for Nursing Facilities
By Tom Edmondson, MD, CMD, AGSF, FACP
Today's Geriatric Medicine
Vol. 10 No. 3 P. 28
Telehealth has come a long way since its inception, and it continues to show no signs of slowing down. According to a recent Market Data Forecast report, the global telemedicine market is estimated to grow from $25.53 billion in 2015 to $57.92 billion in 2020,1 and the use of telemedicine services is expected to grow from 250,000 patients in 2013 to 3.2 million patients in 2018.2
The field is constantly changing and technological advances are making the practice more affordable and accessible for patients. As the benefits of telehealth have been increasingly proven in recent years, especially in the consumer space, the mode of care is now becoming a popular care delivery option for subacute and long term care facilities. While telehealth in this setting is not popularly discussed, it can be a significant untapped resource for these types of facilities and allow them to provide higher quality care for older adults at lower costs.
Benefits for Long Term Care Facilities
In many subacute and long term care facilities, comprehensive medical care may be episodic and optimally lacking in coordination of care. Many facilities send older adults to hospitals or physician offices for consults when there is a health issue the facility cannot adequately address. However, by leveraging telehealth in these settings, these facilities are more likely to catch health issues sooner and have the ability to treat patients where they are, rather than having to admit or, in some cases, readmit them to a hospital. Avoiding trips to a hospital will benefit residents by reducing the likelihood of developing "hospital-itis" (deconditioning due to prolonged bed rest, delirium, and other potential medical illnesses such as pressure ulcers).
While avoiding unnecessary trips to the hospital can help promote better health outcomes for patients, the skilled nursing facility benefits as well by reducing lost revenue while a patient is in the hospital. Moreover, the Centers for Medicare & Medicaid Services recently announced new penalties for potentially preventable readmissions, which went into effect for long term care facilities in October 2016.3 From the perspective of the hospital, as both hospitalization and readmission penalties have skyrocketed in recent years, hospitals are implementing readmission reduction programs, which are expected to become even more strict moving forward.
A typical way telehealth is implemented in this type of setting is through coordination of patient's care via remote patient monitoring, which can be used, for example, to identify the need for a video visit with an older adult's physician. A patient's personalized remote patient monitoring kit commonly includes not only a patient engagement device such as a tablet but also monitoring technologies that capture physiologic data including blood pressure, peripheral capillary oxygen saturation, weight, glucose, temperature, and heart rate. Via remote monitoring, a physician can keep an eye on a sick patient around the clock to determine whether certain symptoms develop or evolve. Based on how severe the symptoms become, a physician may determine that a patient needs a video consult, for which the nursing facility can use a tablet powered with a camera to launch a conversation with an older adult's physician in a timely manner.
But it's not as simple as just launching the technology. The facility's staff needs to understand how and when to leverage the technology and what steps to take once the conversation has both started and ended. Using a clinical solution that leverages clinical decision support and analysis of data obtained via remote patient monitoring, clinical staff are assisted in identifying patients in need of further assessment and/or treatment. Many telehealth programs offer training and support for staff and clinical program management because adoption and understanding of this technology do not occur overnight. Telehealth requires changing current clinical processes, which can be difficult at first. But in order to make the implementation successful, staff members need to be properly educated on the technology and how it fits into the facility's care management system with an eye toward an established goal.
Benefits for Older Adults
In addition to the actual care facility, telehealth offers many advantages to the residents who live in these communities. By expanding their access to quality patient care and providing them with specialists whenever they are needed, trips to physician offices or hospitals can be reduced as well as the need for in-person face-to-face evaluations. For the elderly population, this is especially helpful because many have limited mobility and may not have easy access to transportation. Telehealth can reduce the dependence on caregivers to drive patients to appointments.
But most importantly, access to immediate care is critical for older adults, as they comprise the population with the most chronic conditions and health emergencies. Eighty percent of the older adult population have at least one chronic health condition, and 68% have two or more.4 Response time is critical, and telehealth provides quick access to a geriatrician who can assess, evaluate, and provide guidance to the nursing or medical team available in residential communities and long term care facilities. Caring for a patient in his or her longtime home allows for aging in place, avoiding instability and negative outcomes related to the interval of time it takes for the patient to receive necessary care.
Telehealth is not only for emergency situations; it's a useful tool for regular check-ins as well as treating common conditions and allows patients to have more frequent interaction with their physicians. For instance, if a patient in a nursing home has a cold, a staff member can quickly launch a video consult with a physician to discuss the symptoms and evaluate the patient. This type of remote consultation allows a physician to see the patient and catch any visual or speaking symptoms that may have been unknown or not apparent through previous monitoring or phone conversations.
Other benefits of telehealth for older adults include increased patient engagement, reduced costs, and time saved. Telehealth enables patients to be more engaged in their own health and well-being. Additionally, this model of care is a cost-effective option for both facilities and residents. The average telehealth visit saves patients about $100 or more compared with the estimated cost for in-person care.5
Telehealth does not replace human interaction and care; it simply enhances the care. Therefore, technology must be tailored to the situation, based on its benefits and proper use. Telehealth would not be possible, let alone successful, without human care teams applying it. Additionally, physician-patient relationships are of the utmost importance, and this technology promotes strengthening these relationships for older adults who, more than any other population, seek familiarity, trust, and consistency in physicians who examine them.
Benefits for Physicians
Although the proliferation of technology may seem overwhelming for some physicians and lead to some resistance, it's important to educate physicians about navigating through the clutter and choosing the right technologies that will help better care for patients and make their work more efficient. Telehealth is an obvious choice as it supports face time with patients and offers the ability to provide immediate care. Monitoring the health status of chronically ill patients on a daily basis via remote patient monitoring technology and subsequently launching video consultations saves physicians time because they are able to see more patients within the day and can document more easily with the technology directly connected to the EHR.
Adoption Moving Forward
While national health policy has been an obstacle for telehealth in the past, recent and proposed policy changes have supported the use and growth of caring for patients electronically. In 2015 alone, more than 200 telehealth-related bills were introduced in 42 states,2 and as of 2016, 47 states and Washington, D.C. provide reimbursement for some form of live video in Medicaid fee-for-service.6 Therefore, it's clear that telehealth has a bright future, and a combination of updated policies and technological advancements will lead to an even wider expansion and adoption for long term care facilities, patients, and providers.
— Tom Edmondson, MD, CMD, AGSF, FACP, is physician director at Philips Hospital to Home in Baltimore.
References
1. Telemedicine market by technology (hardware, software, telecommunications), by service (remote patient monitoring, store-and-forward, real-time interactive), by applications (tele-cardiology, tele-pathology, tele-radiology, tele-dermatology, tele-neurology, emergency care, home health), by delivery mode (web-based, cloud-based), by end user (tele hospitals, tele homes) and by region - global industry analysis, size, share, growth, trends, and forecasts (2016–2021). Market Data Forecast website. http://www.marketdataforecast.com/market-reports/global-telemedicine-market-99/. Published December 2016.
2. National Conference of State Legislatures. Telehealth policy trends and considerations. http://www.ncsl.org/documents/health/telehealth2015.pdf. Published 2015.
3. Hospital Inpatient Prospective Payment System (IPPS) and Long Term Acute Care Hospital (LTCH) final rule policy and payment changes for fiscal year (FY) 2017. Centers for Medicare & Medicaid Services website. https://www.cms.gov/Newsroom/MediaReleaseDatabase/Fact-sheets/2016-Fact-sheets-items/2016-08-02.html. Published August 2, 2016.
4. Chronic disease management. National Council on Aging website. https://www.ncoa.org/healthy-aging/chronic-disease/
5. Yamamoto DH. Assessment of the feasibility and cost of replacing in-person care with acute care telehealth services. Alliance for Connected Care website. http://www.connectwithcare.org/wp-content/uploads/2014/12/Medicare-Acute-Care-Telehealth-Feasibility.pdf. Published December 2014. Accessed February 20, 2017.
6. Public Health Institute Center for Connected Health Policy. State telehealth laws and Medicaid program policies: a comprehensive scan of the 50 states and District of Columbia. http://cchpca.org/sites/default/files/resources/50%20State%20FINAL%20April%202016.pdf. Published March 2016.