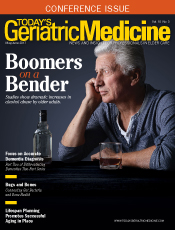 May/June 2017
Vintage Voices: Care Planning Services for Cognitively Impaired Individuals
By Clayton Jacobs
Today's Geriatric Medicine
Vol. 10 No. 3 P. 34
Currently only 33% of older adults with Alzheimer's disease are aware of their diagnosis, according to the Alzheimer's Association's 2015 Alzheimer's Disease Facts and Figures report. This startling statistic significantly impacts the ability of families to properly plan for the future and for individuals with the disease to participate in making their own health care decisions and seek available treatments to manage symptoms.
A lack of education about the disease, stigma, subtle progression, and other issues often impact the time it takes for families to seek a diagnosis and receive the type of support they need. Yet we know that an accurate and timely diagnosis can be beneficial for a number of reasons. Particularly, it provides an opportunity for newly diagnosed individuals and their caregivers to participate in care planning, which includes learning about medical and nonmedical treatments, clinical trials, and available support services. The result is a higher quality of life for those facing the disease.
While the benefits of care planning are well known, the reality is that Alzheimer's disease and other dementias can be difficult to diagnose and time consuming to discuss with patients. However, that reality is changing.
Under the Medicare Physician Fee Schedule Final Rule issued by the Centers for Medicare & Medicaid Services (CMS), and effective January 1, 2017, Medicare now pays for care planning services for individuals who are cognitively impaired. The decision made by CMS to pay for cognitive and functional assessments of care planning was the result of the bipartisan Health Outcomes, Planning, and Education (HOPE) for Alzheimer's Act, an initiative led in large part by the Alzheimer's Association and its sister organization, the Alzheimer's Impact Movement.
The code, known as G0505, offers reimbursement to physicians, physician assistants, nurse practitioners, clinical nurse specialists, and certified nurse midwives for developing a detailed care plan for patients with cognitive impairment and their caregivers.
Care planning service elements included in G0505 include the following:
• evaluating cognition and function;
• measuring neuropsychiatric symptoms;
• medication reconciliation;
• evaluating safety (including driving ability);
• identifying caregivers and caregiver needs;
• identifying and assessing care directives;
• planning for palliative care needs; and
• referrals to community services for both the beneficiary and his or her caregiver.
To help clinicians deliver these services, the Alzheimer's Association, with the help of an expert task force, compiled a comprehensive online toolkit with best practices and tools to help conduct a visit under the code. The Cognitive Impairment Care Planning Toolkit includes easy access to validated measures, such as the Mini-Cog and Dementia Severity Rating Scale, and newly designed tools to help assess safety, caregivers' ability and willingness to provide care, and end-of-life preferences and needs.
For more information about the G0505 code and to access the Cognitive Impairment Care Planning Toolkit, visit alz.org/careplanning.
— Clayton Jacobs is vice president of programs and services for the Alzheimer's Association Greater Pennsylvania Chapter in Wilkes-Barre, Pennsylvania.