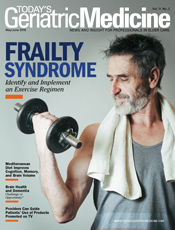 May/June 2018
Innovations in Geriatrics: Wearables Gain Traction in Elder Population
By Ripley Martin, MBA
Today's Geriatric Medicine
Vol. 11 No. 3 P. 10
Wearables have proven to be popular among consumers and are steadily expanding into new industries, including health care. In fact, in 2017, Gartner, a leading worldwide research and advisory company, forecast that more than 310 million wearable devices would be sold worldwide, an almost 17% increase over the number sold in 2016. However, it's also been proven that one-third of wearables users abandon them, leaving them on the bureau or in a drawer within six months of purchase, according to MobiHealthNews.
This lack of long-term use reveals the importance of finding solutions that predominate in the sea of wearables—one that people will want to continue to use and in which they'll find value for years to come. We find ourselves at a critical point in health care where wearables will either slowly fade away or evolve to bring further value. While companies are developing game-changing devices for various populations, one of the most critical populations to examine is older adults, who look to age well and in place.
Supporting Aging in Place
For the older population specifically, wearables offer the opportunity to help monitor care and contribute to their feelings of safety where they most want to be—in their homes. According to an article in The Washington Post, nearly 90% of older adults want to remain in their homes as they age; now more than ever before, we're also seeing that older adults are intent on staying active and engaging in social activities well into their 80s and beyond. Many older adults won't let their age deter what they do and how they live—and wearables can play a role in supporting their lifestyles. For example, by obtaining and using a mobile medical alert system, older adults are able to achieve an added layer of security knowing that if necessary, help is available for them 24/7, 365 days per year in case of an emergency. This offers elders the ability to maintain their independence confidently, whether in the comfort of their own homes, walking their pet outside, grocery shopping, or visiting family.
In addition to helping elders remain safe, medical alert pendants provide tremendous peace of mind for caregivers. While caregivers are focused on keeping their loved ones healthy, their caregiving role requires an inordinate amount of time and resources. Wearables can help reassure caregivers that loved ones are safe and in good hands, whether they live down the street or across the country, enabling them to spend less time worrying and invest more energy in spending quality time with the older adult.
Current State and Use of Wearables
Today's wearables range from smartwatches and watchlike form factors to pendants, as well as some more advanced solutions equipped to connect to health care providers' clinical records and monitoring systems. Medical alert wearables—perhaps the original wearable—have been around for more than 40 years, and while some fundamental aspects have remained the same, the devices have evolved to support wireless technology and the Internet of Things. Many mobile alert services continue to connect to a communicator that plugs into the wall and uses wireless technology between the wearable and connector to issue a call for help. However, unlike in previous decades, we are now seeing wearables adapting to the mobile landscape.
Through tiny cell phone technology, along with GPS and accelerometer technology, elders no longer need to be tied to their homes to be monitored. As older adults venture outside of their homes, wearables not only help protect them but also collect various kinds of significant health data, such as tracking vital signs or the occurrence of a fall. With the introduction of real-time personalized data, health care has access to actionable insights from end users to provide timely interventions and help provide preventive care.
Additionally, wearables for older adults are now used in many skilled nursing and long term care facilities. With the advances in new integrated capabilities, such as remote monitoring and trends analytics, these innovative wearables are transforming elder care. Wearables help senior living facilities proactively monitor resident activity and collect residents' biometric information over time, rather than responding reactively. Also, the fall detection technology incorporated in older adult wearables is becoming crucial, as facilities aren't always able to continually monitor whether residents are walking around and possibly putting themselves at increased risk of falls, particularly those with chronic conditions who are at higher risk of falling.
Many senior living facilities are also beginning to shift from using proprietary wireless devices to leveraging Wi-Fi technology that drives secure and reliable connectivity throughout their communities, which allows more technological devices to interoperate. With multiple devices on a single network, data can be compiled in one back-end infrastructure, which ultimately enables facilities to have a more in-depth view of their residents at all times.
The Future of Wearables
As technology continues to advance, the market will likely see fewer single-purpose wearables and more discreet, multipurpose wearables. Continued integration and connectivity will allow wearables and other smart technologies to talk to each other and create a more digitally engaged experience for older adults. This goes beyond integrating various health technologies and into combining an elder's health data with data related to his or her home or environmental elements. For instance, one day it may be commonplace that we won't need a physical house key to unlock a front door. Integrating a digital key into a wearable could prove to be particularly helpful for an older adult to avoid accidentally locking himself out of the house.
By tailoring the design and applications of this technology for the needs of older adults, their caregivers, and providers, value can be extended in both the hospital and home settings. However, to achieve this, future older adult wearables need incorporate the following:
• Focus on the caregiver. While an older adult may not see the value in an app for a wearable, the data generated from the device may help a family member monitor for abnormal patterns and identify a health issue before it escalates.
• Dedicated form factors. For experiences such as emergency services and fall detection, devices need to be designed purposefully for the intended user. Accurate biometric sensors or positioning on the body, for example, serve purposes for elders that are different from athletes.
• Use data on a need-to-know basis. Wearables for elders will be designed to identify pattern changes so families and care teams can react accordingly. Predictive analytics and smart algorithms will evaluate these patterns, and devices will determine specific actionable moments for care teams and caregivers to intervene as needed.
As the wearables market matures, applications specific to elder care will continue to evolve and address each user's needs as well as the needs of provider and caregivers.
Advancing Population Health Management
Older adults use more health care per capita than any other group, and this population is growing rapidly—by 2030 one in five of the nation's population will be aged 65 or older, according to the US Census Bureau. The adoption of wearables among the elder population unleashes the power of connected data in creating a proactive plan to get ahead of the complex care this population requires and advance population health management. Wearables are an essential piece of the ecosystem of integrated solutions that health systems have at their fingertips. Alongside telehealth or remote monitoring technology, wearables help provide ongoing cost-effective interventions as patients transition through various settings and levels of risk. The everyday use of wearables creates consistent generation of patient-specific data that, when analyzed, can assist with circumventing a catastrophic health event and help provide patients and their caregivers the insights they need to stay out of the hospital and remain in the comfort of their own homes.
As we move away from a fee-for-service health care system, targeting the populations that tend to be the most costly and the highest utilizers of care will be critical. Wearables can play an important role in this move away from episodic care in an expensive emergency department setting to more holistic value-based care, offering health systems the insights needed to focus their efforts on at-risk populations—whether it's an elder at risk of a fall or a patient with a chronic disease who's not taking medications as scheduled.
While older adults are adopting this technology, their acceptance remains limited despite the benefits that can be reaped in areas such as medication management and personal response solutions. However, 76% of those aged 65 and older in the United States agreed that connected care technology is important for improving home health care services, according to the Future Health Index study. As this age group shifts from a generation that grew up offline to more tech-savvy aging baby boomers, more older adults and their caregivers will seek digitally connected lives, and physicians will want to harness personal data for preventive care, meaning wearables and other elder technology will have an increased opportunity to play an even larger role in aging for all players involved.
— Ripley Martin, MBA, general manager for Philips Lifeline, leads the company's product suite of personal emergency response services and solutions, medication management solutions, and health solutions to support older adults in assisted and senior living facilities.