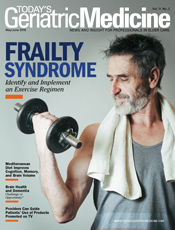 May/June 2018
Vintage Voices: Caring for Serious Illness in the Community
By Shantanu Agrawal, MD, MPhil
Today's Geriatric Medicine
Vol. 11 No. 3 P. 34
As an emergency department physician, I have treated many patients with serious illness. On any given day, I would care for patients suffering with dementia or challenged by heart failure, pulmonary disease, or cancer. Many of these patients have multiple serious illnesses that limit their daily function and impair their overall quality of life. They do not struggle alone. I have seen firsthand both the tremendous support from and strain on their caregivers, who work so hard to coordinate and provide the complicated care their loved ones need.
The nation's seriously ill patients, their caregivers, and the providers who work closely with them to deliver their treatment all will benefit from new community-based models of serious illness care emerging across the nation. These models emphasize a holistic approach to care for and support patients and their families through services such as care coordination, symptom management, and advance care planning. Similar to hospital and hospice-based palliative care and advanced illness care models, community-based serious illness care models aim to reduce the burden of serious illness for patients and caregivers as well as the high costs associated with care that is not aligned with patients' goals and preferences. Community-based serious illness care models have great potential to help high-need patients receive more individualized care earlier in their disease course. These models of care also can support patients' ability to function and remain in their communities as long as possible.
How will we know the care that is being delivered through these new models is effective? The same way we assess care in more traditional care settings, such as a hospital or nursing home: with measures or standards of quality that allow providers to assess the effectiveness of their patient care, identify opportunities for improvement, and help patients make more informed decisions about their treatment.
With funding from the Gordon and Betty Moore Foundation, the National Quality Forum (NQF) is working with the Center to Advance Palliative Care (CAPC) on a groundbreaking initiative to set standards for serious illness care and support providers in measuring and improving quality and outcomes for their seriously ill patients. These standards will define what good community-based serious illness care looks like.
The work is part of a national CAPC initiative, the Serious Illness Quality Alignment Hub, to work to connect the mechanisms in the US health care system that report on and pay providers with standards of quality and best practices for caring for patients with serious illness in the community.
The goal is to standardize quality care for patients with serious illness across the nation. NQF is leading quality measurement in this effort, drawing on its foundational work to improve the quality of serious illness care and its effective track record to bring stakeholders to consensus on what will work to advance patients' outcomes and quality of life.
The population of older Americans is expected to reach 84 million in the next few decades—nearly double its size in 2012. By encouraging the development and measurement of community-based serious illness care programs, the Gordon and Betty Moore Foundation is supporting efforts to ensure that the health care system is ready and able to care for this population.
In 2017, the Gordon and Betty Moore Foundation convened serious illness care experts and stakeholders, including the NQF, to reach consensus on a definition for the serious illness population, how to approach making serious illness care providers accountable for care quality and guiding principles for quality measurement. Participants also identified a starter set of quality measures, future pathways for implementation of an accountability system, and areas where more research is needed to advance serious illness care. NQF's efforts with CAPC will build on this work.
We have an obligation to ensure that the millions of Americans who are facing the challenges of serious illness—particularly older adults—have access to the high-quality care they need, where they seek it. The standards we will work to set will support providers, patients, and caregivers in improving the quality and outcomes of care.
To learn more about our work to improve serious illness care, visit NQF's website (www.qualityforum.org) or reach out to qualityinnovation@qualityforum.org.
— Shantanu Agrawal, MD, MPhil, is president and CEO of the National Quality Forum, a Washington, D.C.-based nonprofit that leads national collaboration to improve health and health care quality. He is a board-certified emergency medicine physician who has worked in both academic and community-based settings.