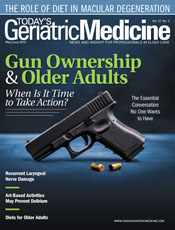 May/June 2019
Research Review: Chronic Respiratory Disease — Raising Awareness of Pulmonary Rehabilitation as a Treatment
By Richard ZuWallack, MD
Today's Geriatric Medicine
Vol. 12 No. 3 P. 30
Sixteen million people in the United States have been diagnosed with COPD, and there are millions more who have it but have not been diagnosed. According to the Centers for Disease Control and Prevention (CDC), people aged 65 years and older are more likely to report having COPD. The CDC also reports that chronic lower respiratory diseases such as COPD are the third leading disease-related cause of the death in the country, behind heart disease and cancer. Of these leading causes of death, only chronic respiratory diseases are on the rise.
Pulmonary rehabilitation is an effective nonmedicinal treatment for these diseases, and it's usually covered by Medicare and private insurance. Considered to be a standard of care, pulmonary rehabilitation is a comprehensive six- to 12-week program comprising two main parts: self-management education and gentle supervised exercise training. Together, this proven treatment program improves symptoms, increases exercise capacity, reduces feelings of depression and anxiety, and enhances overall quality of life.
However, a study recently published in the Annals of the American Thoracic Society revealed that only 1.9% of patients hospitalized for a COPD exacerbation received pulmonary rehabilitation within six months of being discharged.
The American Thoracic Society—a nonprofit medical association dedicated to improving global health by advancing research, patient care, and public health in pulmonary disease, critical illness, and sleep disorders—commissioned a survey to assess why pulmonary rehabilitation is so underutilized. Conducted by independent market analysis firm Wakefield Research, the survey involved a sample of 500 patients living in the United States who were diagnosed with COPD, pulmonary hypertension, interstitial lung disease, or other chronic pulmonary disorders.
Survey Results
The survey revealed that a large knowledge gap is likely to blame for the treatment's severe underutilization—62% of respondents reported they'd never heard of pulmonary rehabilitation as a treatment for their disease. In contrast, most surveyed patients reported knowing of oxygen therapy (70%) and medicinal interventions such as long-acting or maintenance inhalers (61%), short-acting or rescue inhalers (52%), and inhaled or oral steroids (52%) as treatments. It should be noted that medication and pulmonary rehabilitation are complementary, not competing, treatments for chronic respiratory disorders. When combined with maintenance inhalers or oral steroids, pulmonary rehabilitation has the ability to help improve the feeling of well-being in patients. Pulmonary rehabilitation can also assist with reversing frailty—to which the geriatric population is predisposed—and musculoskeletal dysfunction.
To assess the level of awareness of how serious chronic respiratory diseases are, survey respondents were also asked to rank top disease-related causes of death in the United States. The responses revealed that 40% of patients diagnosed with a chronic pulmonary disorder are unaware of how deadly their conditions could be. These respondents ranked stroke, Alzheimer's, and diabetes as deadlier than chronic lower respiratory diseases, when in reality they rank fourth, fifth, and sixth, respectively. Twenty-eight percent did not rank it in the top three at all. When patients do not understand the severity of their diseases, they run the risk of not taking them as seriously as they should or not seeking treatment. This can also happen when patients are in denial about their diseases—especially since chronic respiratory disorders such as COPD are often tied to a history of smoking. A person experiencing related symptoms may choose to ignore them and suffer in silence.
By strengthening muscles to ease the burden on the lungs, pulmonary rehabilitation can help patients do everyday activities they need or want to do but now find challenging or impossible. The survey revealed common activities that people diagnosed with these conditions do not do because of their breathing problems. For example, respondents avoid the following:
• climbing stairs (57%);
• carrying items when they walk (50%);
• cleaning the house, doing laundry, or tending to other household chores (48%);
• running errands, such as grocery shopping, outside their home (43%);
• attending social events or gatherings outside their home (42%);
• caring for their pets, such as taking them for walks (37%);
• playing with or entertaining their children or grandchildren (37%);
• cooking or preparing meals (28%); and
• washing their own hair, brushing their teeth, or doing other daily personal hygiene tasks (28%).
Benefits of Pulmonary Rehabilitation
Of the 62% of respondents who had heard of pulmonary rehabilitation, only 29% enrolled and completed the program. Patients with a chronic respiratory disease may fear it would be too strenuous for them to leave the house two to three times a week to take part in a program involving exercise. However, medical professionals should discuss with their patients that pulmonary rehabilitation is more than just an exercise class. The supervised program is tailored to each participant and their abilities, so everyone can see benefit and safely progress at their own pace. Additionally, the educational component of pulmonary rehabilitation is equally important and valuable for patients. While taking part in the program, participants are taught important self-management practices such as breathing techniques to get through challenging moments, guidelines on taking medication effectively, and how to recognize signs they should call their doctors.
Chronic respiratory diseases can be isolating, which may be especially amplified for older adults. In addition to being a proven treatment option, pulmonary rehabilitation helps build morale and a sense of community; patients participate with others who are experiencing similar symptoms and facing similar obstacles. Together, they learn to address and overcome their challenges and improve their quality of life.
Identifying Candidates
Patients with chronic respiratory disease may be good candidates for pulmonary rehabilitation if they experience shortness of breath or other symptoms. Even though they already may be using medications such as bronchodilators, they may feel that the drugs are not as effective as they could be. It's important to encourage patients to progress toward better health and explore other treatment options that may be a fit.
Patients recently discharged from the hospital after COPD exacerbations would also benefit from pulmonary rehabilitation. Flare-ups can last weeks, but patients hospitalized with exacerbations are often discharged after a few days. Pulmonary rehabilitation can reduce subsequent health care utilization and mortality risk for postdischarge COPD patients; this is especially crucial since approximately 20% of this population are readmitted to the hospital within 30 days due to the severity of their respiratory disease and its frequent comorbidities.
Medical professionals can help patients identify a pulmonary rehabilitation program in their areas via livebetter.org, a patient resource created by the American Thoracic Society and the Gawlicki Family Foundation. In addition to providing a directory of programs, livebetter.org also offers more information about pulmonary rehabilitation, including patient stories, so patients can be informed decision makers about their own health.
With the current lack of awareness of pulmonary rehabilitation, physicians and other medical professionals who care for the geriatric population should consider recommending this proven treatment for those suffering from symptoms related to chronic respiratory disease. Pulmonary rehabilitation can enhance patients' health and give them their lives back.
— Richard ZuWallack, MD, is a pulmonologist at St. Francis Hospital in Hartford, Connecticut and professor of medicine at the University of Connecticut School of Medicine.
Note: Wakefield's survey sample included 53% female, 47% male; 21% under age 50, 24% ages 50–59, 55% ages 60+; 47% with an income of less than $35,000/year, 33% between $35,000 and $74,999, 20% with $75,000+; 41% city-dwellers, 46% living in the suburbs, and 13% living in rural areas. Quotas were set to ensure a statistically significant sample size by region (23% Northeast, 36% South, 21% Midwest, 20% West).