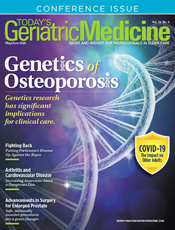 May/June 2020
Fighting Back: Patients Are Putting Parkinson's Disease Up Against the Ropes
By Lindsey Getz
Today's Geriatric Medicine
Vol. 13 No. 3 P. 14
Boxing offers social benefits, relief of symptoms, and improved mood.
When Stacey Lee, a former social worker, was diagnosed with Parkinson's disease (PD) 13 years ago, little help was offered other than medication. But she knew intrinsically that movement—particularly movement to music—helped her feel better. She was onto something that research now supports. And today, Lee's surprising movement of choice is boxing. Along with many other patients with Parkinson's across the country, she's finding that boxing-related exercises are helping her fight back against the disease.
Lee, in partnership with Beth Israel Lahey Health, is the founder of the Wellness Works Program, a series of movement classes in Boston that are designed to help patients manage their PD symptoms. Over the years, Wellness Works has added a number of classes, including Rock Steady Boxing, a nonprofit organization founded in 2006 by former Indiana-based prosecutor Scott C. Newman, who is living with Parkinson's, and his friend Vince Perez, a Golden Gloves boxer. Together, they created a program that "attacks Parkinson's at its vulnerable neurological points," according to the Rock Steady Boxing website.
The program has since spread across the nation. Coaches must complete online and in-person training to become officially affiliated with the program and offer classes in their local area.
Albert ("Al") Latulippe, Rock Steady Boxing affiliate owner/coach, who coaches in New Hampshire and the Boston area, says he's seen individuals transformed by the program.
Lee is one such person. Her grandchildren are so impressed and can hardly believe she's boxing. And she leaves every class feeling stronger.
After all, these classes are serious business and those who attend work hard, Latulippe says. In general, boxing is an intense sport. "ESPN did a study and determined that boxing demands more from athletes than any other sport," says Latulippe, who also trains competitive athletes. "The truth is boxing is great exercise for anyone—it just so happens that it works particularly well for Parkinson's patients who are starting to lose dopamine—something that exercise helps release."
Why Boxing?
Scientists believe it's the lack of dopamine that causes many of the problems in PD—a deficit that arises from a disorder of the nerve cells in the part of the brain that produces this important chemical that's responsible for, among other things, movement. Though the disease affects multiple chemical systems in the brain, dopamine is recognized as one of the most significant.
Symptoms of PD include tremor (mainly at rest), limb rigidity, slowed movement (bradykinesia), impaired posture and balance, loss of automatic movement, and speech changes.
When people with Parkinson's participate in boxing-related exercises, they work on skills that combat some of these very symptoms. They learn how to throw a variety of punches, developing footwork for balance and agility, and they do a lot of rhythmic work. It's likely these actions that make boxing the ideal exercise for PD patients.
But it's important to be clear that theirs is a noncontact sport, adds David K. Simon, MD, PhD, director of Parkinson's disease and movement disorders at Beth Israel Lahey Health, who says that as a neurologist, he's not a fan of competitive boxing—given the fact that repetitive head trauma is actually a risk factor for Parkinson's.
"We're talking about footwork and hand work that involves punching a bag—never a person," Simon says. "While we can't say definitively that boxing-related exercises are better than other exercises—exercising in general is good for PD patients—there are definitely reasons why it may be more effective."
Among them, he says, is the fact that it involves activity that requires a lot of cognition to complete—repetitive and rhythmic activities. It also involves both the arms and the legs to promote balance and strength.
Adena Leder, DO, a board-certified neurologist with fellowship training in movement disorders at New York Institute of Technology, says it is ironic that PD patients, historically, were instructed to "rest." During her fellowship training in movement disorders, she observed that, despite the availability of multiple pharmacotherapeutic options to treat the many facets of this disease, PD was still progressive and neurodegenerative—and there was a "missing component in the treatment paradigm," she believed.
"The transformative role of exercise in the treatment of this condition ultimately became apparent to me as the missing component," Leder says. "Without adjunctive exercise, the disease is devastating."
Leder spearheaded the first Rock Steady Boxing program to be started by a movement disorder–trained neurologist on a medical school campus. She says it has not only become a resource for her patient population—and the community at large—but it has allowed medical students matriculated at the school to have clinical experience to learn from, early on in their medical education.
Social Support
But there's another component that goes beyond the physical, according to Simon—the advantage of social support. "This is something that is being performed in a group setting and the advantage to that is being able to talk with and lean on others with PD," he adds.
The social component is highly significant, agrees Lissa Kapust, LICSW, program director for Wellness Works, who calls Rock Steady Boxing a "beyond-the-pillbox approach."
According to Kapust, "You can't take a pill for social support. When I go to these classes and I see people embracing one another with hugs or high-fiving, there's no question in my mind that the social component of this is as therapeutic as the exercise itself. They really support one another."
And Kapust says there's also something about the message that resonates with PD patients and inspires them to push harder; the idea of "fighting back" against Parkinson's is metaphorically inspiring.
"You see it on all of the shirts and the posters for Rock Steady Boxing and I think that people really embrace that message," Kapust says. "They're not just going to give up—they're going to fight back."
That's important, too, as a higher incidence of mood disorders and depression are also common with Parkinson's, Kapust says. This isn't merely because people are depressed about their diagnoses; it has to do with physical changes in brain chemistry. She says exercise—which is known to assist the body in releasing dopamine—is already known to help combat depression.
Leder says that many patients describe their Rock Steady Boxing class as a lifeline. "In particular there were two boxers who admitted to suicidal ideation, without any support system, before starting the class," she recalls. "Now they are regular members. They even attend when they are not actually boxing. In general, the patients have formed their own support group and regularly meet after class for coffee and chess."
Boxing for Older Adults
Of course, this isn't just a program for young PD patients. Boxing can be appropriate and effective for all age groups, including older adults. And there are plenty of success stories to back that up.
Latulippe says that one of his clients was a 92-year old woman who came into class in a wheelchair because she was unsteady on her feet. Every day she would say that she didn't know if she was "up to it," but ultimately ended up participating.
"This woman was smashing a tire with a baseball bat, doing hurdles, and punching the bag," Latulippe recalls. "By the end, she wasn't coming to class in the wheelchair any longer. For her, and for a lot of people, so much of it is confidence. We all start to lack that as we age. How often do we say, 'I'm too old for that.' But you don't know what you can do until you try."
And according to Simon, while there's statistically a decline in function with age, exercise can actually help counteract that. "Being older is not a reason to not exercise," he says. "It's a reason to try harder. There may have to be some adjustments—but that's okay. In the Rock Steady Boxing class offered here, we split the group into two—one that is more intense and one that is modified."
Rock Steady Boxing has different levels of classes, Leder adds. And there are often various ways that coaches can modify the exercises. "In two of our classes the patients are only eligible if they do not have any assistive devices to walk," she says. "Our third class is a modified class. Patients who either have more advanced cognitive difficulties, balance problems, or any other challenges can attend this class. Patients in wheelchairs are also welcome. We utilize our medical students as volunteers to help prevent falls. Additionally, each of our classes has a certified physical therapist who specializes in Parkinson's disease. Any one of our patients in any class may require a modification at any time. It may be back pain or shoulder pain, recent valve replacement surgery, or hernia surgery. Whatever the cause, we are prepared to make exercise modifications for the patient at any time and often do."
Even so, Lee suspects medical professionals might be concerned about suggesting something like boxing to their PD patients—but she says that's doing patients a disservice. "There are going to be people who say something like, 'this looks way too dangerous for people living with Parkinson's,'" she says. "In fact, we faced a lot of that when we first tried to introduce this program. There was considerable objection. But I think people can manage a lot more than we usually give them credit for. Oftentimes we find that people are shocked by how much they can do."
Reaching the Masses
While Rock Steady Boxing is the most well-known boxing program, it's important to note that it's not the only one. A number of other programs have popped up nationwide.
One that's gaining serious traction is Ready to Fight Parkinson's Specific Boxing program, or RTF, the official therapy-boxing program utilized and endorsed by USA Boxing, the national governing body for Olympic-style boxing. Founded by Aaron Sloan, owner and head coach of Oklahoma-based Tulsa's Engine Room Boxing Gym, the program got its start a little more than three years ago.
Sloan, who already owned the boxing gym, is a registered nurse by trade and spent eight years in cardiac nursing. As he learned more about the benefits of boxing for PD patients, he became inspired to create the program, which is the subject of an early-stage Tulsa University study.
According to Sloan, because gait is a symptom of PD that's not significantly helped by medication, many doctors turn to "cueing" to reduce the severity of freezing of gait. Cueing is defined as "temporal or spatial stimuli, which facilitate repetitive movement usually provided as visual, tactile, or auditory rhythmic signals."
"I think most doctors and exercise practitioners are already teaching PD patients to have cues and to use them when they get frozen," Sloan says. "So, I think one reason boxing works so well is that the bag becomes a natural cueing system. You have to work at the bag's rhythm. It chooses when you need to hit again—and it becomes a cueing system." Because of this, Sloan says, he's witnessed patients work through a tremor. It goes away while they're hitting the bag.
"A lot of the science behind boxing and Parkinson's also has to do with forced intensity exercise," Sloan adds. "Forced intensity means making the person exercising do something at a forced pace. For instance, you think of walking outside vs walking on a treadmill. When walking outside they're walking at their pace. When walking on a treadmill, they're walking at a forced pace; it forces intensity. Boxing does that and it seems to have a lot do with its effectiveness."
Sloan, like Simon, has witnessed the power of the "psychosocial benefits" that come from class participants bonding with one another. And he adds that this benefit is not just for patients but also for their spouses and caregivers. "I've witnessed caregivers and spouses connecting with one another too—and that can be a huge relief for them," he says. "The camaraderie formed between fellow caregivers also gives them someone to lean on."
While having varying boxing programs might be viewed as "competition," Sloan says that at the end of the day, if it's getting more people moving, that, in itself, is a win.
"The most important thing is to get people boxing," he says. "Staying active is the best way to truly fight Parkinson's."
— Lindsey Getz is an award-winning freelance writer in Royersford, Pennsylvania.