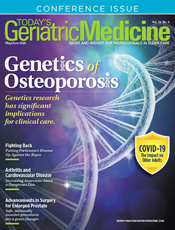 May/June 2020
Health Matters: COVID-19 and Older Adults — The Physical and Emotional Toll
By Lindsey Getz
Today's Geriatric Medicine
Vol. 13 No. 3 P. 28
The coronavirus pandemic has changed everyone's way of life. But it can't be ignored that older adults have been particularly affected.
According to the Centers for Disease Control and Prevention (CDC), older adults appear to be at a higher risk for developing more serious complications from COVID-19. In fact, 8 of 10 deaths reported in the United States have been in adults who were 65 years of age and older.
Today's Geriatric Medicine recently spoke with a geriatric specialist at Yale to find out what the COVID-19 pandemic may mean for the older adult population. James M. Lai, MD, MHS, MSc, of Yale New Haven Hospital and Yale School of Medicine, says the virus has physical as well as psychological ramifications.
When it comes to presentation of the illness in older adults, Lai says it's alarming many have initially been asymptomatic—not demonstrating the traditional, suspected symptoms such as cough and fever. In many cases, the diagnosis of COVID-19 has come as a surprise after testing.
"What we are seeing is a lot of classic presentations of geriatric syndromes such as falls or hypernatremia—and then when we test them, they're also positive for COVID-19," Lai says. "The typical symptoms that you would suspect as a result of COVID-19 are not always present from the onset and can take anywhere from two to 14 days to arise. I would say that one of the most concerning aspects of the spread of this virus is the fact that the symptoms are not always clear. And there can be a long period of asymptomatic spread."
In addition to the virus taking time to cause symptoms, it's also concerning that the understanding of these symptoms appears to be evolving. Even at press time, the CDC had continued to add symptoms to its list.
At the time of publication, the CDC's official listed symptoms for COVID-19 were fever, cough, shortness of breath or difficulty breathing, chills, repeated shaking with chills, muscle pain, headache, sore throat, and new loss of taste or smell. The latter six were newly recognized at the end of April. And, as noted previously, some people infected with COVID-19 have no symptoms.
Further complicating the presentation has been the fact that some patients with COVID-19 have experienced neurological symptoms, gastrointestinal symptoms, or both. One study that looked at 214 people with moderate to severe COVID-19 in Wuhan, China, found that roughly one-third of those patients had one or more neurological symptoms.
While it is not yet understood how the virus may cause neurological symptoms, some experts have surmised that it could be related to altered oxygen levels. It's one of the reasons the CDC has added "new confusion or inability to rouse" to its list of emergency warning signs that medical attention is needed.
Age Posing Unique Risks
What makes older adults at an increased risk for COVID-19 could be a weakened immune system due to age or the higher chance that they have comorbidities. Quite a bit of research has pointed to the fact that the majority of patients who were hospitalized had comorbidities. The CDC has already reported that people who have chronic medical conditions such as heart, lung, or kidney disease are at a higher risk for more serious COVID-19 complications.
With age also comes the increased risk that the respiratory system will shut down as an older adult battles this virus.
Though there's no question that COVID-19 is affecting older adults disproportionately, Lai adds that there are still many unknowns.
"I think what's frustrating for a lot of people, including physicians, is that this is a new virus and we are still learning so much about it," he says. "We can say without a doubt that it's been more severe in older adults—but we don't completely understand why some patients produce a stronger immune response than others. There remains a lot to learn."
Of course, patients' primary setting can also play a role. Lai says that for the older adult population, the risks of serious complications from COVID-19 are particularly concerning in skilled nursing communities where the illness can rapidly spread and be difficult to contain. As most Americans are social distancing at home, a significant portion of the older adult population already resides in community settings that make isolation increasingly complicated.
"Skilled nursing facilities consist of a large concentration of vulnerable patients, and we've learned that this illness is incredibly difficult to manage in these settings," Lai says. "The virus is spreading rapidly in these types of settings. When we do come out of this pandemic, I think we should reflect upon this model of care and potentially rethink the way in which skilled nursing facilities are set up. There are important questions to ask such as whether we can make a shift toward keeping more patients in their own homes. But that raises questions of its own."
Using Technology to Overcome Social Isolation
One of those big questions is how home-based care would affect socialization. Lai admits that home-based primary care—though potentially better for illness management—may increase social isolation among older adults. This is a concern even now with patients in skilled nursing facilities that have had to completely eliminate visitor hours in order to protect patients from the virus. In doing so, many of these community residents are now isolated from friends and family, a circumstance that has raised psychological concerns.
"For older adults, particularly those with cognitive impairment, social interaction is an enormous contributor to quality of life," Lai says. "The pandemic has brought concerns to light as many older adults have had to limit their interactions. Because of the possibility that carriers can be asymptomatic, many facilities have had to limit or eliminate contact with visitors, including family. But there's no question this can increase the likelihood of social isolation."
Lai points to the fact that research has linked social isolation and loneliness to higher risk of a variety of physical and mental conditions. This has included a link between social isolation and cognitive decline.
"We're facing an unprecedented dilemma in that we know socialization is incredibly important to the health of older adults—and yet, right now, isolation is really important in protecting this vulnerable patient population from COVID-19," Lai says. "I think one solution that warrants further exploration is how we can leverage technology platforms to connect older adults socially."
Lai points out that medicine is making a transition to telehealth capabilities. Physicians are finding ways to connect with their patients via telehealth platforms. But he says that technology should be able to also "open doors" for older adults who are missing out on time with friends and family.
"I think we need to keep pushing the envelope so that older adults are able to become more comfortable with technology," Lai says. "This could open up a whole new world for older adults who might have previously been homebound or socially isolated. They can use technology not only to interact with their doctors but also to connect with friends and family members that they can't see in person. Technology is a tool that can get the whole family together. I think we already had this problem—with older adults being somewhat socially isolated—and I think we're doing a better job of solving it now that we're really being forced to."
Of course, Lai is quick to point out that technology isn't a cure-all.
"While technology can connect older adults who might be missing out on social opportunities, it doesn't eliminate the need for a caregiver for someone who can't use the bathroom without assistance," Lai says. "Though I think technology is an important piece of the puzzle, there are still many conversations to be had about the future of long term care."
Even so, the forced push to make technology more effective has been a positive, says Lai, who believes telehealth has advanced more in the last couple of months than it has over the last couple of years. And he envisions the same happening with technology for social platforms and communication.
"When we come out of this, our communication might be better—and that's a good thing," Lai says. "In the end, this situation is forcing us to rethink a lot of the ways that we've done things and find better solutions."
— Lindsey Getz is an award-winning freelance writer in Royersford, Pennsylvania.