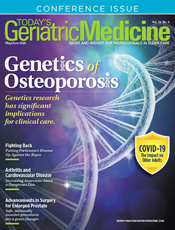 May/June 2020
From the Editor: Focusing on Improved Elder Care
By Kate Jackson
Today's Geriatric Medicine
Vol. 13 No. 3 P. 4
This issue's feature articles highlight some of the most common issues affecting the geriatric population: osteoporosis, Parkinson's disease, arthritis, cardiovascular disease, and prostate enlargement.
In our cover story, contributor Jamie Santa Cruz examines the state of research pertaining to the genetics of osteoporosis. New research, she reveals, has key implications for clinical practice. It not only will aid in risk prediction and contribute to prevention but also may lead to the development of new medicinal approaches.
In "Fighting Back," Lindsey Getz looks at a surprising weapon against Parkinson's disease: boxing. Scientists and clinicians are finding that movement in general is transformative for patients, and boxing in particular brings psychosocial benefits and helps with many of the specific symptoms of the disease, including tremor and limb rigidity. A variety of boxing programs specifically for people with Parkinson's are available, and physicians suggest that they're highly appropriate and beneficial for older adults.
Arthritis is among the most prevalent conditions among older adults, as is cardiovascular disease. Often overlooked, however, is the role arthritis may play in the development of heart disease. Jennifer Van Pelt, MA, explores the association between the two and highlights the need for better cardiac assessment of arthritis patients, including those who do not have the commonly recognized cardiovascular risk factors such as high blood pressure and cholesterol.
In addition, Amy E. Krambeck, MD, a professor of urology, details the latest advancements in surgery for men with enlarged prostates, explaining that they not only may be safer than traditional approaches but also may contribute to earlier detection and treatment.
Finally, Ronna New, DO, FACOFP, shares some thoughts on how creative caretaking is making a difference for the elder population in remote Appalachian regions—an adaptive approach that takes on a larger resonance as COVID-19 leaves its indelible mark on the medical landscape.
Look, too, for an article about the impact of the coronavirus on older adults as well as COVID-19 resources health care providers can use to stay on top of new information and research about the pandemic.